For more information contact
Stephanie Todd Wong or Mollie Haven Miller
Dance Source Houston
713-224.3262
Stephanie@dancesourcehouston.org
Mollie@dancesourcehouston.org
Dance Source Houston Leaves Performance/Rehearsal Space July 31, 2016
Dance Source Houston will end its management of The Barn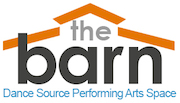 HOUSTON, TX, March 3, 2016. There was a time when affordable, centrally located studio, rehearsal and performance space was extremely scarce in Houston. That is why, in March 2013, Dance Source Houston stepped up by taking over management of The Barn (then known as Barnevelder). Since then, many of Houston's dance groups, theater companies, choreographers, teachers and individual artists have created work and performed at the beloved Barn in Houston's East End. In many ways, The Barn has been a home for Houston's dance community.
Over the last three years, several new venues have opened and usage of The Barn has decreased. The original goal of ensuring affordable, well-located performance and rehearsal space has been realized and as of July 31, 2016, Dance Source will discontinue its operation of The Barn. Dance Source will continue its role as supporter and champion of the Houston dance community through its wide range of programs and services.
Executive Director, Stephanie Todd Wong, describes the decision as bittersweet, "As much as we love The Barn and the role it has played in the development of dance in Houston, the changes in the need for this space over the last three years indicate a growth in our community that we are very happy to celebrate. This moment should be one of pride, an acknowledgment of how far this community has come and how much there is to look forward to."
Q: Why is Dance Source Houston leaving The Barn?
A: Dance Source assumed management of The Barn in 2013 to meet a specific, dire need for affordable, centrally located studio, rehearsal and performance space. Since that time, several new spaces have opened, including MATCH, Met Dance, and Hunter Dance Center, and we have seen usage of The Barn decline. We are pleased that Dance Source was able to help meet a critical need for Houston's performing arts community when we took over The Barn.
Q: How does this impact Dance Source Houston?
A: Dance Source will continue to support and champion the Houston dance community through our existing programs and services, and by evolving to meet the needs of Houston's dance community ongoing.
Q: What programs and services does Dance Source Houston provide?
A: Dance Source provides marketing services, audition notices, and performing opportunities for our members. In addition, Dance Source serves the dance community through a wide range of programs and services that include its website, www.dancesourcehouston.org, The Dance Card (in partnership with Artshound), our Artists in Residence program, Production Grants for artist productions, our online magazine The DanceDiSH, our annual Barnstorm Dance Festival coming up June 16-25 at The Barn, and much more. Our mission is to serve the evolving needs of the dance community, to provide a national voice for Houston dance, and to educate/inform Houston's dance-loving public about all things dance in and around Houston.
Q: What's going to happen to upcoming performance/rehearsal/class scheduled at The Barn?
A: It will be "business as usual" at The Barn through July. Be assured that renters will be fully supported and rentals of The Barn will be exactly as promised as contracted.
Q: Is it too late to rent space at The Barn this spring?
A: No, it's not too late. If you'd like to rent space at The Barn between now and July 31, 2016, check the floorplan and rental rates here, and get in touch with Jhon Stronks at jhon@dancesourcehouston.org.
Q: What will happen to The Barn after July 31, 2016?
A: We are not sure what will happen with The Barn after our management ends. We will post updates as we know them on our Facebook page.
Q: Is there an option to rent studio or theatre space at The Barn for the fall of 2016?
A: Not at this time. Dance Source will not manage any rentals nor take reservations beyond July 31, 2016. We will keep the community informed of any plans for the building as we learn them.
About Dance Source Houston
Dance Source Houston is a 501(c)(3) nonprofit organization dedicated to creating audiences and appreciation for contemporary dance in Houston and beyond. Dance Source Houston produces the Barnstorm Dance Fest, an annual multi-week, showcase style dance festival happening June 16-25, 2016. Additional programming includes an Artist in Residence and Production Grant programs. Dance Source Houston also publishes The Dance Card – Houston dance event listings and The Dance DiSH online magazine. These activities are supported in part by a grant from The City of Houston through the Houston Arts Alliance, Houston Endowment, Inc., The Heimbinder Family Foundation and the Nightingale Code Foundation. www.dancesourcehouston.org