February 19, 2020
PRESS RELEASE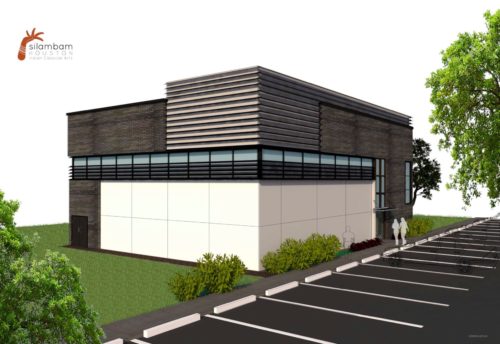 Silambam Houston's New Arts Facility Breaks Ground

Pearland TX – A groundbreaking celebration will be held for Silambam Houston's much awaited arts facility at 6 pm on February 21, 2020, at the site of the facility (2016 E Broadway, Pearland, TX 77581). It is expected that the doors of the new facility will be open by the end of the year.

From modest beginnings in 2002, Silambam has grown into Houston's premiere nonprofit Indian classical arts organization, with about 150 enrolled students, nine faculty members, seven classical Indian art forms taught and performed, a sought-after professional dance company, and K-12 and community outreach programs for various demographics, including underprivileged/disadvantaged communities. Silambam's artistic programming is a unique blend of high-quality arts education, outreach, performance, and presentation that enriches communities through cross-cultural exchange. Due to explosive growth particularly in the last 3 years, the organization has rapidly outgrown its rented space for its community classes in Pearland.

To continue and expand our quality, low-cost arts education and outreach programming, Silambam will construct a performing arts center in Pearland, TX, easily accessible via Beltway 8 and I-45 from southwest and south Houston, Clearlake, Friendswood, Baytown, Dickinson, and Galveston. The 3100-sq.ft. facility will house three studios, storage and office space, and will convert into a black box theater for small performances and events, and has been carefully and thoughtfully designed by Diamond Development Group architect Siddhi Aryan, an alumnus of Silambam Houston, who generously donated her services.

The facility is made possible by generous grants and contributions to Silambam's capital campaign from a large circle of donors and well-wishers, including a substantial grant from the Brown Foundation. Over the years, Silambam has been repeatedly identified as an emerging arts organization worth investing in. The organization has received funding from the Houston Arts Alliance, Texas Commission on the Arts, Dance Source Houston, and the Brown Foundation. Silambam was part of the Pre-Incubator (2014) and Resident Incubator (2016-2019) programs of the Houston Arts Alliance Capacity Building Initiative, and is currently in the Mid-America Arts Alliance ENGAGE program (2018-2020), and the New Pathways program funded by the Houston Endowment (2019-2021).

In addition to its programs in Pearland, Silambam also holds arts education programs in the Houston Heights area, and regularly presents both community outreach and performance programming at venues across Houston, including the Children's Museum, K-12 schools, Midtown Arts and Theater Center Houston (which also houses its administrative office), and Miller Outdoor Theater.