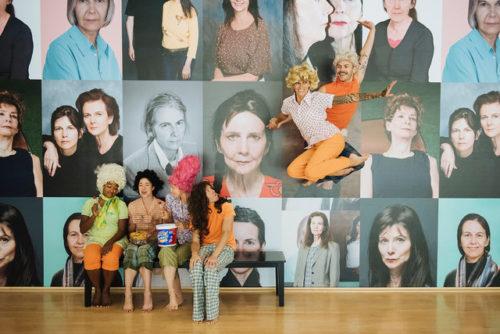 Hope Stone Dance presents 5 Pieces of Candy
Inspired by the Moody Center for the Arts' Recent Exhibits by Tacita Dean and Gillian Wearing
HOUSTON, TX (July 17, 2019) – Hope Stone Dance (HSD) presents 5 Pieces of Candy,an evening at the Moody Center for the Arts inspired by recent exhibitions of works by artists Tacita Dean and Gillian Wearing. Jane Weiner, HSD Artistic Director, was initially moved by Dean's Craneway Event, an almost two-hour 16mm film made with and about Merce Cunningham. Dean captures Cunningham as he nears the end of his career and life, leading rehearsals quietly from his wheelchair in an abandoned Ford assembly plant on the shore of San Francisco Bay.
Two months after Weiner's hip replacement and unsure how her body would recover, Craneway Event brought up questions she had asked herself pre-surgery – Will I still be able to move and create work? How will I adapt – and can I? Seeing the Cunningham dancers' attentiveness, mind flexibility, and sweetness in working with an aging choreographer and his diminished physical ability, Weiner asked, "Can I recreate myself as a choreographer, simply being a vessel of idea and voice direction, without moving?"
Faced with her own physical limitations and the reality of aging, Weiner thought about works she could revisit, rehearse and retool while she stays seated. Like reaching into an assorted dish of candy, four favorite solos and duets came to her mind, along with the challenge to create a new work. 5 Pieces of Candy include:
"coolest news on planet earth" (2017), solo by Candace Tompkins
"Village of Waltz" (2009), duet by Brit Wallis and guest artist Christopher Gray (appearing courtesy of Houston Ballet, Soloist);
"suspicious fisherman" (2014), solo by Shohei Iwahama;
"friday flowers" (2016), duet by Jacquelyne Boe and Travis Prokop;
a new duet created for Lindsey McGill, HSD's longest active company member, and guest artist Jessica Collado (appearing courtesy of Houston Ballet, Principal).
5 Pieces of Candy will be performed August 15, 16 and 17 in the Moody's Central Gallery, which is currently exhibiting Gillian Wearing: Rock 'n' Roll 70. This work features a self-portrait of the artist at age 50, an enhanced image of herself at age 70, and a blank space to be completed by a self-portrait when Wearing turns 70 in 2033. In addition, Wearing invited collaborators to imagine what she might look like 20 years in the future. The result is a site-specific installation covering the wall of the Moody's Central Gallery with photographic portraits of the artist that have been digitally aged by others and installed as Wallpaper.
"What a great challenge this is for me," said Weiner, "a mover to sit still and make work, to face change and allow that change for both myself and the dancers. Creativity is ageless; the artist's struggle is that their bodies aren't. Without 'showing' an idea during rehearsal, I think it will create some sweeter, more deeply collaborative relationships between us."
Hope Stone Dance company artists performing are Jacquelyne Boe, Travis Prokop, Candace Tompkins, and Brit Wallis, with guest artists Shohei Iwahama, and appearing courtesy of Houston Ballet – Christopher Gray (Soloist) and Jessica Collado (Principal). Sound by Firat Ozsoy and lighting design by Mother Nature.
DETAILS:
5 Pieces of Candy
August 15, 16, 17, 2019 @ 7:30pm
Moody Center for the Arts at Rice University
6100 Main Street
(University Entrance 8, at University Blvd and Stockton St)
Houston, TX 77005
Tickets: $25;
https://5-pieces-of-candy.eventbrite.com
###
ABOUT HOPE STONE, INC.
Hope Stone, Inc. is a non-profit arts organization consisting of the choreographic endeavors of Artistic Director Jane Weiner through Hope Stone Dance, a professional modern dance company, and The Hope Project, an arts education outreach program that reaches underserved populations in Houston. Founded in 1997, Hope Stone strives to unlock the innate creativity of children and adults through the performing arts. hopestoneinc.org
Hope Stone is grateful to the following sponsors and foundations: Avenue CDC/GO Neighborhoods/LISC Sustainable Communities, Brown Foundation, Charity Guild of Catholic Women, Cullen Trust for the Performing Arts, Dance Source Houston, Twilight and Marc Freedman Foundation, Frost Bank, The Hobby Center Foundation, The Holthouse Foundation for Kids, Houston Arts Alliance, Jennings Dincans Charitable Fund, Kinder Morgan Foundation, Mann Designs, The Nugent Foundation, Origin Bank, The Simmons Foundation, SQA Foundation, Texas Commission on the Arts, Texas Women for the Arts.