Barnstorm Dance Fest, a citywide dance festival presented by Dance Source Houston, will take place June 19-23 at MATCH – Midtown Arts & Theater Center Houston. Among the twenty companies and choreographers selected to perform are four artists chosen for Dance Source Houston's Artist-in-Residence program. What makes this residency unique is that DSH particularly selects artists based on their desire to push themselves and their art to new levels by taking risks and maximizing their time in the residency. The residency culminates in their final performance at Barnstorm. I had the fortunate opportunity to meet with this year's artists in residence to learn more about their work and what they gained from the residency ahead of their performances next month.
For Things Left Behind, Adam Castañeda felt it was important to return to his roots in order to explore themes of loss, friendship, and the elusive nature of connection. Castaneda holds a Master of Arts in English and American Literature from the University of Houston, and teaches part-time in English composition for Houston Community College. "After I graduated, I realized that I could find a career in academia, or I could cobble together a livelihood so that I could dance—I chose the second. When I was very young, I worked as a copywriter in downtown Houston, and it was from that small salary I was able to buy some property for myself on the northside of Houston, where I was born and raised. Being able to rent out most of the rooms of that property to others in transitional states enabled me to not work so much, and to stay active in dance."  Previous occupants of Castañeda's property began to leave behind mementos from their past, which provoked a kind of exploration around loss and permanence, made more poignant by particular moments of tragedy in his life, such as the death of his paternal grandmother, the attempted suicide of a close friend, the reconciliation with his estranged mother of five years, the injustice of a friend's potential incarceration, and a renewed understanding of his childhood and teen years spent in a Millenialist cult. As Castañeda explains, "I've spent the past decade being the beneficiary of all of these items that have held emotional weight to people at some point, but gifted to me for unknown reasons. How do I make sense of that? How do I build a life of the remnants and debris of other people's lives? How do I build a love life eating every day from the tragic remnants of someone else?"
These mementos provoked Castañeda to return to his roots of language and writing to compose a series of short vignettes on the importance of these objects. After demonstrating small phrases of movement, Castañeda offered these compositions to the dancers in Things Left Behind—Dorianne Castillo, Lindsay Cortner, Ashley Horn Nott, Lindsay Longacre, Eva Jin, Nicole McNeil, Tory Pierce, Amy Phillips, Kristina Prats, and Ruben Treviño—to provoke even more movement material. Underlying this abstract work is the influence and inspiration of icon Manila Luzon, whose work Castañeda discovered on RuPaul's Drag Race and whose runways and gowns inspires the costumes and movements of the final section of the piece—as Castañeda describes it, a "tragic quinceneara."  When Castañeda advanced to the semi-finals of DSH's Artist-in-Residence program, one of the suggestions he took to heart was that this was an opportunity for Castañeda to address where he is as an artmaker at the moment and where he came from. Castañeda hopes to use this performance as an opportunity to show himself in all aspects as dancer, creator, and illustrator.
Black choreographer and dancer Ayan Felix aims to elevate emerging women artists—dancers Tiara Blake, Ashley Boykin, Cynthia Garcia, Somya Gupta, and Ty Lewis, as well as music artist DJ HYPERFEMME—in her upcoming work, Secure the Bag. As she defines it: Secure the Bag means nothing if not put in the context of brown and black bodies that helped coin the term. Secure the Bag is by any means necessary. It's an education in support and near harmonization. A collection of individual pursuits towards what may be the same goal. It is the texture of your grandma's linens and noisiness of your inner dialogue when you want those last five seconds of sleep.
Felix seeks to explore "how we can work to resist consumerism and the capitalistic system in which artists are valued based on a billable hour, how working can disrupt our national rhythm to earn money. How can we resist this compulsion and instead find habits that push us back into establishing healthy lifestyles?"
Inspired by Black science fiction writer Octavia Butler, whose short story "Speech Sounds" explores what would happen if we lost our ability to speak, Felix uses the costume design to ask a similar question. "What if we lost our ability to feel but we could see each other's unconscious thoughts? What if we could see each other's dispositions by the way our clothes changed color?" To that end, she and costume designer Ashley Horn Nott collaborated on a costume that employs thermodynamic pigment in order to achieve this speculative reality.
Another way in which text enters into the piece happens in the studio. Felix asked everyone to write down a joy, fear, and recurring dream, which inspired movement material in the rehearsal and creation process. She is also developing dialogue with her dancers where the fears and recurring dreams are utilized as impetus to connect the movement to the dancers themselves.
For this residency, Felix challenged herself not only to work with dancers she mostly hasn't worked with before, but to push herself out of her comfort zone. "I usually work in duets, and so I purposefully created this piece in an ensemble to challenge myself creatively. This residency has given me the ability to explore topics on expanding safe space, the struggles of femme bodies, and comfort. I created this work to showcase the care we can handle each other with as members of a society still learning the benefit of attending to our mental health."
For Kalpana Subbarao, the Artist-in-Residence program was an opportunity for her to present a fusion of two folktale art forms—the classical Indian dance form Kathak and the art of Flamenco. The two art forms hold much in common, such as their attention to improvisation, similar upper body movements, and percussive rhythmic footwork. Although certainly the two art forms have significant differences, Barnstorm audience members may be surprised to find they emerge from similar origins. As Allan Ulrich states, ". . . centuries ago, gypsies from India resettled in Andalusia, planting the roots of Flamenco, which evolved in its own manner." It is this shared history that Subbarao hopes to highlight next month at Barnstorm.
Subbarao will present a duet between herself and Houston Flamenco dancer Edith Niño, accompanied by music artists Abhishek Balakrishnan (Carnatic violin), Jason Zinn (Tabla), Shyama Mishra (Hindustani vocal and Padhant), Irma La Paloma (Cante) Jeremias Garcia (Guitar). "I wanted to use this residency to create a performance that would showcase the enchantment of two cultures coming together," Subbarao said of the impact DSH's Artist-in-Residence. "This duet will be a celebration of both the musical melodies and rhythms of these different but unified art forms."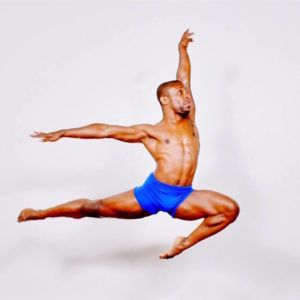 Performance artist Uwazi Zamani presents an autobiographical solo work that combines spoken word and movement to explore coming of age as a Black queer man in today's America. In this piece, Zamani sought to explore Black gay manhood, sex work, family dysfunction, childhood trauma, and how those aspects of identity and personal subjecthood shape one's adult relationships.
As Zamani says, "Sometimes we need to give ourselves permission to live in our own bodies. Dysfunction is a result of survival being infringed upon. I want a future where people don't have to recover from their childhoods. I wanted to create a piece that's concurrent with themes that are experienced with the social climate today. Not only did I want to use this residency to showcase myself as a Black same-gender-loving artist, but I wanted to explore something that's never been presented in the Houston dance scene. I wanted to do something political, something that would agitate, make people uncomfortable.  We want a world where everyone's intersection is experienced, but there's a disdain when we come to those intersections. I didn't want to make respectable art, but art that would challenge."
To that end, Zamani includes costumes that reference fetish wear and the set design includes paintings by Houston painter/muralist Marc Arseneaux, whose work reflects the deep seated stains of mental health and graces the work of Zamani's own walls in his home. As for Zamani's dance style, he refers to the combination of movement techniques he employs in this work as a kind of "gumbo," encompassing lineages as far apart as ballet, hip hop, and contemporary/experimental movement.
Regardless of the type of art an audience member witnessing "In Memory of When I Cared" is invested in, says Zamani, there's something for everyone. "Whether you're an activist, visual artist, dancer, or writer, there is something in this piece for you. Dance doesn't have to be complex to be beautiful or over-intellectualized to grab your attention. I want to be asked questions. There's a space for intentional dialogue about Black gay manhood and mental health. This piece was possible because I sat with myself. I hope this piece will enable you to sit with yourself, too."
In conclusion, this year's Artists-in-Residence will showcase varying and dynamic works from movement trajectories across the globe. It is also an exciting time to see work made and presented by dance artists of color in Houston.
To learn more about the 2018-2019 Artists-in-Residence, please join DSH for an opening night preshow artist talk, moderated by dance writer and researcher Jessica Herzogenrath, on June 19th at 7 pm. The 5th annual Barnstorm Dance Fest takes place June 19-23 at Midtown Art and Theater Center Houston (MATCH). Tickets and more information are available at dancesourcehouston.org.