Isabella Vik is full of contrast–inviting and dark, eager and defiant, rooted and free. There is no separating the artist from the art. To witness Vik's work is to witness her. To meet her is to know you're in the presence of a maker.
Working in the intersection of dance and performance art, Vik occupies the taboo with ease. "We [creators] want to find new ways to challenge our audience but tend to cater to making it digestible for the viewer," she says. "Make a statement, but don't make it too visceral or radical that you make someone uncomfortable. You stay within these safe bounds…but never actually challenge the viewer."
Her portfolio of work, which has especially grown over the last 3 years, includes ritualistic piercing, nudity, and bondage. Vik explains: "It's important for me to continue this investigation of the body and performance in a more unorthodox way than the dance world sometimes allows because I want to show people that dance/movement is limitless."
This journey towards limitless expression is particularly powerful knowing Vik's story. Despite being 26 years old, Vik has endured profound and harrowing experiences that she speaks of openly. She has survived a self-harming behavioral addiction that began at age 12 and an overdose which occurred the day before her high school graduation. She has endured homelessness.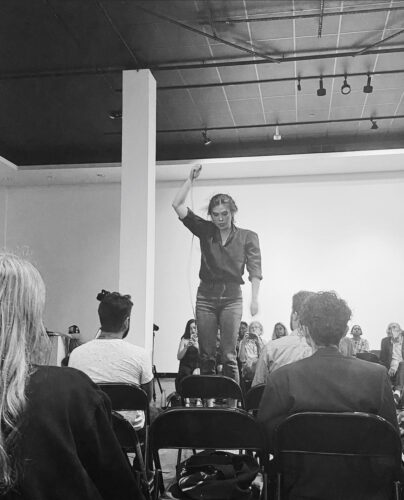 Unexpectedly, the isolation of ending a relationship during the pandemic, motivated her commitment to overcoming a cocaine addiction. It also motivated her return to dance in the form of a beginning ballet class. Vik's movement education began as a child in the ballet tradition and is loaded with hurt and complexity. This return to the familiarity of a dance studio was "deeply painful and emotional."
For Vik, dance was a way to face, and in turn overcome, her personal struggles. She deepened her practice by taking a modern class taught by Houston artist Alisa Mittin.
"Entering a studio to me was like exposure therapy," recalls Vik. "Alisa managed to curate such a nurturing environment that I hadn't experienced before in a dance class. It was her focus on improvisation and guiding people into their bodies that drew me to her. I never thought of myself as a very approachable person, but Alisa came up to me after class and began asking if I was interested in experimental work. It was the first time in a dance studio environment where someone looked at me and saw me for who I was."
Being seen is a throughline of the work Vik presents: the audience takes on the role of voyeur. Her presence on-stage is alluring, with her striking Bjork-like features and feral, sensual movement quality. All the while, her creative focus is clearly self-exploration rather than audience-focused. She refreshingly and unabashedly admits her self-obsession though simultaneously values community and the transmission of ideas. Vik has an encyclopedia knowledge of her inspirations, notably performance and visual art that erupted in New York and Los Angeles in the 1980s. Her projects to-date are anchored in improvisation—focusing on what movement feels like rather than what it looks like. To achieve this, an on-going deprogramming from ballet's methodology has been vital for Vik.
"When it came to capturing my style of movement in choreographing, I found it challenging to go into a space and try to piece together a phrase," she admits. "I was subjecting myself to over-analyzing my natural movement and never moving forward in creating a sequence because my attention to minute detail is both an advantage and a curse. I've never really cared what anyone thought about what I was creating because the audience is an afterthought for me, so tackling my own ego and allowing myself to care less about what it looked like compared to what it felt like has been life-changing. If it feels stupid, ugly, and uncomfortable I know I'm getting somewhere."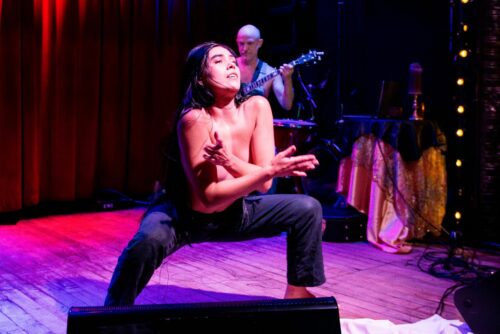 Though her work to date has primarily consisted of solo and duet investigations, she is now looking to assemble a company of open and emotive artists who are interested in the avant-garde. She is making strides towards this desire as she currently prepares an evening-length premiere set for the end of 2023. "The idea for the evening-length came from my readings of George Bataille's death drive and wanting to challenge myself by choreographing with an ensemble. The piece is structured to be a continuous dance with no pause that takes place in one set space. I have also been training myself to lay on a bed of nails for somebody to dance on me…"
At the core of Isabella Vik is an adopted mantra: "Never be scared and never be ashamed." She leads by example: rebelling in art and in life with no separation. While her work is an expression of self-reflection, even self-absorption, her metaphorical mirror transforms into a window for audiences to peer through. They gaze in and witness her.