Media Contact:
Susan Schmaeling Public Relations
(713) 253-2799
FOR IMMEDIATE RELEASE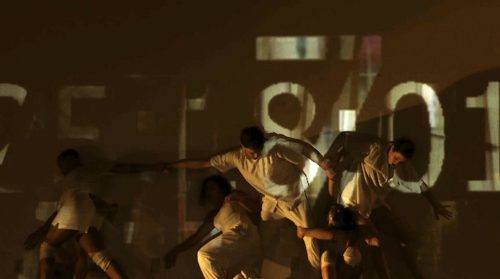 CORE DANCE AND INTERNATIONAL COLLABORATORS CREATE "IF… A MEMOIR"
Houston, TX (September 18, 2019) Core Dance, an internationally recognized, award-winning contemporary dance organization based in Houston, TX and Atlanta/Decatur, GA, brings its newest choreopoem, if…a memoir created by Artistic Director Sue Schroeder and a cast of international creatives. In celebration of its 40th Anniversary season Core Dance will perform if…a memoir in Arkansas, Texas, and Georgia this October and November.
The evening-length work was choreographed by Schroeder,the Dance Artists of Core Dance, Christian Meyer (Belgian composer and frequent Core collaborator), Simon Gentry (USA cinematographer) and Sarah Turquety (French poet). The work is an exploration into the inseparable connection between our humanity, the earth, and our future. It engages questions of human freedom alongside human limitations and its direct link to the current crisis on our planet. If…a memoir is a love song written for humanity.
Core Dance begins its 40th Anniversary season on Monday, October 14 by performing if…a memoir at the University of Central Arkansas in Conway. For more information visit https://uca.edu/cfac/the-empathy-project/.
Core Dance continues its journey with two outdoor performances of if…a memoir at an urban farm in Houston, Finca Tres Robles, on Friday, October 25 and Saturday, October 26, at 7:30pm. Tickets are $15 and are on-sale at: https://www.giveffect.com/campaigns/11695-if-a-memoir-hou. Finca Tres Robles is located in the Second Ward at 257 N. Greenwood Street, Houston, TX 77011.
Core Dance concludes its multi-state tour with two performances of if…a memoir at The B-Complex, 1272 Murphy Ave SW, Atlanta, GA 30310 on Friday, November 1 and Saturday, November 2 at 7:30pm. Tickets are $15 and are on-sale at: https://www.giveffect.com/campaigns/11549-if-a-memoir-atl
In November 2020, if…a memoir will have a residency in Leicester, UK.
Core Dance and if…a memoir is supported by FUSED (French U.S. Exchange in Dance), a program developed by FACE Foundation and the Ministry of Culture, and private donors. Additional support for women artists has been provided by Chanel Fund for Women in the Arts and Culture. For more information on these collaborations and performances, and the 2019-2020 Core Dance season in Houston, visit coredance.org.
* * *
About Core Dance
Core Dance, an award-winning contemporary dance company with global reach, creates, performs, and produces compelling original dance that ignites the creative spirit and actively encourages participation and conversation with the community. For four decades, Core Dance has supported innovation, collaboration, artistic risk-taking and sustainable artmaking in dance.  Core Dance was co-founded in 1980 in Houston, Texas by dancer and choreographer Sue Schroeder and her sister, Kathy Russell.  Five years later, the organization added Atlanta, Georgia as a second home base, creating a context for dance that is relevant in both cities and around the globe. Core Dance uses dance to educate, question and illuminate, and is internationally recognized for its artistically driven research practices, cross-cultural and multi-disciplinary collaborations, the humanity of the individual Dance Artists, and its rigorous physicality. (coredance.org)
* * *
Core Dance's season is supported by the O Fund for New Work, Bloomberg Philanthropies Gwinnett Industries, Inc., Pattillo Construction Corporation, Amazon Smile, Kroger Community Rewards, Physical Culture, Primary Care Chiropractic, and many generous individuals from our community.
# # #