Dance Source Houston will be bringing back its Barnstorm Dance Fest 2022, featuring dance makers from Houston and the larger United States from June 6-12 at Midtown Arts & Theater Center Houston (MATCH). The festival includes four programs, three featuring live performance and one offering a dance on film format. This year's programs were curated by Alexa Capareda, Ashley DeHoyos, and Lindsay Gary. Each program will be presented twice during the week and the weekend performances will be followed by artist talks to offer more insight into the process and provocation of the dance works featured in the festival. Barnstorm Dance Fest has been on a two-year hiatus as a result of the COVID pandemic, and Dance Source Houston is thrilled to be able to return to showcasing a wide variety of dance work (and artists) throughout medium, region, and practice. I was grateful for the opportunity to speak directly to four artists who will be featured at Barnstorm Dance Fest: Shaun Keylock, Ayan Felix, Kayla Collymore, and Andrea Minotti about what inspired their works for the festival, and what audiences can expect to discover in their works.
Shaun Keylock is an award-winning choreographer, director, teacher and dancer based in Portland, Oregon. Driven by his long-standing interest in new movement research and cross-disciplinary collaboration, his work has led him into dialogue with an array of artistic forms, including dance, film, theater, and visual art. An advocate for the LGBTQ+ community, Keylock's creative practice involves an exploration of the many facets of queer identity. He regularly collaborates with drag queens, fashion designers, musicians, filmmakers, artists, and activists to create a loud declaration of queerness both on stage and in performance. Keylock will be performing a solo titled S.K. Swan, a solo work that has been choreographed by the Shaun Keylock Company's resident choreographer, Gregg Bielemeier, a modern dance choreographer who has been making work in Portland for the last fifty years. The company has been working to restore and archive the work of Beielemeier and other LGBTQIA+ elders in the community since the beginning of the pandemic. Keylock started this project when he observed how COVID was disproportionately affecting elders in the dance community. The restoration project was developed out of a need and want to preserve history within the community. "For us, bringing SK Swan to Barnstorm Dance Festival is an opportunity to showcase Gregg's work on tour. Gregg was a collage artist and a lot of his work brings a similar sensibility that pop art does—trying to evoke a feeling with costume and sound." Keylock will be dressed in a leopard-print shirt and a tutu made of various neckties that hang from the waist. The choreography is created with the costuming in mind, emphasizing movement and motion. "Gregg's now 72, and so he's no longer able to perform many of these dances, but that's what's been so special about this project. We're able to restage and restore these works so they can be performed again and carry on that legacy in the body of younger dancers." The piece is set to a local (in Portland) klezmer band, 3 Leg Torso, which is a trio made up of a violinist, cellist, and accordionist. "Gregg's movement has boundless energy, which complements the ties well," Keylock said, giggling.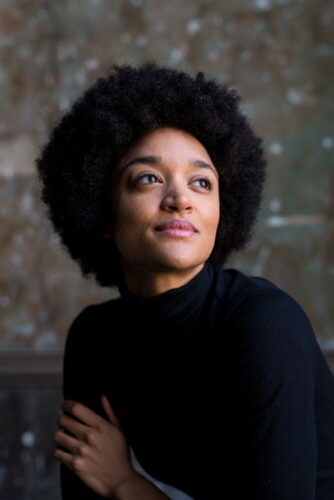 Kayla Collymore was born in Asbury Park, NJ and now lives in Houston, where she works as a freelance dancer. She's danced domestically and internationally, with experience in ballet, jazz, and modern dance. Collymore will be presenting a film with Barnstorm Dance Fest's brand new dance film program. I-10 is a dark comedy inspired by the song "America" from the 1951 motion picture West Side Story. "This classic film is soaked in witty spot-on sarcasm based on the stark realities of immigrant minorities in America," explained Collymore. "The stories of this population, as well as the general 'lower class citizens' of America, are the voices I wanted to highlight in this screendance film. I am the daughter of two immigrants, the first generation in my family to receive a university degree, a person of color, raised in the middle class, and a working artist. My story alone relates to the millions of Americans living in systems of inequity, pay check to pay check, prejudged, overlooked, slipping through the cracks and fighting for change." The film takes place in a few well-known yet "mundane" backdrops in Houston, Texas. Collymore observed that although the "overpasses in Texas are iconic for being massive and multiplying, they also serve as a shelter to many displaced Houstonians." Collymore juxtaposes this scene against one surrounding mansions in Houston and a scene that takes place in the back of a cargo truck en route to Mexico. The film is co-edited by Collymore and Erin Peyrani, and scored by Tony Pope, in which a guitar was used to match the different moods throughout the film. I-10 is funded in part by New Adventures Spring Forward Scholarship. Collymore hopes that viewers walk away with "knowledge of the harmful myths and stereotypes that are so casually passed around in our society. I hope this film is a reminder not to judge the less fortunate for their suffering without knowing their story."
Ayan Felix produces work on emotional intelligence and femme social constructs. They've had the pleasure of joining the legacy of Suchi Dance/Jennifer Wood, Dance Afrikana, Pilot Dance Project, and jhon r. stronks. While at Duke Univeresity, they have moved in pieces for Stephanie Batten-Bland, Andrea Woods-Valdez, and Thomas DeFrantz. The piece they will present to Barnstorm Dance Fest this year is titled (leading) questions, choreographed by both Felix and Tempest McClendon, who will also be performing the work. Felix and McClendon also sought out developmental support from Lee Edwards and Amari Jones. The entire piece has been built over Zoom, and will be finalized and staged in Houston the week before the festival. They will be dancing to Outkast's "Rosa Parks." The inspiration for the costuming was "going out attire." "We've developed our own going out personas for this piece," said Felix. "Club leather for Tempest and Country/Club for me. I used to go out for Zydeco night, and that's where I'm drawing a lot of inspiration for the piece, and what I hope will come through via the costuming." (leading) questions "deals with queer fantasy grown below catfish bellies. In this embodied telling, two fireflies decide to get crunk tf." The piece is an excerpt from a larger work that Felix is developing for the fall/winter of 2022, which will explore a "queer, sex-ed journey into what's possible for Black queer bodies when we imagine beyond the club," explained Felix. "I had my first recognizably queer experiences when I was dragged to the Zydecos by my grandma, so this excerpt is the club portion of the work. Zydeco is a genre of music, as well as a sort of meeting space. An exchange happens between people who are in the trail ride culture—which is a large group of my uncles on my mom's side. They happen after a trail ride and Zydeco culture is heavily related to Catholic/Louisiana culture. After a fete, people get together, play music and dance. It also has its own genre of partner dance called Zydecoin.' I'm not necessarily a traditional holder of the dance, but I'm rethinking what legacy means for me. My place is to expand the bubble that I was in. So, it's rooted in Southernness but also it's a bit more non-linear in its logic of the movement styles and characters that are developing within the piece." But the piece also intersects with other ideas around the queer club culture: "The club is risky, noisy, especially one that's intergenerational. I try to imagine what it would be like to have the space to rethink consent, of course, but also dialogue and conversation."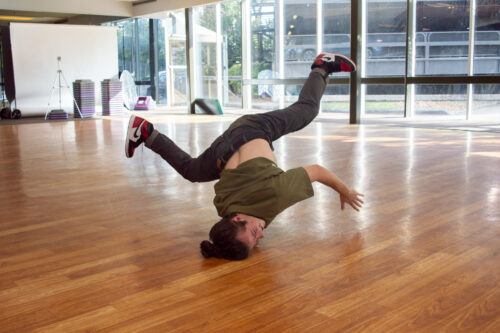 Andrea Minotti had always been inspired by Social Movement Contemporary Dance (SMCD) and the work of Elijah Gibson (the founder and artistic director of SMCD). Gibson often taught classes at Minotti's high school, and Minotti would often attend them. Minotti's mentor, Joel Rivera, and a former director of Minotti, Amberly Altamirano-Daniels, helped connect Minotti with SMCD, and he's been a dancer with SMCD ever since. For Barnstorm Dance Fest, Minotti will present Chapter 1, a solo centered around one of his own poems. Minotti originally performed and choreographed the dance work for a competition in high school. "I started writing a piece about myself and how I found hip hop and dance. How dance saved me by giving me direction. I showed that poem to Elijah Gibson (the founder and artistic director of SMCD) and he came up with the idea of joining the poem to the solo, which he had also seen. I recorded an audio of me reading the poem, and we began to build the solo from there," said Minotti. In terms of style, the piece is a hybrid work fusing breaking with contemporary dance.  The work will include the solo but has expanded to include a minute more of new choreography and movement. "I want viewers to know how art is not only for myself but how much it can mean for somebody. I also want people to get a sense of what I'm about – how serious I am about dance and how far I hope to take it. I hope they relate to it, and are also inspired," said Minotti. 
Dance Source Houston presents Barnstorm Dance Fest June 6-12 at MATCH. More information about all of the artists featured in the 2022 festival is available at dancesourcehouston.org. Tickets are on sale now at matchouston.org.