The Evelyn Rubenstein Jewish Community Center is a Houston gem presenting world-class dance in an intimate theater. For forty years, the leadership at the ERJCC has presented premier artists like Gus Giordano Jazz Dance Chicago, Koresh Dance Company, Ohad Naharin, and this year, Ido Tadmor. The ERJCC is dedicated equally to education and the support of local artists, and has remained community-focused while also showcasing international headliners.
In 1980, dance at ERJCC began with adult classes. The students were looking for a place to perform what they had learned, but the fitting locale, the Kaplan Theater inside of the ERJCC, was booked most of the year. Hilda Frank, a member of the ERJCC, met with the Performing Arts Director Mark Lit in efforts to give the students a performance opportunity. Mark Lit offered her the whole month of January, and Hilda Frank immediately responded—"I'll take it." The challenge was on to curate an entire month of exciting dance performances.
Dance Month at the Kaplan Theatre (now called Dance at the J) was born to identify, nurture, and present emerging local dance creatives, to offer diverse performances and workshops to Houston audiences, and to partner with local presenters to attract internationally acclaimed companies to Houston. Hilda Frank became the longstanding Chairwoman of Dance Month.
In 1985, Dance Director Lisa Roll, Maxine Silberstein, and Hilda Frank gave birth to Choreographers X6, a festival where the works of six Houston choreographers are presented each year. Thirty-five years later, on Saturday, February 15, at 8:00 PM, local dance artists Brittany Bass, Adam Castañeda, Teresa Chapman, Beth Gulledge Brown, Ashley Horn, and Christopher Thomas "YungChris" have been selected for this year's Choreographer's X6. The program will range from contemporary to hip hop and will also feature the Houston Ballet II performing the Pas de Deux from A Dance in the Garden of Mirth choreographed by Stanton Welch AM.
Silberstein, who has been at the ERJCC since 1974, and has served in a variety of roles—including 32 years as Dance Director—explains, "We want to support dance in the community of Houston. We are interested in a variety and range of dance styles." Reflecting over the past 40 years, she conveys an unwavering dedication to their cultural heritage by prioritizing Jewish and Israeli choreographers and cultural groups. She says, "It has been important to us. If we don't do it, who will?"
This year, Dance at the J has commissioned former Artistic Director of Israel Ballet Ido Tadmor to create a new work on Houston's Open Dance Project on March 7; Tadmor will also perform. Tadmor is an award-winning Israeli choreographer who has danced with Lar Lubavitch Dance Company, Complexions, and Bat Sheva.
A commitment to the diversity of dance and social justice can be seen from the earliest days of Dance at the J. In the 1980s, Dance Month featured a program called It's a Small World that brought a variety of cultural dances to audiences, and in 1990s choreographer Beth Corning created an installation and performance work called Legal Innocence about domestic abuse in which she hung wedding dresses around the room with true stories of abuse attached to the dresses. Past commissioned work has included dance about the AIDS crisis, and there are plans to explore mental health in the future. Dance at the J does not shy away from challenging subjects. Silberstein, who is now the Artistic Director of Dance at the J affirms, "I am excited by a challenge, about tackling difficult subjects."
Education is a vibrant part of Dance at the J. Silberstein recounts, "we have done a lot of outreach into the community at schools by bringing dance master classes to students in elementary, middle, high school, and university programs." Master classes, obtained through partnership with Society for the Performing Arts, are made available to the public and affordable to all dance students. The IW Marks Jewelers Master Classes have included artists like Susan Marshall, Bella Lewitzky Dance Company, and Garth Fagan Dance Company. This year, members from the Alvin Ailey Dance Company will be coming to offer a masterclass in late April, in conjunction with their performance through Society for the Performing Arts.
Silberstein believes in collaborations. "It's very important in this day and time," she says. And in a time where dance is continuously harder to fund, create, and present, she keeps an unwavering focus. "Dance is as important as every other performing art. Dance artists work so hard and receive so little recognition; I want to see it supported. I don't want to see dance go away. We all have to make sure the arts don't go away." After all, if we don't, who will?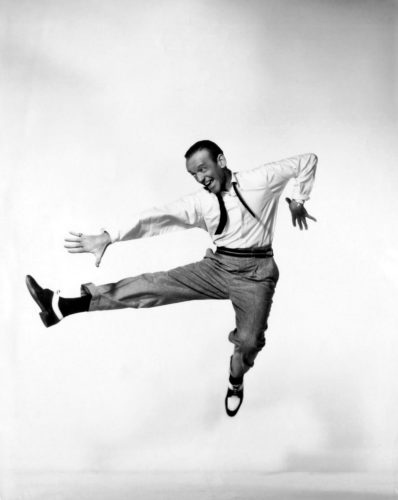 Also included in Dance at the J for the 40th Anniversary: Fly Dance Company will present Healthy Hip-Hop Show and one concert piece Out of Context on Friday, February 14th at 1:00 PM, and lecture and film Great Tappers from the Golden Age of Hollywood: Fred Astaire, Gene Kelly and Ann Miller on March 15 at 4pm.
For tickets: www.erjcchouston.org.