Contact:
Mollie Haven Miller
mollie@dancesourcehouston.org
713.224.3262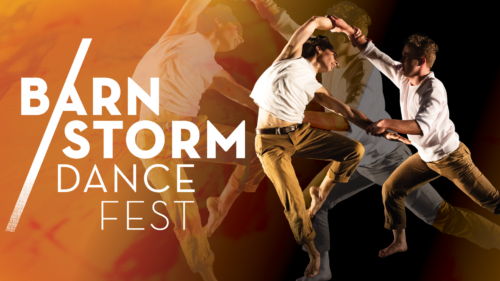 May 3, 2022 (HOUSTON, TX) – Dance Source Houston (DSH) is excited to announceBarnstorm Dance Fest 2022, featuring dance makers from Houston and beyond, after a two-year hiatus from the dance festival. Barnstorm will return to Midtown Arts & Theater Center Houston (MATCH) for a full week of live performances, dance film screenings, and artist talks, June 6-12, attracting dance audiences from across the Greater Houston region. The festival will kick off with SPARK, a fundraising launch party event, on Saturday, June 4 in the Gallery at MATCH, benefitting DSH's next season. Classes and workshops for movers of all experience levels led by Barnstorm artists will also take place throughout the festival at area studios. 
After a delayed 15th anniversary event originally scheduled for 2020, DSH is celebrating the organization's history and honoring its founder, Christina Giannelli, with a fundraiser to amplify the 2022 festival and fund artist fees for DSH's 2022-2023 performance programming. SPARK will offer attendees a fun dance party atmosphere alongside the who's who of Houston's dance community, including many Barnstorm artists.
The last in-person Barnstorm Dance Fest took place in 2019, followed by a fully virtual edition in 2020 and a festival pause in 2021. This year's Barnstorm introduces a lineup of three programs featuring a total of 19 live performance works and a new, additional offering of a dance on film program showcasing 9 dance for camera works. All four programs will run twice during the week-long festival schedule and weekend programs will be enriched by post-show artist talks facilitated by members of the local dance community. 
"We are thrilled to bring back Barnstorm after the long, but necessary pause. Dance festivals bring a certain excitement and cultivate such a unique sense of community that have been missed by both dancers and audiences," says Mollie Haven Miller, DSH's Executive Director. "Kicking off the festival by marking our 17th year as a dance service organization is a thrilling way to bring together artists and patrons in celebration of dance."
Dancemakers featured in the live performance programs of Barnstorm Dance Fest include Aimed Dance, Ayan Felix, Clara A. Mohagen, Evelyn Toh, Garage Arts Project, Jakari Sherman | Company XV, JuJu Strolling Thru, Justin Curry, Kemi OG, Kirstin Grbic ft. S.O.U.L.A.S.P.H.E.R.E, Matty Owens, Morgan Sandlin, Sadhana & Bhavana Gollapudi, Shaun Keylock, Social Movement Contemporary Dance, The Pilot Dance Project, Timothy Amirault, Two To Tango, and Tyler Orcutt.
Artists included in the dance on film program include Blake Daniels, ChrisMastersDance | Ex-Fiancée, Donna Crump, Ilia Borodine, Kay Collymore, Mark Freeman, Marta Arjona | Maite Blasco | Raquel Rodríguez, SETSVN, and YungChris.
SPARK tickets are $35 for DSH members and begin at $50 for the general public. Barnstorm single program tickets and four program passes are available for the festival. Discounted all festival passes, which include the SPARK fundraiser event and all four programs, are available through May 15. Tickets for the festival and fundraiser are on sale now matchouston.org. 
EVENT DETAILS
SPARK
June 4 at 7pm

Fundraiser event and Barnstorm Dance Fest launch party
Dance On Film Program
June 6 at 8pm
June 11 at 5pm followed by post show artist talk
Blake Daniels
ChrisMastersDance | Ex-Fiancée
Donna Crump
Ilia Borodine
Kay Collymore
Mark Freeman
Marta Arjona | Maite Blasco | Raquel Rodríguez
SETSVN
YungChris
Program A
June 7 at 8pm
June 10 at 8pm followed by post show artist talk
Aimed Dance
Ayan Felix
Garage Arts Project
Jakari Sherman | Company XV
Two To Tango
Tyler Orcutt
Program B
June 8 at 8pm
June 11 at 8pm followed by post show artist talk

Evelyn Toh
Justin Curry
Kirstin Grbic ft. S.O.U.L.A.S.P.H.E.R.E.
Sadhana & Bhavana Gollapudi
Shaun Keylock
Timothy Amirault
Program C
June 9 at 8pm
June 12 at 5pm followed by post show artist talk

Clara A. Mohagen
JuJu Strolling Thru
Kemi OG
Matty Owens
Morgan Sandlin
Social Movement Contemporary Dance
The Pilot Dance Project
Tickets
SPARK
$35 DSH member ticket
$50 Supporter ticket
$100 Underwriter ticket
Festival
$20 – Performance ticket / $25 at the door
$15 – Dance on film screening ticket / $20 at the door
$70 – 4 program pass
$100 – All festival pass – Includes 4 program pass and fundraiser ticket. Only available through May 15! 
Tickets are available at matchouston.org.
ABOUT THE FESTIVAL ARTISTS
DANCE FILM PROGRAM
Blake Daniels
Blake Daniels is a videographer/photographer out of Houston Texas. He has a passion for creating art that is inspiring and thought provoking. Blake is married to his beautiful wife, Amberly who dances for Social Movement Dance Company. She inspired him to explore his creative side and has supported him through his videography and photography journey. Blake currently works a 9-5 corporate job but aspires to make art and films full time.
blakedanielsphotos.mypixieset.com/
ChrisMastersDance // Ex-Fiancée
Chris Masters's dance work has been presented in NYC at Judson Memorial Church, Salvatore Capezio Theatre, La MaMa Experimental Theatre Club, Danspace Project, 100 Grand, Triskelion Arts, Irondale Center, and Dixon Place, as well as Detroit Opera House, Music Hall Performance Space (Detroit), Boll Theatre (Detroit), The Iron Factory (Philadelphia), and Fengchao Theatre (Beijing).
Sven Britt has played, produced, and toured with Stranger Cat (Joyful Noise Recordings (Son Lux, Kishi Bashi, of Montreal)), a duo with Cat Martino (The Shins, Sufjan Stevens, Sharon van Etten), opening tours for Son Lux, Patrick Watson, Sebadoh, Night Beds, Indians, and playing at Bonnaroo. He has presented music for immersive theatre/dance at La MaMa Moves! (NYC), Danspace Project (NYC), Fengchao Theatre (Beijing), Triskelion Arts (NYC), and others. He has an upcoming solo album under the moniker Ex-Fiancée, directed by Chris Masters, with a video suite which has been selected for multiple film festivals.
Donna Crump
Donna Crump is an award- winning choreographer, actress, and performing artist from New Orleans, Louisiana who has been dancing for over 30 years. She holds a BFA in dance from Tulane University and has studied and created dance internationally with Brazil's premier dance company Grupo Corpo. As artistic Director of her contemporary dance company, Good Dance Since 1984, Good Dance has performed nationally, receiving several arts awards for Best Choreography and Outstanding New Work. Collaborator, Kayla Collymore, a New Jersey native, is an alumna of The School at Jacob's Pillow and was voted 2017's Top 25 to Watch by Dance Magazine.She is an award winning filmmaker, performer, dance and yoga instructor, and movement designer. Together they most recently appeared on the front cover of Southwest Contemporary Magazine- Inhale/Exhale Volume 3, the 2021 Fall preview of Dance Magazine, and Arts & Culture Texas Magazine.
Illia Borodine 
Ilia is a passionate young director and cinematographer from Vancouver, Canada. Utilizing abstract visuals and non-linear narratives, Ilia pushes the boundaries of filmmaking into a something that's emotionally provoking.
Kayla Collymore
KAYLA COLLYMORE, a New Jersey native, graduated (Summa Cum Laude) from Mason Gross School of the Arts at Rutgers University with a BFA in Dance. Kayla has performed with dance companies around the world including METdance Company(Texas, USA), Hou Ying Dance Theater (Beijing, China) and Brian Brooks Moving Company (New York, USA). Her professional experience ranges into screen dance, artist residencies, and hosting master classes. She is an alumna of The School at Jacob's Pillow and was voted 2017's "Top 25 to Watch" by Dance Magazine. Kayla toured internationally with Matthew Bourne's Swan Lake and is currently on tour with their production of "Nutcracker!" followed by "The Car Man" at the Royal Albert Hall the summer of 2022. When she isn't on tour she is based in Houston, Texas as a freelance performer, dance educator, yoga instructor, movement designer and film director.
Mark Freeman
Mark Freeman is a professor emeritus of Television, Film and New Media at San Diego State University. He has produced and directed, written and edited programs for broadcast on public television. Freeman's films have won numerous awards. They have screened at museums including the Museo do Oriente (Lisbon), Weltmuseum (Vienna), Hong-Gah Museum (Taipei), Smithsonian Institute's National Museum of Natural History, the American Museum of Natural History and the Museum of Modern Art (NY).
Marta Arjona – Maite Blasco – Raquel Rodríguez
We are Maite and Marta, mother and daughter and coworkers. Together we run DansPXL, an audiovisual and photographic production company specialized in dance and performing arts and we have created this project in collaboration with la Imperfecta Dansa with a work directed by Raquel Rodríguez.
SETSVN
SETSVN. The seventh & largest in the set. The theory of the seventh largest wave is the backbone of our work. Patience and determination. Our mission, telling your story one film at a time. Houston born & raised by the world. Adventurers. Film makers. We are intrigued by the mystery of the earth and what lies beneath. We are willing to dive deep into our passions, and yours. Not to create a narrative, but to encapsulate the moments that deliver an experience of wonder, and curiosity.
YungChris
Chris Thomas has toured the world visiting 24 countries as a teacher, dj, choreographer and performer. 2010 YungChris relocated to Bangkok, Thailand to explore dance abroad. There he trained local pop stars while hosting and performing at events throughout Southeast Asia. YungChris moved back home to Houston a year later and started his dance company, Sonkiss'd Dance Theater. With Sonkiss'd Chris mentored dancers. He also provided opportunities for them to expand their talents to become more valuable in the competitive market of entertainment.YungChris has been awarded numerous awards and grants for his unique artistry and productions. Chris. also helps emerging creatives as a mentor/facilitator with Artist INC., a program curated by Fresh Arts. During the 2020 Covid-19 shut down YungChris received his first commissioned project from the Society for the Performing Arts for his short film "TipToe Thomas." TipToe Thomas is now making it through film festivals across the world.
PROGRAM A
Aimed Dance / Amy Elizabeth
Aimed Dance, originally founded as Rednerrus Feil Dance Company in 2006 by artistic director Amy Elizabeth, seeks to foster an awareness of and value for dance as a fine art throughout Southeast Texas. In 2016, Aimed Dance shifted education & educational resources to top priority by providing internships, scholarships, & additional resources & training opportunities.
Amy Elizabeth as a dance creative, arts administrator, & educator holds a MFA from SHSU & a MBA from LU. Amy's work has been produced by the ACDA, Brazos Contemporary Dance Festival, Houston Fringe Festival, Dance Gallery, Barnstorm Dance Fest, Mind the Gap, Austin Dance Festival and commissioned by Kingwood Youth Ballet, Lamar High School, Tarrant County College, San Jacinto College, SFASU, Rice University, & DSH Artist in Residence. Amy has been on faculty with Lone Star College & HCC and instructor at SHSU, Rice University, & Rowland School of Ballet. Amy currently sits on faculty with Lamar University.
Ayan Felix
Ayan Felix (they/them) is a 3rd-Coast-bred movement artist, emotional laborer, and auntie-in-training residing in NC, USA. They research how Black American cultures develop understandings of gender through dance and family. Ayan performs collaboratively with improvisational styles based in modern/post-modern dance, physical theater, and jazz styles. Although much of their time as a dancer is spent in staged works, their most urgent work is site-responsive using dreaming as a source of performance and change. They were among the first to earn an MFA in Dance through Duke Dance Program. Their goal in 2022 is to grow their own lettuce and evening-length show/happening.
Company XV Dance / Jakari Sherman
Jakari Sherman is a passionate choreographer, ethnochoreologist, and performer whose experience extends over 25 years. Rooted in the African American tradition of stepping, his work has sought to push the boundaries of percussive dance as a communicative medium by challenging conventional paradigms and exploring the use of technology, storytelling, and diverse musical scores. As an ethnochoreologist, he seeks to blend performance, research, and community engagement through performative ethnography and applied ethnochoreology. Jakari is currently developing works for Company XV ('fifteen'), an eXperiment in Virtual dance, founded on the premise of operating 90% by virtual channels and fully exploring creative productions delivered through digital/virtual channels.
Garage Arts Project
Garage Arts Project is a 501 c(3) non-profit organization dedicated to providing an intimate and immersive platform for artists and audience to foster creativity, goodwill, increase appreciation of the arts and strive for better cultural understanding.We believe that performing arts can provide a unique insight into our diverse and vibrant community and has the power to bring different cultural ethnicities and backgrounds together. The richness of the past and one's individual expression, provides a means to explore the present and the future together. We value creativity, critical thinking, innovation, integration, collaboration, and partnerships.
Two To Tango / Mauro Marcone and Jennifer Mabus
Two To Tango, Mauro Marcone's dance academy in Houston, was established in 2014 to educate the community about tango, create opportunities for dancing Argentine tango, and to promote Argentinian culture. The Houston Heights studio hosts group and private lessons, milongas (social events) and performances. Two To Tango focuses on "Tango Salon" and the elegance and variety of figures of this style allow it to be danced on the stage or in milongas. Mauro Marcone's goal is to pass on his knowledge of tango dancing, as well as the culture behind this passionate dance.
Tyler Orcutt
Tyler Orcutt, a dance artist based near Houston, is currently an MFA candidate with a Graduate Teaching Assistantship position at Sam Houston State University. Former dancer with Repertory Dance Theatre (RDT) from 2012-2020, Tyler has toured the west coast performing in lead roles choreographed by Modern Dance pioneers Humphrey, Limón, Shawn, McKayle, Itō, and Cunningham. With RDT, he also worked with current choreographers Bebe Miller, Lar Lubovitch, Danielle Agami, Tiffany Rae-Fisher, Noa Zuk, Ohad Fishof, and Zvi Gotheiner, among many others. He has performed with Ririe-Woodbury Dance Company during a 2016 collaboration with RDT and the Eccles Theater, as well as guested with St. Petersburg Opera and Moving Current Dance Collective. He most recently joined NobleMotion Dance in the summer of 2020. Tyler holds a BFA in dance from The University of South Florida, during which he performed in works by Bill T. Jones and Doug Varone.
tylerborcutt.wixsite.com/website
PROGRAM B
Evelyn Toh
Evelyn Toh is a dance artist, teacher, and choreographer, based in Houston, TX. She is currently a company member of NobleMotion Dance, Visiting Assistant Professor at Sam Houston State University, and Assistant Team Director at Texas Academy of Dance. She obtained her MFA in Dance from Sam Houston State University and graduated magna cum laude with a BFA in Dance from The Boston Conservatory under Singapore's prestigious National Arts Council Overseas Scholarship. As a dance artist, Evelyn has performed with John Mead Dance Company, Ballet Rox, Nimbus Dance Works, Transitory Sound and Movement Collective, Joshua Manculich's Whirlwind, MOMIX, and THE Dance Company (Singapore). In addition, Evelyn's choreographic work has been presented at numerous venues such as Barnstorm Dance Festival, THE Dance Company's New Vision (Singapore), ACDA South Central Gala, International Online Dance Competition, Boston Contemporary Dance Festival, and Dance Gallery Festival (TX and NY).
Justin Curry
Born in Jacksonville, Florida, Justin Curry is an emerging dancer, choreographer, and educator currently based out of Houston, Texas. Justin's performance career includes: WhirlWind Dance Company, Houston Fringe Festival, Sam Houston State University Department of Dance, Santa Clara Vanguard Drum & Bugle Corps, CGT (Color Guard Theater) Dallas, CGT Denton, Black Gold Winterguard, and Somnium Independent. Justin has had the opportunity to choreograph and teach for numerous dance organizations in Texas specializing in teaching Modern, Contemporary, Jazz, Floorwork, Improvisation, Choreographic Tools, and Beginner Ballet. In the studio, Justin emphasizes creative individualism and autonomy. He has presented choreography at Big Muddy Dance Company Screen Dance Festival, Jacksonville Dance Film Festival, and Sam Houston State University. Justin is currently pursuing his BFA degree in Dance with a focus in choreography and performance from Sam Houston State University.
Kirstin Grbic ft. S.O.U.L.A.S.P.H.E.R.E.
Kirstin Grbic is a multidisciplinary artist and alumnus of UT Austin. Her collaborative work has been presented by the Cohen New Works Festival and ACDFA and its Gala event. She is a former member of Tapestry Dance Company where she performed internationally on tour presenting "The Souls of Our Feet". Locally, she has performed at the CAM of Houston in honor of the Stonewall Riots, co-produced tap dance/live jazz shows, and danced with Boomtown Brass Band. Kirstin is also the Founder/Director of H-Town Tap, an emerging community organization in residence at the HMDC.
S.O.U.L.A.S.P.H.E.R.E is a Nigerian Soulful Recording/Performing Artist, Singer, Songwriter, Visual creator, and Ukulele player from Houston, Texas. She is currently working on her first studio album, scheduled to release in 2022. Her upcoming album will be a mixture of real life stories, spoken word, and film ignited by her life's journey throughout her musical career thus far.
h-towntap.square.site & soulasphere.com
Sadhana and Bhavana Gollapudi
Sadhana Gollapudi is a Kuchipudi dancer training under Dr. Rathna Kumar in Houston. She has been training and performing Indian classical for 19 years. She has performed with many organizations including Tandavam Events, Virtual Arts for Humanity, Music of Madras, Houston Yuva Kala Utsav, etc. She has performed for the Houston Fringe Festival. She has also been a part of dance ballets like Dashavatar and Sri Krishna Parijatham. Most recently, she has choreographed and starred in a music album. Bhavana Gollapudi is a Bharatanatyam dancer training under Dr. Rathna Kumar in Houston. She has been training for 14 years and performed at various local events in Houston and Dubai and also taken part in dance ballets such as Dashavataram and Ramayanam. She was also the captain of the Raas dance team at the University of Houston and competed on various stages across the country. Recently, she choreographed and starred in a devotional music album, and starred in music videos by local artists.
Shaun Keylock Company
Shaun Keylock Company is a contemporary dance company established in 2018 and based in Portland, Oregon. The company is known for its distinctive visual style and unique approach to contemporary performance that is at once both technically sound and radically subversive. Previous credits include: On the Boards (Seattle); Austin Dance Festival; Dance Source Houston; PUSHFest (San Francisco); Ten Tiny Dances and New Expressive Works (Portland). Most recently, the company was featured in the U.S. debut of the chamber opera "When the Sun Comes Out," presented by Portland Opera.
Timothy Amirault
Timothy Amirault is a Dallas-based dancer and choreographer. They began their training at Booker T. Washington HSPVA, followed by Sam Houston State University where they received their BFA in Dance. While in college Amirault performed professionally with NobleMotion Dance and Hope Stone Dance in Houston. They also appeared in John RIdley's season two of American Crime. After returning from college, Timothy became a founding member of Bridget Moore's Dallas-based company, B. Moore Dance. Amirault has now decided to pursue their own creativity, and is focused on choreographing and presenting work of their own.
PROGRAM C
Clara A. Mohagen
Los Angeles based choreographer and dance artist, Clara Auguste Mohagen, creates works that are reflective of an ongoing conversation between the cosmic and the corporeal, between the present and intimate worlds of today, whether it be physical, emotional, or spiritual; and lands distant in terms of both space and memory. Born in Haiti and raised in Miami, Florida, she is a choreographer and dance artist. She holds a Master of Fine Arts in Choreographic Inquiry from UCLA and a Bachelor of Arts in Dance from City University of New York, Hunter College. In 2016, Clara found Aeternus Dance Company and has since shared works with audiences in both New York City and Los Angeles. Most recently her MFA Capstone work "Seremoni a: Holy Trees"; was selected for the inaugural Black Lives Rising Dance Film Festival which premiered both online and in-person in New York City. She is currently part of Danza Organica's 2022 We Create Cohort.
JuJu Shop Productions/Felicia Johnson
JuJu Shop Productions is the performance entity of the JuJu Shop, a tiny oasis in Third Ward Houston that is known for healing, magic and rituals. We produce short films, photography series and books, along with lectures and workshops surrounding traditional African religions. Formed in 2019, JuJu Shop Productions is excited to move forward with its first dance performance project.
Kemi OG
Kemi OG is a dance artist, choreographer, and creative director. She is the Afrodance Instructor at the Institute of Contemporary Dance and the founder of three organizations: Afrobeats with Kemi OG, an Afrodance program teaching technique and fusion choreography, AFROBEAT at JHU, a Zumba-inspired Afrodance fitness program based on Afro -Caribbean rhythms, and OG Creatives, a creative studio using art to explore BIPOC narratives. As a dancer, she has performed for artists such as Tiwa Savage, Oritse Femi, Toofan, Yemi Alade, Eddy Kenzo, Afro B, Mr. Eazi, and Kizz Daniel. As an artist, Kemi is known for creating abstract, culturally infused pieces that experiment with Afrodance and incorporate other artistic mediums to reflect people's interactions, emotions, and perspectives. She is the grant recipient of the Houston Art Alliance's 2020 Individual Artist Grant, Houston in Action's 2020 #Htownvotes initiative, and Dance Source Houston's 2021 Spark Dance Grant for Choreographers.
Matty Owens
Matty Owens is a rhythmic chameleon. They are a professional tap dancer and have been a member of two tap dance companies in Texas: Rhythmic Souls in Dallas and Tapestry Dance Company in Austin. They have performed in full-length shows and dance festivals nationally and internationally. Matty graduated from Texas Woman's University with a BA in dance and has studied multiple dance genres including modern, jazz, and ballet. They also play piano and bassoon and sing and act. Matty enjoys incorporating all their different skills into creating choreography that showcases tap as a musical instrument and intertwines auditory and visual components to create a stimulation of multiple senses at once. Their goal is for the audience to see the melodies they are hearing, and to have the audience question preconceived notions of the relationship between dance and music. Matty lives in Austin, Texas with a wonderful pup named Tonks.
Morgan Sandlin
Currently based out of Austin, Texas Morgan Sandlin is a dancer, choreographer and teacher who obtained her BFA in dance from Sam Houston State University. As a choreographer, Sandlin has presented her stage and film works at Sam Houston State University, Houston Fringe Festival, Dance Works Chicago's DanceChance, and at First Street Studios 5×7 Dance Fest. As a performer, Sandlin was one of the original members of Joshua Manculich "Whirlwind Dance Company", alongside working with Andrew and Dionne Noble, Adele Nickel, and Donald Shorter Jr. during her time at SHSU. She has been a featured performer in Tori Nunns Dance Film "104.9 degrees fahrenheit" which has been presented nationwide, as well as in Anna Bauers stage works "this is also vanity" and "[author's note]" which were respectively performed at "Texas Improvisation Festival", and "Barnstorm Dance Festival". She is currently working as a dance teacher for Cedar Park Dance Company, and as a certified Flexologist at Stretchlab.
The Pilot Dance Project/Adam Castaneda
ADAM CASTANEDA is a dancer, choreographer, and arts administrator living in Houston, Texas. He is the Executive and Artistic Director of the Pilot Dance Project. In 2018, he was a graduate of the second class of Houston's Artist Inc. program, and was one of 15 dance presenters selected from a national pool of applicants to participate in the Jacob's Pillow National Dance Presenters Forum. He was chosen as one of Dance Source Houston's 2018-2019 Artists-in-Residence, has recently led The Pilot Dance Project through EmcArts' New Pathways program, served on the National Endowment for the Arts dance panel, and was awarded a 2020 Support for Artists and Creative Individuals from the City of Houston through the Houston Arts Alliance. Outside of dance, Adam holds an MA in British and American literature from the University of Houston, and is a full-time faculty member of Houston Community College's English department. 
Social Movement Contemporary Dance 
Social Movement Contemporary Dance was founded under the Artistic Directorship of Elijah Alhadji Gibson. SMCD performs original works that address the cultural boundaries, limitations, and expectations of the human experience. Gibson has a passion for generating thought-provoking work that reflects his belief that dance mirrors how people embrace and/or resist the cultural boundaries, limitations, and expectations laid upon them by social constructs.
About Dance Source Houston
Dance Source Houston is a 501(c)(3) nonprofit organization dedicated to empowering the diverse individuals and organizations working in the field of dance throughout the Greater Houston region by means of advocacy, inclusive community engagement and support services. Founded in 2005, Dance Source Houston is a resource for all things dance in the Greater Houston area and provides programs and services to address the evolving needs of the local dance community. Dance Source Houston is funded in part support from The City of Houston through the Houston Arts Alliance, the Cullen Trust for the Performing Arts, Houston Endowment, and Texas Commission on the Arts. www.dancesourcehouston.org