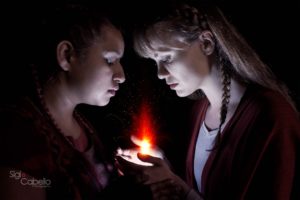 "I love doing narrative work," Maggie Lasher declares. "I'm really drawn to how I can tell stories without words. As a kid I loved the picture books that told stories without any words." She also loves dancing with fire. But we'll get to that later. Lasher, and her company Holding Space Dance Collective present Lightbearer with the Pilot Artist Board on February 10, 11, 16, 17, & 18 at 8:00 pm at the Pilot on Navigation.
Lasher makes work she describes as "homegrown." She elaborates, "It's a very organic show, I made everything. It came from my head and from my hands. Lightbearer is one of the bigger ones I've ever done." Lasher isn't exaggerating. She creates the costumes, the concept, the narrative, and the choreography. She names her dancers as collaborators in the movement creation. "Something tipped me off to fairytales, and I let it roll from there. The story is completely original, although I had some strong influences, particularly the Tolkien works like Lord of the Rings. I also drew from the real life Shackleton narrative– from his epic exploration of Antarctica, and I studied the characteristics of fairy tales."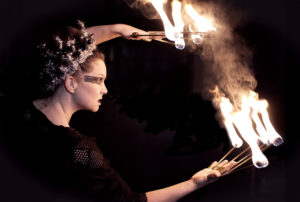 The story of Lightbearer goes like this: There is a village charged with keeping the Light of the World, a Shadow Queen leaves her Shadow Realm and steals their light. The villagers choose two of their citizens to journey to reclaim the fire. They meet various characters on their journey to find the Shadow Queen, like Northern Lights in Siren form, a Golden God who saves the day several times, raptors, and butterfly creatures. The dancers also play out the physical elements, like a snow storm at sea. In the fieriest scenes, you'll find shadow demons reveling with their fire torches and fans. 
Lasher's company Holding Space has a unique focus in the Flow Arts, which is a term for movement-based disciplines like juggling, fire-spinning, and object manipulation. "It's a fascinating world to me, parts of it emerged from Polynesian culture and circus arts," says Lasher. In the summers, she attends Flow Arts workshops mastering poi, fire spinning, hula hoop, and juggling. "In the past few years an entire community has sprung up around the Flow Arts and I love it. When I first started spinning poi fifteen years ago it was a much different scene than it is now. Only in the last couple years have I gotten into other props and started very focused training on the Flow Arts." She says people tend towards certain props and stay away from others, and the members of her company are developing skills in a range of them. While we may think of fire spinning as risky business, Lasher finds it fundamental. "I think of fire as low tech, it's one of the oldest things known to man, I don't have to rely on computer technology to pull off effects."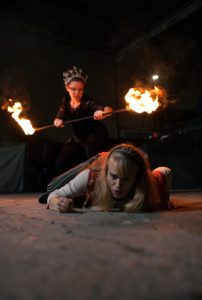 In an intimate theater like the Pilot on Navigation, people may be curious about the use of fire. Lasher consoles, "some people have a fear of it; but for the audience it's incredibly safe." The performance takes place inside and out, and Lasher promises warm beverages and blankets on the cooler nights but advises audiences to bring their jackets. Who doesn't want to curl up with some hot cocoa on a cool evening and watch fire dancing?
Lately in Houston, there seems to be a reemergence of narrative work in the dance community. Lasher, who is a dance professor at Houston Community College, says her students and people new to dance connect most to performances with stories.  Lasher is an entertainer at her core, and mystifying an audience with abstract work doesn't compel her. She wants her audiences to feel connected to the performance and enjoy it.
"I've had a personal renaissance in the Flow Arts over the past couple of years, and that's driven me to go out in the world to really see what is going on."  She's digging deep in the Flow Arts to bring us something we don't have yet in this city. She's raising up a dance company of Flow Artists.
We get to enjoy her fiery fantasy Lightbearer with a warm beverage in our hands. Lightbearer is presented by The Pilot Artist Board, which is a "curated space grant program that gives artists of merit the opportunity to present an evening-length program at the Pilot on Navigation." Tickets can be found at holdingspacedance.com and freneticore.net.