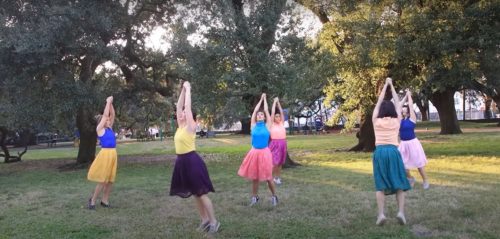 For all of us, 2020 is about adaptation, about continuing onward as the COVID pandemic limits the choices that we can make in the world with our bodies in concert with one another. For dancers, who spend their lives expanding past the limitations of one's body and what dance can create in the world, it also means one's world and one's work becomes smaller—in the figurative sense, but also in the literal sense. I spoke to Ashley Horn and Adam Castañeda about their evening-length work, "Mettle/Tether," which will be streamed digitally from December 20-December 30, and how the pandemic has impacted the making of their works, as well as the works themselves. 
"I'll be honest," Adam Castañeda confessed when I asked him about the process of shifting from the idea of a live performance to a digital one. "All of this digital production hasn't worked for me, overall. It doesn't feel embodied in my own practice. It's a completely different skillset. What is missing in all of these conversations in pivoting to a digital format is that the creator isn't just tasked with a work, but also with developing all these new skills to do that. I must learn to be a videographer and an editor. If we are producing a show for a social media format, that means we can't use copyrighted music, which means that I have to find a musician willing to collaborate or figure out how to sound design. It's a learning process."
But, regardless of the challenges, the pandemic has opened up opportunities for Castañeda to connect with dancers and artists that he had fallen out of touch with, bringing about collaborations that resulted in some of the works presented in his "Mettle."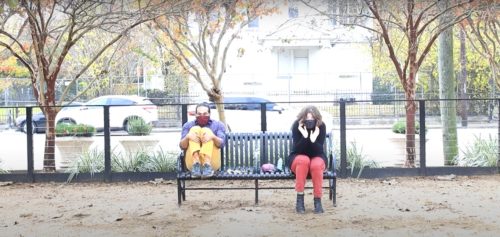 "In Our Company," a duet Castañeda choreographed with artist Karen Imas, was built starting off with a rehearsal on Zoom, and its narrative is rooted in the isolation that many are experiencing as the pandemic lingers in the United States. Two friends, performed by Castañeda and Imas, reunite after eight months of separation, only to discover that their lives have propelled in vastly different directions, directions that have been dictated by the consequences of the public health crises we all find ourselves impacted by.
 "When He's Gone" is a duet based on a short story Castañeda wrote about a successful poet who is now happily married, but recalls the grief of losing her first husband in a car accident during a writing session. "In this story I was trying to answer the question of how you continue to live, how do you create a happy life despite this very intense grief that you carry with you for the rest of your life." Natasha Manley accompanies When He's Gone with a poignant rendition of Joni Mitchell's A Case of You. 
Castañeda conceived "Thoughts Had on The Waterway" with two dancers Nicola Bennett and Tory Pierce "just for the hell of it." As Castañeda explains, they made do with what they had: "There was no funding and no programming expectations involved. We even paid for the rehearsal space on our own dime. We approached the Woodlands Township and they agreed to let us show our piece at the Woodlands Waterway, a multi-purpose facility with a green space and fountain at its center. The piece was a highlight of my fall. We rehearsed it in-person wearing masks, and performed in front of dozens of people. It felt like being a dancer again! My contribution to the piece was reset for six dancers and I used it for my annual entry for Dancescape. This version was filmed in Elizabeth Baldwin Park and is included in the concert. Even though it's an abstract ensemble piece, the twelve gestures that I used to build the piece were inspired by the original trio's choreographic concerns – dancing during a pandemic, finding new love during a pandemic (which actually happened to all three of us), and the anxiety that all of this isolation is creating. I returned to my soft, fluid aesthetic, which means so much to me because it's my primary dance language."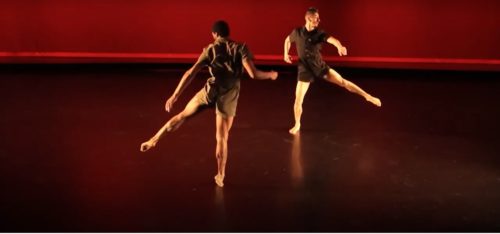 The title piece, "Mettle," came out of an opportunity to connect with other artists during the pandemic. "I wanted to explore male friendship and intimacy. I paired together movers from two completely different backgrounds. Lyric Williams is an urban street dancer, and Ruben Treviño is a classical ballet dancer. What came out of this interaction was a play on their different movement styles and abilities, but most of all, an exploration of the different ways men interact with each other. Brothers, best friends, fathers, sons, lovers. The title emerged because it's describing how the piece itself, which has a kind of aggressive, gritty quality, is so different from my usual work, which I would describe as softer, fluid, pretty. I tried to step outside of my comfort zone," said Castañeda. Ty Lewis created the sound design, which integrated a collage of sounds associated with masculine activity, such as ball games, police sirens, and gunshots. 
For Ashley Horn, "Tether" is a work she's proud of, but the finished product is a far cry from how she conceived it. "'Tether' was initially going to explore ecosystems and how we're all intertwined in this way that is not only through nature but through everything we do, and how it has this ripple effect that extends out to everyone else. We see these little tethers through everything. When they break, they're hard to mend, if mending them is even possible," Horn stated of the initial concept behind her work. The initial idea was that Horn was going to spend months growing plants in her own yard out of seeds from food that she ate with her family. She would choose plants that would help bees and butterflies. Those plants would become part of the set of Tether. "The idea," Horn explained, "was that the audience would take these plants with them after the show and hopefully plant them, so that the experience of Tether would be this growing organism. A tether would be built between the show and the plants people continued to grow in their own homes."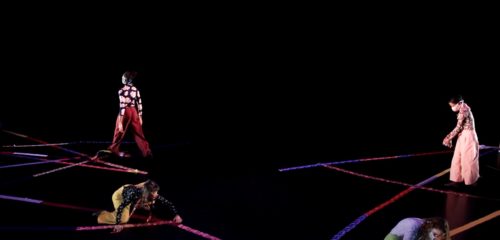 But the pandemic changed all of that. And Horn began to think of the same idea of ecosystems, but in a more immediate sense. "I began to think of the idea of the pandemic in conjunction with the idea of being tethered to people, the ripple actions of people inside this pandemic. Yes, you're probably not going to get that sick, you're probably not going to die, but your actions are going to possibly infect everyone else. The choices people were making were frustrating and heartbreaking. But, at the same time, it was incredibly inspiring to see people who were completely healthy giving up a lot to keep people safe. So I began to think about that kind of ecosystem." 
But, at that time, Pilot Dance Project was still considering having a live event. "People were not getting better and they were taking fewer precautions. We're making this work about all of this, but we're still going to bring all of these people together to make it happen. We can't do this. I know it's what we want, but it's irresponsible," said Horn. Pilot Dance Project made the tremendously heartaching decision to cancel the live event and plan ahead for a future time where they could hopefully show this in person. As that happened, Horn made a new adaptation. 
"I began to rethink this show, again. I started making all of these objects out of things I thought could tether people to one another. I repurposed bowls out of old fabric I had leftover from costumes I had made, and postcards with stamps I had adhered to them. I had an idea that the bowls could be laid out around the space, and between dances we could put an object in each bowl. I then made long, quilted fabric pieces. We would put one end of the fabric next to an audience member and the other in one of the bowls, and audience members could take these bowls with them and keep the objects, and it would create a different kind of connection." But, shortly after this second adaptation, the cases in COVID across the country began to spike, and Pilot Dance Project finally made the decision to move ahead with the show, but to stream it digitally and cancel the live event. Horn used the fabric, bowls, and objects as part of the set, and created movement around the dancers. 
"I'm glad this work will be out there. But, as long as this pandemic goes on, the choices get smaller and smaller. It's not a matter of reconfiguring it. I'm hoping next year we'll be able to perform this piece at an abandoned nursery in the Heights, marrying the objects with the plants as I had hoped to. But, who knows? It's hard to imagine thinking even six months ahead right now."
The digital concert will be streamed on-demand at matchouston.org.