April 28, 29, 30 and May 5, 6, 7, 2017, 7:30pm, The Pilot on Navigation
freneticore.net
It's an interesting challenge to write about a choreographer whose work you've been looking at for the better part of a decade. I've watched the work of john r. stronks evolve over the years, themes shifting, presentational style morphing to suit the content and venues and yet, there is a golden thread that runs through all his work. The work has an inescapable point of view that nonetheless reveals to the attentive audience member the cost of holding that space. It's a combination of firm resolve and vulnerability.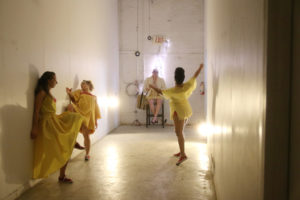 Presented by the Pilot Dance Project, the full title of jhon's current show, as the program tells us, is "Once upon a time, in the land of green skies, blue grass, and red bottom shoes . . ." For those who have been to the Pilot on Navigation (previously Frenetic Theater), for this performance we didn't enter through the lobby but through a door on the Navigation side of the building. We were immediately in the dance studio of the complex, curtained off by sheer, white material that was lit from inside so we could see the shadows of dancers on the studio floor. We were told we could watch the dancers' shadows or go behind the curtain and watch the dancers themselves. I did a bit of both, but spent most of the time watching them directly. When I went behind the curtain, I counted eight dancers, none of them jhon, all dressed in yellow dresses over red undergarments, an eye-catching look that enlivened the drabness of the converted warehouse. There was no music and the dancers all appeared to be improvising within a movement vocabulary of sweeping gestures, which changed in tempo and energy. A kitchen timer was on the floor, along the mirror, and it would "ding" every so often and a dancer would put on red canvas sneakers and leave, resetting the timer before exiting. Dancers would sit, stretch, do various warm-up exercises, dance some more. Sometimes they would whisper to one another, laugh, sharing secrets.
When the last one exited, the audience moved into another part of the building, past what appeared to be a holding room for the dancers. It looked to be a storage room for the theater, with props and furniture, lit by battery-powered tea lights. We walked by this room and into a white hallway with jhon sitting on a high, cushioned chair at the other end. He was wearing a short dress, a fur coat, strings of pearls, large 1970s sun glasses, and heels. He hummed a melody while other cast members danced along the wall. It soon became apparent we were to walk toward and past jhon through another door. As we passed jhon, he offered us dabs of glitter, like a sacrament.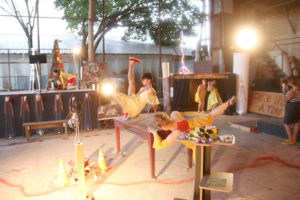 Walking through the next door, were outside, in what looked like a work area for the theater. It was set up with platforms, which dancers used to continue their improvisations. There was sidewalk chalk for us to use on the concrete floor. When jhon followed us out, he encouraged us to "face the wind" (it was, indeed a breezy evening) and proclaimed "It is so nice outside!" He encouraged us to walk across the space, arms out, enjoying the evening air.
This was a brief interlude as we were then led into the theater, where every black curtain and flat was pulled away from the stage and we were encouraged to sit around the stage, even walk across it. What would normally be the backstage area was not altered much, if any, as there were flats and props in storage all around. It had a slight dystopian feel of it, as if this action taking place in an abandoned theater.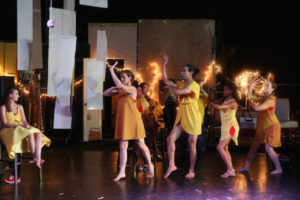 But onstage, there were pieces that were clearly set up for the show; more of the high, cushioned chairs, two cones of white cloth hanging from the fly space, more tea lights in small metal wire spheres. A wall was spray painted with the slogan, "Do not fear us. We are love."
It was after I settled into my seat that I recognized jhon for who he was in this environment. He was host to a party in a world he'd like to create.
While the cast of yellow and red clad dancers danced some more for us—moving about the stage at various speeds, playing within the conical sheet-tents, otherwise having fun—jhon disappeared briefly, only to return in a long, sequined evening gown. Here jhon alternated between strutting and staggering, dancing with confidence and then stopping to consider his situation. He began singing "We're All Alone," in his high tenor/falsetto, altering a key phrase here and there. Rita Coolidge told us that "It will be all right," but jhon said "It won't be all right." Rita said, "Learn how to pretend," but jhon instructed us, "learn how to begin." There was a price to pay for this land of green sky. It was melancholy moment, a sobering pause in the party.
And what should a host do after that? He grabbed audience members and brought them onstage as disco music begins to pound. We danced with the whole cast. It was a party that came at a cost, but it was still a party.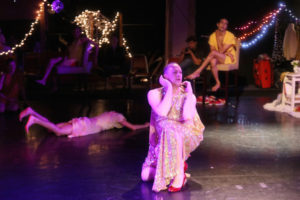 And through it all, we had the image of every single person on stage, male and female dressed in traditionally feminine clothing. It was playing with gender norms that wasn't exactly drag. There was jhon in his long sequined evening gown, but there was no attempt to hide that the body in it had been shaped by testosterone. There were no false breasts, no wigs, no elaborate makeup. It wasn't dressing up for laughs, even if jhon can be very funny. It's a feminization that celebrates the feminine. In jhon's world, women are not the weaker sex but role models. By inviting us into this social event, his land of "red bottom shoes," he's welcoming us into a space where things like clothes are only a surface veneer (however fabulous) and what matters is the courage, resilience, strength, and vulnerability (another sort of strength) that lives underneath the sequins. "Do not fear us. We are love."
At least, that's what I received while watching the goings-on. Three more shows remain in the run, so you can still see what you might receive.
ADDENDUM: I brought with me two friends from my church, people who have more experience with theater than with dance. I thought jhon's work might resonate with them. After the show, the younger said, "I feel like I just watched an acid trip." I knew this would be outside her usual arts experience but I wasn't sure if that was good or bad. I let it be. Then she also said the first part, when we were so close to the dancers, not seated in a theater, made her a little anxious, but she eventually got into it. The next morning, at church, she asked how she could find out about more performances by jhon.
My work here is done.