Juxtapose Arts Collective
www.juxtaposearts.org
juxtaposearts@gmail.com
Facebook & Instagram: @juxtaposearts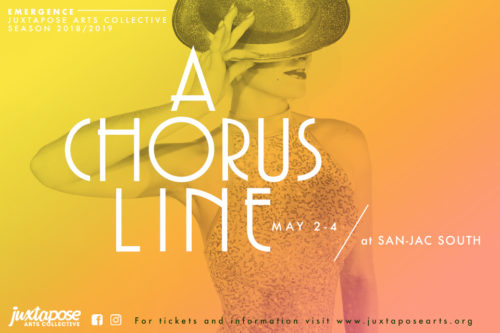 Houston, TX – Juxtapose Arts Collective is pleased to present A Chorus Line beginning May 2–4, 2019.
Juxtapose Arts Collective presents A CHORUS LINE, directed by Travis Kirk Coombs. Join us in this classic musical as hundreds of Broadway hopefuls attend a dance cattle call for the next big show! Zach, the director, and his assistant eventually whittle down the audition to just 16 dancers. All tell stories of their life – some tragic, some comic. Tension builds as Cassie — once a big star and Zach's lover but now desperate for a part — auditions, but Zach must choose only the best for his show.
Viewer discretion is advised.
"A Chorus Line is our first fully professional musical theatre production. The amount of talented local Houston actors and dancers are bringing this show to the next level!" – Stacey Focke, President of the Board of Directors
San Jacinto College South
Fine Arts Building
13735 Beamer Rd, Houston, TX 77089
Showtimes:
Thursday, May 2 at 8:00 PM
Friday, May 3 at 8:00 PM
Saturday, May 4 at 2:00 & 8:00 PM
Tickets:
www.juxtaposearts.org/events
Juxtapose Arts Collective is a non-profit 501-(c)3 organization in the greater Houston area founded by local dancers and choreographers. At its core, Juxtapose is a multimedia dance theatre comprised of artists in residence, guest artists, and an educational apprenticeship program, Juxtapose II. It operates in affiliation with The JET-PAC to bring together artists of all walks of life; dancers, musicians, actors, painters, photographers, and filmmakers unite to present new and unique work to the ever expanding arts community of Houston.
###