"The President has invited you here today to learn first hand about the future your Savage leaders denied you back in 2026 and to offer you the opportunity to rectify that decision by joining us now as happy citizens of the most forward-thinking governing corporation in the modern world." Welcome to Panoption: Someone's Always Watching.
Panopticon: Someone's Always Watching is Open Dance Project's newest, immersive work that explores the themes of policing and surveillance in a futuristic society. Heavily influenced by research and dystopian literature, Artistic Director Annie Arnoult cites both George Orwell's 1984 and Jeremy Bentham's glass prison as inspiration for her most recent creation. "'Panopticon' refers to a glass prison designed by 18th century social philosopher and theorist Jeremy Bentham where all ("pan") inmates could be watched ("opticon") over by one guard, situated securely and invisibly inside a central tower, unseen by the prisoners themselves," explains Arnoult.
The audience members are guided as if on a tour through the sci-fi, dystopian world of UniCorp. A la Brave New World, UniCorp is a society where the pleasures of drink, substance, and touch are promoted and encouraged. The kind of love and intimacy that exists only between two people is strictly prohibited. The audience members follow the journey of two of Unicorps citizens who begin to doubt the state-sanctioned truth as they yearn for something more.
While Arnoult initially conceived of this idea about fifteen years ago during her studies in graduate school, Panopticon really began to take shape immediately following the company's run of Dada Gert. A trip to Day for Night in the old post office on Franklin Street cemented her thoughts and even influenced some of the design elements. "My friend had access and took me back into the walls. We climbed up the ladders, and there was absolutely a panopticon. When thinking about this old institution and the use of this surveillance in the midst of this art, it got me really excited about how to make that happen in terms of a set design – and we have a moment for the audience that is absolutely inspired by that post office moment," says Arnoult.
Ryan McGettigan's set is designed to move and connect into different structures as it actively ushers the audience through the space during this hour-long encounter. With original projection and lighting designs by David Deveau and sound design by Bryan Ealey, Panopticon is intentionally designed and created to envelope all of the senses. "My goal is absolutely for both the performance experience and the audience experience to be an embodied one. It's the whole idea behind immersivity for me," says Arnoult.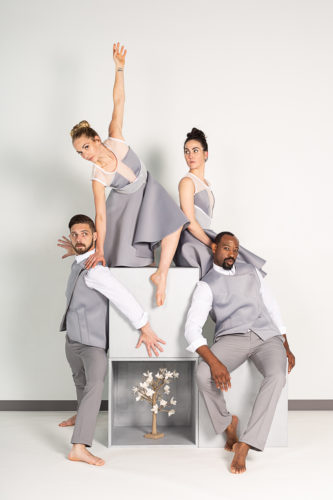 Open Dance Project, at its core, is built on collaboration and participation from all involved parties. As Arnoult sees herself more as a choreographic director, the dancers are not only highly involved in the crafting of the choreography but also in the generation of movement. Due to this process, the dancers bring parts of themselves and their stories to the work. While entirely fictitious, Panopticon also has hints of autobiographical material that has shaped the experiences and directions of each of the characters. "We are definitely making social and political statements, and they come from a perspective of personal experience," explains Arnoult.
When thinking about differences in this work in comparison to previous Open Dance Project productions, Arnoult shared, "It is more of a story than any of our work has been to this point. It's not totally linear, but ultimately there is a narrative. There is a through-line. There's a beginning, middle, and end. There is a climax." Arnoult adds, "There is movement invention that is of this futuristic world that feels very different for me. Stylistically, it's different. Musically, it's very different than anything we've ever done before. It's much more contemporary."
While the audience doesn't participate with a required sense of agency, they are more than just mere bystanders as Arnoult explains, "They are invited to make choices, and they ultimately will have to make them." Arnoult adds, "A couple of times these choices result in the audience being divided. While the trajectories are very related, the audience has to make a choice, and there will be things they do not see."
As the tour comes to an end, the audience must choose whether to join UniCorp or return to their savage lands. Witness it for yourself, and see what you decide.
There are nine opportunities to see Panopticon: Someone is Always Watching from March 15-23 at the Midtown Arts and Theater Center Houston. Please note that audiences are restricted to 40 individuals per show, and as an immersive show, there is no traditional seating. Individuals are required to stand and move for the hour-long production. This performance is wheelchair accessible.