Dance Source Houston selected 4 Dance Ambassadors to serve during the October 2022-February 2023 program timeline. The cohort includes Mimi DiLuna, Diedre Graham, Bethany Logan, and Isabella Vik. The quartet of local dancers, choreographers and dance educators will each lend their personal experience and perspective, build bridges between dance genres, help connect artists to existing resources and encourage meaningful conversations about how dance can thrive in our city. Stay connected to the 2022-23 Dance Ambassadors and their time in the program through social media posts and interviews in the following months. Learn more about each ambassador and what they're looking cultivate to during their term below.
---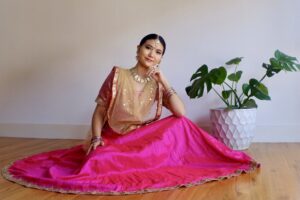 Dancer and choreographer Mimi diLuna is a French and Taiwanese Houston native. She holds an Interdisciplinary Studies BA in Performing Arts & French from the University of Texas at Arlington's Honors College and a Choreography Diploma from the Natya Institute of Kathak and Choreography. She has trained at Houston Ballet Academy & later in NYC at Gelsey Kirkland Academy of Classical Ballet's Full-Time Professional Training Program, where she performed with the company. She has performed at venues including the Schimmel Center NYC, the Wortham Theater, the Hobby Center for Performing Arts, Midtown Arts & Theater Center Houston, and Asia Society Texas. She has been awarded a grant from Houston Arts Alliance in 2022. ​ Mimi founded Kathak Meetup and is host of the Dance to Inspire Podcast. She shares her original artistic films and tutorials on her trilingual YouTube channel "Mimi diLuna" which has over 2 million views.
"Dance Source has helped me grow in my dance career through Mind the Gap, the Dancer Fund, community convenings, and awareness of funding opportunities. As ambassador, I'm excited to be the bridge between Dance Source and the local dance community!"
---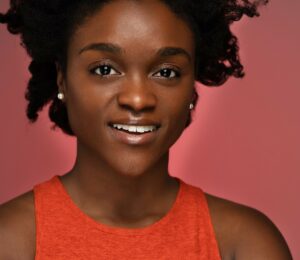 Diedre Graham is a native of Mobile, AL. After graduating from the University of Alabama with a B.A. in Dance and minors in German & Anthropology, she went on to travel and dance around the globe including in Germany and Scotland. She has a range of professional training and performance experience. Her mission is to cultivate experiences using dance to encourage people to be confident with their body image and self-esteem.
"I want to be a dance ambassador because I want to continue the mission of Dance Source Houston. I want to give back to the community and continue to build sustainable programs that involve growing artistry and skills. I have many ideas that I need help filtering. Participating in professional development and receiving staff support for tasks like proposal editing would be a tremendous help."
---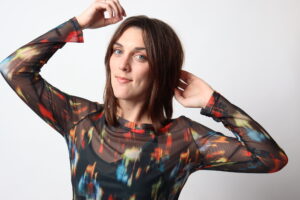 Bethany Logan is a dancer, choreographer, teaching artist, 200-Hour Registered Yoga Teacher, and Certified Personal Trainer. She graduated from Ohio University with a BFA in Dance & Choreography and a Minor in Psychology in May 2015. After graduating, Logan spent a year in Mumbai, India, where she trained with Navdhara India Dance Theatre under the direction of Ashley Lobo, Yehuda Ma'or, and Yuko Harada. Logan is also the Artistic Director of Wild She Dances, a contemporary dance company. Her choreography has been performed throughout New York City, Ohio, Texas, and Mumbai, India. She was a 2019 Gibney POP Artist and in 2018, one of twelve choreographers to be selected and receive scholarship for Doug Varone & Dancer's DEVICES Choreographic Mentorship program. Logan currently performs with Karen Stokes Dance and was a recent guest performer with Armitage Gone! Dance and Houston Contemporary Dance Company. Logan's past performances include stints as a company member, collaborator, and freelance dancer with Josh Pacheco Dance Theatre, Chris Ferris & Dancers, BABEL Movement, Olivia Dwyer Dance Projects, Marika Brussell, mad.plum movement, Kelley Donovan & Dancers, The Physical Plant, Sandra Kramerova & Artists, The Median Movement, and Doug Neilson. She recently relocated from Brooklyn, NY to Houston, TX and is thrilled to be welcomed into the dance community of Houston.
"As I aim to continue finding ways to merge dance with social impact, I continue to emphasize the importance of having other voices in this mission to engage in stimulating discussions, to reflect on ideas with, and to challenge one another when necessary."
---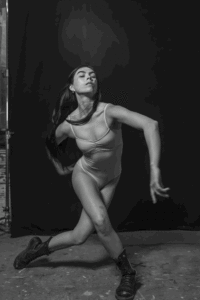 Isabella Vik is a Houston based freelance movement artist and performer. Isabella has been trained in multiple styles of dance such as ballet, modern, contemporary, jazz, tap and character dance. As an adult, she has workshopped with Sidra Bell and Kevin Clark as well as traveling to Berlin for the B12 program. With strong roots in classical ballet, she has a deep appreciation for technique, lines and form. As she progressed as an artist, she was drawn more to contemporary styles of dance, improvisation methods, underground performance art and blending multiple disciplines. Her focus is to deconstruct movement from her own research and apply her knowledge of technique to create her vision. She considers her work to be movement experimentation because of how she uses her body as a test subject before applying it to another performer. Her work often involves intense atmospheres and possible physical discomfort.Her work is nuanced and often gives the audience visual clues as to the core significance behind what's being performed. She continues to create and perform regularly and travels often to further expand her movement studies.
"As I become more involved in the dance community, I want to prioritize visibility for independent artists in order to connect other like-minded performers with similar goals. Finding commonality and engaging with one another on creative and communal levels to bring relevant subject matters forward."
---
About Dance Source Houston
Dance Source Houston is a 501(c)(3) nonprofit organization dedicated to empowering the diverse individuals and organizations working in the field of dance throughout the Greater Houston region by means of advocacy, inclusive community engagement and support services. Founded in 2005, Dance Source Houston is a resource for all things dance in the Greater Houston area and provides programs and services to address the evolving needs of the local dance community. Dance Source Houston is funded in part through support from The City of Houston through the Houston Arts Alliance, the Cullen Trust for the Performing Arts, Houston Endowment, and Texas Commission on the Arts. www.dancesourcehouston.org