FOR IMMEDIATE RELEASE
June 21, 2022
Contact: Andy Noble
Co-Artistic Director, NobleMotion Dance
Tel: 832-627-9664
E-mail: andy@noblemotiondance.com
Website: www.noblemotiondance.com
NobleMotion Dance performs Escape Velocity
at Glade Arts Foundation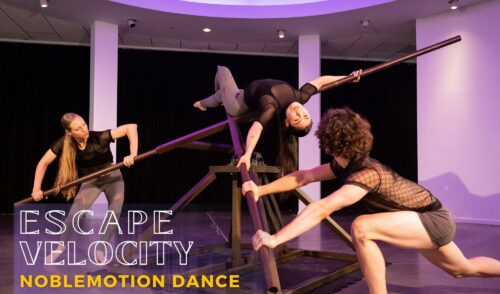 Woodlands, TEXAS – NobleMotion Dance performs Escape Velocity: Dance, Design, A.I., an immersive evening of daring jungle gym choreography that premieres at the Glade Arts Foundation in the Woodlands, TX August 12-14. NobleMotion has partnered with industrial artist Jared Doster, A.I. projection designer Jeremy Stewart, and photographer Lynn Lane to create a one-hour journey that transports the audience throughout the gallery. Doster's climbable sculptures allow the dancers to vault, swing, and flip. It's a physically exciting show; think dance meets parkour with a dash of cirque.
There are four gallery performance locations – each offering a different challenge to the dancers. The Cube is a climbable structure that explores the concept of framing space. The A.I. Room uses machine learning to reinterpret dancers' movements and is projected into the space. The dancers in turn, move through the audience as they respond to the A.I. Two Walls takes advantage of The Glade's unique environment and plays with entrances and exits. And finally, the audience is brought together for Ziggurat, a 12-foot spinning sculpture that requires teamwork. Escape Velocity is both athletic and communal – a truly unique performance experience in a gallery setting where each viewer is on top of the action.
The small batch audience is broken into 3 groups—each going on a different performance trajectory. Choreographer Andy Noble states, "you could go to the show three times and see a completely different show. It's a fun set-up."
Artistic Directors Andy and Dionne Noble will collaborate with the dancers to create the bulk of the choreography. To mix it up, guest artists Mike Esperanza, Evelyn Toh Paoli, and Travis Lake have been invited to each choreograph a section as well. "Creatively speaking, this set up is such a unique endeavor, we wanted to share the opportunity with other talented artists," states Dionne Noble.
Performers include Rachel Cox Culver, Colette Kerwick, Kalli Loudan, Lindsey McGill, Tyler Orcutt, Jacob Regan, Abby Schafer, Lauren Serrano, Angelica Villa, Allison Wallace, Dillon Bell, Justin Curry, and Evan Warner. Original music is composed by Travis Lake and light design is by Bryan Ealey.
Tickets are $65 and can be purchased online at: https://www.gladeartsfoundation.org/escapevelocity-event
For more information, contact:
NobleMotion Dance at 832-627-9664
Glade Arts Foundation at 832-557-8781
DETAILS
Escape Velocity: Dance, Design, A.I.
Glade Cultural Center
August 12 @ 7:00pm & 9:00pm
August 13 @ 7:00pm & 9:00pm
August 14 @ 5:00pm
Tickets: $65
Purchase online at:
https://www.gladeartsfoundation.org/escapevelocity-event or call 832.557.8781.
FOR HIGH RESOLUTION IMAGES
Contact: Andy Noble
andy@noblemotiondance.com
832-627-9664
###
NobleMotion Dance, a Texas premiere dance company, is a 501(c)(3) non-profit performing arts organization. In 2009, NobleMotion exploded onto the Houston dance scene and has since received critical acclaim for their "extraordinary athleticism" and "cutting edge" programming. NobleMotion Dance seeks to make work that is emotionally daring and honest; inspires discourse and understanding amongst diverse communities; and integrates dance, theatre and technology in unique ways. Artistic directors Andy Noble and Dionne Sparkman Noble are long time collaborators who have been entertaining audiences for over twenty years. NobleMotion also offers education and outreach programs for all ages including young artists programs, master classes, open rehearsals, and lecture/ demonstrations. For more information about NobleMotion Dance, please visit us at noblemotiondance.com.
The Glade Arts Foundation is a 501(c)(3) non-profit organization located in The Woodlands, Texas. The Foundation provides unique and accessible fine arts experiences through programs focused on art education, scholarships, and community-based public art projects, all managed from its curated, museum-like exhibit center.  Individuals and corporations form the essential base of support that sustains the Glade Arts Foundation.  Maintaining and growing that level of community support while providing world-class fine arts exhibits, programs, and facilities to The Woodlands and surrounding areas is the core mission of the Glade Arts Foundation. For more information about Glade Arts Foundation, please visit us at gladeartsfoundation.org.