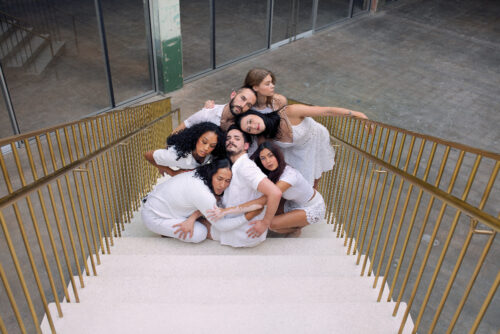 After nearly two years of navigating a pandemic and managing increased awareness of political tensions and racial violence, we all could benefit from firmer footing. Houston Contemporary Dance Company (HCDC) will take the lead, offering their expression of finding solid ground with Terra Firma at the Hobby Center for the Performing Arts on Saturday November 20, 2021, beginning at 7:30pm.  
Terra Firma — Latin for "solid ground" — marks a pivotal point for HCDC. While the company takes pride in the fact that they safely completed a full season of performances during the earlier stages of the pandemic, Artistic and Executive Director Marlana Doyle explained that Terra Firma signals their return to the theater since March of 2020. The evening will showcase four pieces, including two world premieres and the proscenium debut of the collaboration between Thai-American choreographer Keerati Jinakunwiphat and Kinetic, an artist-led chamber and orchestral music ensemble.  
Joe Celej, a New York-based choreographer who is no stranger to Houston dance audiences,  propels the company into a new year of live performance with "Intersections." Inspired by American artist Sol LeWitt's "A Square Divided Horizontally and Vertically into Four Equal Parts, Each with a Different Direction of Alternating Parallel Bands of Lines" (1982), Celej has created four sections that can be performed in any order. Akin to choreographer Merce Cunningham's use of the I Ching to determine certain elements of performance, the arrangement of Celej's "Intersections" will be randomly determined beforehand. The piece, appropriate to the conceptualism practiced by LeWitt, hones in on the intersections of the isolation and shared experience of individuality. 
Those who enjoyed Houston Contemporary Dance Company's Parallel Play on Discovery Green this past spring will recall Jinakunwiphat's piece "Viola." Set to music played live by Kinetic, "Viola" explores the ways in which we sense the changing seasons and how we lost the rhythm of the seasons during the pandemic. The shift to the proscenium stage will, however, change how dancers and audiences experience the piece. Wings will give a different view to entrances and exits; more consistent music volume will alter the aural encounter; and more expansive lighting will provide a different lens through which to see "Viola." While we may not yet have the temporal distance from the pandemic to have forgotten how time stood still, seeing "Viola" in a new space could give a glimpse of our return to more familiar ground. 
Doyle has relicensed California-based choreographer Christian Denice's duet "I Give Myself," which returns for Houston audiences in Terra Firma. The original cast — founding HCDC members Jesus Acosta and Genene Wallis McGrath — will dance this duet that conveys vulnerability in relationships. Now, they perform the piece with the distance of age, life experience, and the context of enduring a pandemic.  
"Only what you take with you," is a collaboration between Margot Gelber, a choreographer familiar with Houston as a graduate of the High School for the Performing and Visual Arts, and Robbie Moore, HCDC's resident choreographer, who will appear as the dancer in this solo. Gelber describes the piece as a return: "[a] return to the body, a return to being seen, a return from a place where all you have is what you carry." Accompanied by music from Anthony Braxton and Marvin Gaye, the world premiere of "Only what you take with you" asks each of us to consider how we will return from our circumstances of the last twenty months.  
In addition to anticipating a full performance schedule in 2022, audiences can witness how HCDC works with the Houston community when they give a plenary performance of Jinakunwiphat's collaboration with Kinetic and Dr. Rachel Tova Winer at the Innovations in Arts and Health: Collaborating for Medical Humanities, Professional Development and Community Health conference. Part of a global series produced with the World Health Organization and Culturunners, this event hosted by the University of Houston focuses on collaborative work between the medical and artistic professions and their outcomes for patients. The conference, scheduled for January 20-22, 2022, at the Student Center South on the University of Houston campus, will be open to the public and fully in-person. 
You need to find your footing fast to snag your tickets for Houston Contemporary Dance Company's Terra Firma, as seating will be limited for this one-night-only performance. Visit the website of the Hobby Center for the Performing Arts to purchase your tickets, and take note of the policies for attendance.