Contact: Hannah Jans
Telephone: 832-647-9506
Email: rivkahfrenchstaff@gmail.com

DIY FILM WORKSHOPS & PARTICIPANT FILM SCREENING
  Workshop 1: Wednesday August 16th 12pm-5pm 
at Tuttle Library 702 Kress St, Houston, TX 77020 
Cost: Free
Registration Form (Required): https://tinyurl.com/5c5rp6w3
Workshop 2: Thursday August 17th 10am-3pm
at Tuttle Library 702 Kress St, Houston, TX 77020
Cost: Free
Registration Form (Required): https://tinyurl.com/5c5rp6w3
Participant Film Screening: Saturday August 19th 11am-2pm 
at the Deluxe Theater 3303 Lyons Ave, Houston, TX 77020
Cost: Free
RSVP here: https://fb.me/e/3263BE3cf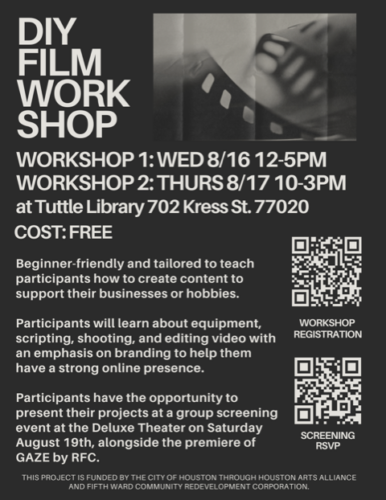 Rivkah French Choreography is hosting two community workshops in Houston's 5th Ward where participants will be instructed on creating their own short films by shooting with their phones. Led by an established Filmmaker and Creative Director, these workshops are beginner-friendly and tailored to teach community members how to create content to support their businesses or hobbies. Participants will learn about equipment, scripting, shooting, and editing video with an emphasis on branding to help them have a strong online presence.
After completion of their films, participants have the opportunity to present their projects at a group screening event at the Deluxe Theater on Saturday August 19th, alongside the premiere of GAZE by RFC. GAZE is a dance film featuring Rivkah French and Margo Smolik that explores the intimacy of queer relationships through striking video effects, dynamic music, performative body paint application, and virtuosic, intoxicating movement.
This project is funded by the City of Houston through Houston Arts Alliance and Fifth Ward Community Redevelopment Corporation.