Dolly Goyal, proprietor of Steps for Dancing, embodies Houston's status as the most diverse city in the United States, a point of pride widely cited over the last year. Her energy shines through our Zoom call, in which I learn about her years of international experience. She clearly conveys her passion not only for dancing but for her commitment to mentoring and sharing her expertise in Kathak (a classical Indian form) and Bollywood throughout Houston. Goyal emphasized that dance grants us connection, an aspect of life we always need but have especially missed over the last two years.
Steps for Dancing, open in Houston since 2018 (operating as Dance with Dolly beginning in 2014), features Kathak, a classical Indian form based in the history and traditions of northern India, as well as Bollywood and Bollywood workout dance. Students may pursue certification in all levels of Kathak at Steps for Dancing through the school's affiliation as an examination center in Houston with Akhil Bhartiya Gandharva Mahavidyalaya Mandal (ABGMV Mandal) in Mumbai. When asked about what students should expect when working towards certification, Goyal explains the level of commitment made not only by the dancer but by the family. She asks, "Are you going with me?" of those who wish to connect with Indian culture and put forth the dedication required for learning Kathak. Goyal communicates the importance of meeting each student at their level and building that knowledge step-by-step, emphasizing the accessibility of the discipline and expression of the form. Currently, students may take classes at two locations within Houston or one in Pearland; new locations for learning Kathak are planned for the future.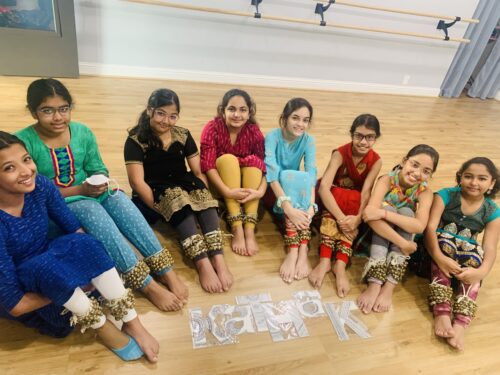 While Steps for Dancing is relatively new to Houston, Goyal – its founder and primary mentor – offers over two decades of teaching and performing experience, along with the knowledge gained by establishing successful dancing schools in both India and Singapore. Goyal began her training as a child in India, explaining that she found herself drawn to music, dance, and teaching from her earliest memories. After completing college, Goyal returned to her school as the assistant to her childhood teacher, where she learned the ins and outs of all elements of production, including choreography and costume. These lessons served Goyal well when she opened her first dancing school in India and her second in Singapore in 2005 (later called Dolly's Institute of  Performing Art). In India, Goyal won school competitions with her design, choreography, and direction, and continued to hone her skill as a performer, for example, dancing in a special dance drama with her teacher in which she portrayed Radha. She built on these successes in Singapore, making it to the finals of a nationally-televised competition sponsored by the country's media outlets.
In addition to regularly scheduled face-to-face classes, Steps for Dancing delivers online lessons and workshops that provide participants opportunities to learn from Kathak masters and services such as choreographing for weddings and corporate environments and Bollywood-themed parties. Steps for Dancing students perform throughout Houston, most recently at Asia Fest sponsored by Asia Society Texas and for the Indo-American Association Houston in 2021. They have also won several competitions over the years in both classical and non-classical categories and present their art form as part of school demonstrations.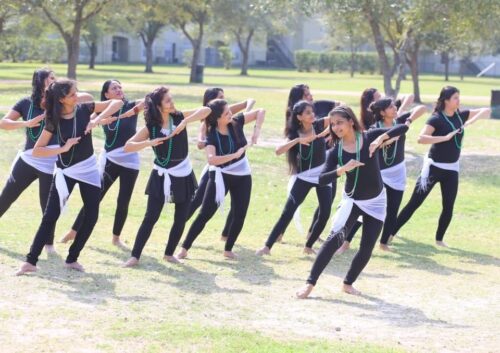 Upon arrival in Houston, Goyal began giving free performances everywhere she could. She is particularly proud of gathering a group of mothers via WhatsApp who ultimately won first place in the adult category in the 2018 Jalwa USA dance competition and third in a competition in 2019. Although Goyal has mentored Kathak and Bollywood students throughout Houston for several years, in 2021 she moved to bring Steps for Dancing to broader audiences in part by joining Dance Source Houston (DSH). Goyal cites Steps for Dancing students' participation in DSH's Mind the Gap series in April 2022 as their first "mainstream" performance. She aspires to expose more people to both classical and popular Indian forms through her mentoring and opportunities for performance, connecting everyone through the, as Goyal describes it, "universal experience of presenting a rhythmic form." On the current circumstances of dancing in Houston, Goyal expressed gratitude to Dance Source Houston for generating space for dancers and choreographers to present work while also noting the need for greater support from other avenues. However, she also reminds dance artists to "bring out this one part of your joy" by sharing our talents and work widely.
Goyal radiates enthusiasm when she talks about dance. During our conversation she repeatedly expressed the connection that dance offers, for both performers and audience members. Goyal believes that we have a "hunger to connect," that moving together feeds, regardless of genre. As part of her pursuit of connection, she strives to foster bonds with the families who attend Steps for Dancing through annual recitals that showcase student growth and social gatherings to share time beyond the studio.

This fall, Steps for Dancing will introduce new classes for Kathak and Bollywood, host a Kathak workshop with a renowned instructor, continue free Bollywood classes at Levy Park, and offer Bollywood dance at local YMCAs. Whether you catch her students performing throughout Houston or join the weekly Bollywood workout class at Levy Park each Saturday morning (be sure to check the schedule before making the trip!), I encourage you to connect with Dolly Goyal in the hopes that you catch her infectious energy – the kind of contagion we could use after over two years of isolation and social distancing. Visit Goyal and learn more about Steps for Dancing at its website, Instagram (@stepsfordancing), YouTube, and Facebook (Steps for Dancing – Kathak and Steps for Dancing – Bollydanceaholic).