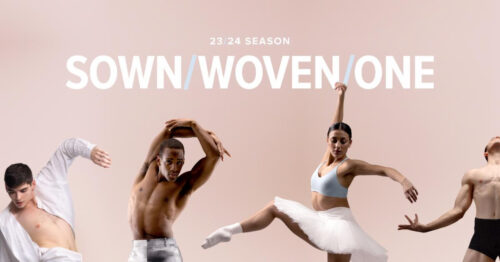 HOUSTON, TEXAS [August 26, 2023]: Vitacca Ballet's Artistic Director Kelly Ann Vitacca is pleased to announce the 2023/2024 company artists. This season brings diverse, artistic minds together with the exciting growth of our company including the return of our beloved company artists Maddie Medina, Coltin Snyder, Fiona Dorr, Jordan Hooks, Joshua Ponton, Elissa Fonesca, Khen Kurulkar and new company artists Megumi Nishimori, Aidan Wolf, Nikolas Darrough, Elena Damiani, Ava Dempster, Zephaniah Casey, and Carrington Moser.
"I am motivated by the support Vitacca Ballet has received in the three seasons since its inception. Houston's passionate arts community has allowed for Vitacca Ballet to grow as a leading organization adding the new rank of Apprentice to its company roster ensuring the future of professional contemporary ballet with seasoned dancers in the greater Houston area," comments Ms. Vitacca. "We have also broadened our reach to different cities in Texas and the United States."
Founded in 2020 Vitacca Ballet (VB) is a creation-based repertoire company in the Houston area. As the pandemic brought artists home to Houston, Ms. Vitacca strived to keep artists employed, and the Houston arts scene alive with project-based work. This experience laid the framework for the launch of VB in 2021, which now works diligently to operate a 31-week season and employ local, national, and international artists.
VB has had the honor to work with regional and international choreographers including Tina Kay Bohnstedt, Sean Aaron Carmon, Andrea Dawn Shelley, Garrett Smith, Autumn Eckman and Madison Hicks. VB has been seen on stage within performance and outreach community events such as The Nutcracker, Night at the Ballet, Contemporary Dance Choreography Festival in Florida, Versatility Dance Festival in Utah, Bailindo Dance Festival, ANDIOMO presented by Charles Bender Performing Arts Center, Trees of Hope Gala as 2022 Entertainment Sponsor, LAUNCH at Match Houston, Ventana/VB Austin collaboration, and Red Rock Dance Festival in Utah.
VB is a proud recipient of the Dance Source Houston Groundwork Grant and is proud to be a fiscally sponsored project through Fractured Atlas. This allows tax-deductible donations to be made toward VB's vision and artistic growth.
For more information about Vitacca Ballet, visit www.VitaccaBallet.org.
Learn more about company artists:
Nikolas Darrough originally from Medford, Oregon, Darrough began his dance training at the Crater Renaissance Academy of Arts and Sciences. He quickly grew to love the artform and continued his studies at University of North Carolina School of The Arts. Darrough joined the undergraduate program, with a concentration in contemporary dance. During his time at School of The Arts, Darrough was fortunate to perform a wide range of repertoire including works by Claudia Schreier, Igal Perry, Darrell Grand Moultree, Ming Lung-Yang, and Mariana Oliveira to name a few among many others. In his spare time Darrough enjoys self-producing films, as well as choreographing. Darrough most recently completed his latest self-produced, evening length performance titled SOuL. Darrough, finds the uniqueness in dance both as a performing artist and as a choreographer.
Megumi Nishimori started her ballet training in Thailand before relocating to the Philippines. In 2012, she won the Silver Medal at the Asian Grand Prix which led to an invitation from Ballet Manila to be featured as Kitri in their production of Don Quixote. In 2013, she trained at the Acri Horimoto Ballet Academy, and won numerous awards including second place in the All Japan Ballet Competition. She then began a scholarship under Patrick Armand at the San Francisco Ballet School. After training at SFBS, she joined Cincinnati Ballet's second company dancing in Balanchine's Serenade and Rubies from Jewels. Thereafter Nishimoriperformed with BalletMet 2 dancing in Balanchine's Square Dance, Liang's Wunderland, Symphonic Dances, and as Fairy Godmother in his Cinderella. Most recently as Ballet Idaho company member, Nishimoriperformed roles such as the Loss pas de deluxe from Ricardo Amarante's Love Fear Loss, Russian Girl in Balanchine's Serenade, and the Dew Drop Fairy from The Nutcracker. Nishimoriis coached by Arleen Sugano who is the creator of suganosystemballet.
Aidan Wolf began her dance career in Colorado where she completed her training at the Colorado Ballet Academy to then accept a merit Trainee scholarship at The Joffrey Ballet (NYC). Wolf performed with Complexions Contemporary Ballet Company for four seasons, Arch Ballet, the Queer Ballet at The Joyce Theatre in 2023 and taught on faculty at Virginia Beach Ballet Academy. You have seen Wolf on stage, across the country with Complexions Contemporary Ballet Company in numerous works such as Stardust, Bach 25, Woke, Love Rocks, Snatched Back from the Edges, and Truly, Madly, Deeply. Some of her most memorable highlights from her performances of these ballets include the Bach Grande Pas-de-Deux and Finale Pas-de-Deux (2022), the Fly Away Duet (2020-2021), Take Time Pas-de-Deux (2020-2022), and the Magnificat/Bach Pas-de-Deux (2020-2022), along with many others. Wolf has performed worldwide, across the US and internationally in Latvia, Israel (Tel Aviv and Jerusalem), and Germany (Frankfurt, Cologne, and Berlin). Wolf most recently spent the spring season as a company artist with Zikr Dance Ensemble.
Fiona Dorr is originally from Tuscaloosa, Alabama. Dorr began her dance training at the age of five and quickly realized her love for all styles and dream to explore the furthest possibilities of dance as a career and art form. Dorr received her BFA in dance at Florida State University where she was able to explore her interests under the tutelage of Ilana Goldman, Gwen Welliver, Jawole Willow Jo Zollar, Anjali Austin, and Donna Uchizono, just to name a few. Most recently Dorr concluded her work with Grand Rapids Ballet where she had the pleasure of performing works by George Balanchine and Christopher Stowell. Dorr has had the pleasure to continue exploring her artistic voice with companies and choreographers including Orsolina28, Peter Chu, Hubbard Street Dance Chicago, Gaga Movement Language, Complexions Contemporary Ballet, Alonzo King Lines Ballet and others. As well as working within choreographic processes with choreographers Juliano Nunes, Florian Lochner and Alice Klock, Francisco Gella, Gregg Russell, and others. She has found that exploring a variety of genres and the processes that she immerses herself in has pushed her to dive into her own creative expression and deepen her passion for the art of movement.
Elissa Fonseca is originally from Pleasant Grove, Utah. She has danced since she was six years old, focusing on ballet, but also training in contemporary, jazz, tap, and Irish dancing. In high school, she trained with Utah Regional Ballet (now Utah Metropolitan Ballet) and danced with the second company for three years. Fonesca spent two very formative summers in college dancing at the San Francisco Conservatory of Dance under the direction of Summer Lee Rhatigan. Fonesca graduated with her BFA in Ballet Performance from the University of Utah in 2014, and then joined Salt Lake City based company SALT Contemporary Dance for 4 seasons. In 2018, she moved to Minneapolis, Minnesota to dance as a company member with Minnesota Dance Theatre, where she recently completed her 4th season. In college and throughout her professional career, Fonesca has worked with renowned artists such as Summer Lee Rhatigan, Peter Chu, Val Caniparoli, Lise Houlton, Gustavo Rameriez Sansano, Bobbi Jene Smith, Banning Bouldin, Alex Ketley, Garrett Smith, Gabrielle Lamb, Brendan Duggan, Elayna Waxse, and many more.
Jordan Hooks originally from Lancaster, Pennsylvania, began his dance education at the age of 16 at Susquehanna Dance Center. What was initially a hobby quickly became a passion, leading him to audition for the University of North Carolina School of the Arts where he was accepted as an undergraduate in the contemporary dance program. With an interest in both ballet and contemporary dance, Jordan was lucky to perform a wide variety of repertoire during his time at UNCSA. The 2019 and 2021 UNCSA Nutcrackers, Robert Battle's Battlefield and Mass, Douglas Dunn's Pulcinella, and Ming-Lung Yang's It Would are a few among many highlights. Offstage, he has also participated in several dance films, including one that was self-produced, directed, and edited. He is extremely interested in honing his own choreographic voice and was delighted to choreograph several works of his own while attending UNCSA.
Khen Kurulkar is a native of Israel. He studied in the Maslool Professional Dance Program, Thelma Yellin High School of the Arts Afternoon Professional Training, and the Hamisgeret Professional Dance Program. His performance repertoire includes works by notable choreographers Elie Lazar, Marius Petipa, George Balanchine, Benjamin Harkarvy, Goyo Monterro, Roy Assaf, Barak Marshall, Ohad Naharin, and Jiří Kylián. In 2018, Kurulkar was named the Ministry of Culture and Sport/IDF Excellent Dancer. In 2016 and 2017 he advanced his training at the American Academy of Ballet in New York.
Maddie Medina is from Houston, Texas where she trained at Vitacca Dance Project from 2015–2017. Medina then trained at The Juilliard School working with renowned choreographers such as Ohad Naharin, Andrea Miller, and Brian Arias. There, she also performed repertoire by Bill T. Jones and Trisha Brown. She has worked professionally with Brett Ishida in new works titled longing floats around you and dream of black. She graduated from The Juilliard School with a bachelor's degree of Fine Arts.
Joshua Ponton originally from Hercules, California, began formal training in high school at Oakland School for the Arts in California under the instruction of Reginal Ray Savage and Alison Hurley. After high school, Joshua found numerous opportunities to experience and connect with many knowledgeable teachers and mentors throughout his time working and attending several dance summer programs including UNCSA and Alonzo King LINES. After completing his BFA at UNCSA in 2022, Joshua chose to dedicate his energy, time, and spirit toward his goal of connecting with audiences through performance. Passionate and hungry to communicate expressively through movement, Joshua is excited to stretch his dance career far across multiple planes of creativity while also exploring his artistic horizon. He is eager and energized for the opportunities that lay ahead of him.
Coltin Snyder grew up in Tooele, Utah. He began his dance training at age seven. He then attended The Salt Lake School for the Performing Arts. After graduating, he attended the University of Arizona (UA) graduating in 2021 with a BFA in Dance and a BSBA in Accounting. During his time at UA Snyder trained under professionals such as Amy Ernst, Autumn Eckman, Sam Watson, Melissa Lowe, and other esteemed faculty. He has performed in works by Martha Graham, Frank Chavez, Paul Taylor, Larry Keigwin, David Parsons. While at UA, he also completed the Fletcher Pilates Foundational Program. In addition to his classical training, he trained for five years in breakdancing under Arik Jack and the world renowned Bboy Potter.
Zephaniah Casey, a native of Las Vegas and an alumnus of Las Vegas Academy of the Arts, began his formal training in his early years at K.O. Knudson School for the Arts. Dance quickly became his passion and form of emotional expression. During his formative years, Casey expanded his knowledge of classical, modern, and avant guard forms of dance including classical ballet, contemporary, modern, jazz, hip-hop, Vogue, and Gaga, with studios and conservatories throughout the Las Vegas area. Casey has had the opportunity to perform original works by Tommie Waheed Evan's, Michelle Manzanales, and Don Bellamy among many others.
Elena Damiani, from Westfield, Indiana, trained at Central Indiana Academy of Dance under the direction of Suzann DeLay. During her junior year of high school, she had the opportunity to perform Gerald Arpino's Birthday Variations with Butler Ballet. She attended the University of Oklahoma School of Dance where she earned a BFA, with honors, in Ballet Performance and a minor in Health and Exercise Science. During her time at OU, she performed featured roles such as First Violin in George Balanchine's Concerto Barocco as well as Snow Queen and Lead Mirliton in Willam F. Christensen's The Nutcracker. She also performed in Opaque, Unfazed, an original work by Trey McIntyre. Damiani joined the Oklahoma City Ballet Studio Company in 2019 as part of the joint program with OU and was promoted to Apprentice in 2021. While with Oklahoma City Ballet, she had the opportunity to perform in Val Caniparoli's Lady of the Camellias, George Balanchine's Western Symphony, and Septime Webre's ALICE (in Wonderland). Her repertoire also includes full-length ballets by Robert Mills and Ryan Jolicoeur-Nye. Damiani is Pilates Mat certified and is a guest instructor at Central Indiana Dance Ensemble's Summer Intensives.
Ava Makana Dempster is from Alexandria, Virginia and began her training with Sally Tierney at Just Dance at age nine. She then continued her training in The Washington School of Ballet's Professional Training Division in Washington, D.C. Dempster was then accepted into the Trainee program for two years, which was under the direction of Julie Kent, Xiomara Reyes, and Rinat Imaev. Her repertoire with The Washington School of Ballet consists of Diana and Acteon, Paquita, Raymonda, and other classical works along with contemporary work by choreographer, Mimmo Miccolis. Dempster has also been in multiple company productions with The Washington Ballet including George Balanchine's Serenade, Swan Lake, Giselle, and The Sleeping Beauty. She has also performed as Clara, one of the leading roles in TWB's The Nutcracker, as well as other roles over the years. In addition to her training with The Washington School of Ballet, Dempster has attended summer intensives with Houston Ballet, American Ballet Theatre, Kaatsbaan Extreme Ballet, Pittsburgh Ballet Theatre and Company Experience, and Ballet West. She has worked closely with Jessica Lang, Martine van Hamel (former ABT dancer), and Vanessa Zahorian (former SFB dancer). Dempster has been trained in classical ballet, contemporary, modern, tap, jazz, and musical theater and has received awards and scholarships from the East Coast Cecchetti/Cecchetti Council of America. Dempster is a lover of the arts and has developed a strong passion for choreographing as she has created two pieces on her former fellow trainees at The Washington School of Ballet.
Carrington Moser, originally from Pennsylvania, began dancing at the age of three at Dance Expressions in Reading, Pennsylvania under the direction of Roxanne Bugay. From there she has trained with multiple pre-professional training programs including Central Pennsylvania Youth Ballet, Orlando Molina Ballet Training Center, Ballet Conservatory of Atlanta, and The European School of Ballet. While training at Ballet Conservatory of Atlanta, under the direction of Robyn Moser and Sarah Haslock-Johnson, Carrington received several accolades at renowned competitions. She received the first legacy award at Universal Ballet Competition's Grand Prix Finals in 2022 and was third runner up at NYCDA Nationals in 2022. Moser was an honorable mention for Young Arts Association in 2021 and was a recipient of the Glenda Brown and the Fred Kelly scholarship through Dance Council of North Texas. Moser has a vast classical and contemporary repertoire after training at The European School of Ballet under the direction of Jean-Yves Esquerre and Olivier Wecxsteen. She was featured in Saint-Leon's "La Vivandiere" and was the featured role in Macarena Gonzalez's "Statera" premiere. Moser is a guest faculty member at The Dance Conservatory of North Atlanta in Suwanee, GA.
2023/24 Season: SOWN / WOVEN / ONE
SOWN from October 20-21, 2023 at 7:30pm
MATCH, Matchbox 2 (3400 Main St, Houston, TX 77002)
The Nutcracker from November 24-26, 2023
The Woodlands Resort (2301 N Millbend Dr, The Woodlands, TX 77380)
November 24, 2023 at 7pm
November 25, 2023 at 1pm and 6pm
November 26, 2023 at 1pm and 6pm
WOVEN on February 24, 2024 at 7:00pm
Charles Bender Performing Arts Center (611 Higgins Street Humble, TX 77338)
ONE on April 5-7, 2024 at 7:30pm
Venue to be announced
NEW 2023/24 Season: up/CLOSE Series
$25 suggested donation at the door: a give what you can event!
Location: Vitacca Ballet, 2311 Dunlavy, Houston, TX 77002
Event Schedule: 7-8:30pm Rehearsal & Casual Q&A; 8:30-9:30pm Mix & Mingle
up/CLOSE with Choreographer Garrett Smith September 15, 2023
up/CLOSE with Choreographer Ethan Colangelo January 21, 2024
up/CLOSE with Choreographer Sean Aaron Carmon March 22, 2024
###