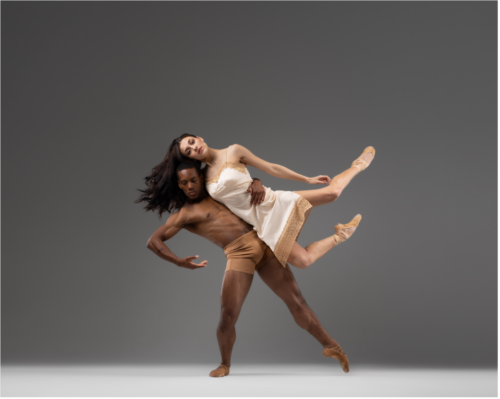 The Houston Arts community has long been familiar with Kelly Ann Vitacca's artistic and dance ethos. The Vitacca Vocational School for Dance has been part of our landscape since 2012, producing rigorously trained, capable and creative dancers who have gone on to fill the highest tiers of ballet education and professional performance.
What is new and remarkable is the entrée of the company Vitacca Ballet onto the Houston dance stage. Writ large, this looks like the introduction of a contemporary ballet company with a mission to smudge the line between audience and artist. On a more intimate scale, this is an opportunity for audiences to view a stellar ballet program at the MATCH on Thursday, April 20, and Friday, April 21, and afterward to meet with the artists and artistic director over cocktails for a casual but, no doubt, far-ranging and compelling conversation about the experience they just shared.
And there will be much to discuss.
"There's no one thought," Vitacca says of the evening-length program. "There was no 'this is what the show is about.'"
Titled Launch (and no, there is no Space City reference here. "We're launching ourselves. Vitacca Ballet is launching into Houston!" Vitacca clarifies), the evening is conceived as a gallery of pieces by different choreographic artists using the company dancers as their medium, and with a special, surprise gallery guide moving the audience from piece to piece while offering a kind of commentary that unifies and enlightens the show.
"I programmed the evening to give a taste of the company's aesthetic and technical capabilities," explains Vitacca on her intention for the show. "I truly just want it to be a moment of introduction. How better to introduce yourself than with an array of what you can do?"
And what the Vitacca Ballet company can do is formidable, versatile, and also very specific to the makeup and mission of the new company. Describing the process of developing Lauch, Vitacca says,
"Our company's work is purely creation-based, and that truly does define how our repertory is created. The choreographer comes in with a concept and we discuss their artistic vision for this work, give it loose parameters, and then give them the creative space to – with the dancers and other resources – build what they see fit in that moment."
"Because the dancers were so involved in the creation process, you will see representation from each dancer on stage, you will be introduced to who they really are. I personally love that. And I think it's rare."
This process of responsive collaboration, of giving space, and of encouraging and capturing authentic, in-the-moment artistic reaction is what makes the Vitacca aesthetic, in a word, fresh, and it gets to the real heart of Vitacca's creative philosophy.
"I always say this, now the dancers giggle at it, but it's true: The art creates itself. I've believed this for years. I truly see it in this experience."
The art created for Launch consists of five choreographic pieces, along with the aforementioned "gallery guide" piece. They are as follows, not in show order, with Vitacca's descriptions of each:
Muse by Kelly Ann Vitacca – an en pointe piece made in collaboration with the company. "A play on being someone's muse and/or the desire to have a muse."
In an Apartment by Tina Kay Bohnstedt – a pas de deux "about memories of a romance past."
Loneliness in Numbers by Madison Hicks – a previously performed "intimate, beautiful, captivating piece. It draws you in."
Somewhat Closer by Garret Smith – "a return, signature piece for the company."
Hypnotic Forces by Garret Smith – a Houston premier that is "heart-thumping. It's hot. It entrances you."
So that is the art that created itself, and that is what will be performed by the artists and seen by the audience. And it will be heady and heartfelt and wonderful. But Vitacca is just as serious about connection as she is with creation, and she has a plan for engaging the audience with the art and the artists, with "softening the divide" between the stage and the seats.
"You'll be seeing from us, throughout the season, opportunities to connect with the artists both onstage and off," announces Vitacca, with Launch including the debut of Curtains + Cocktails, "a postperformance mixer" featuring music, mocktails and cocktails, and, most importantly, conversations with the artists that will deepen and enrich the audience experience.
Inspired by an unexpectedly satisfying post-show Q&A, as well as her own experiences as a consumer of art and dance, Vitacca believes that by challenging traditional boundaries between artist and audience she can give a more meaningful performance experience to each. "I feel, and I think I'm on point with this, that people want an experience. A fuller experience. The respect is there, of course. They respect the art and the artist and we respect them for supporting the art. But we still want to participate in the event with each other. It's important."
It is important. In fact, it is critical for the evolving role of performance in the lives of contemporary audiences. It is what they want, and what we all need. As Vitacca describes it, "Now we build connection. We cross that barrier to build connection."
Vitacca Ballet presents LAUNCH Aril 20 & 21 at MATCH. Tickets are on sale now at matchouston.org.