VITACCA BALLET PRESENTS ANDIAMO WITH THE CITY OF HUMBLE
Works by Garrett Smith, Autumn Eckman, Madison Hicks, Tina Kay Bohnstedt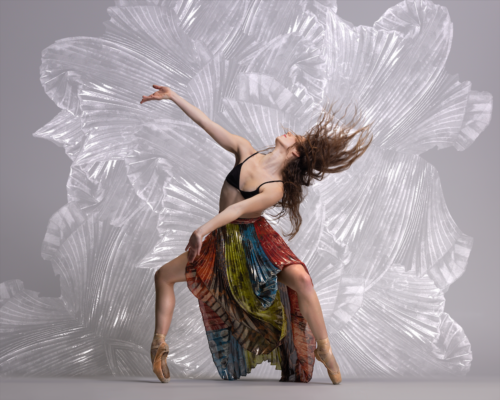 HOUSTON AND HUMBLE, TEXAS [February 1, 2023]: Vitacca Ballet Artistic Director Kelly Ann Vitacca announces ANDIAMO presented in conjunction with the City of Humble on Saturday, February 25, 2023 at 7:00 PM at the Charles Bender Performing Arts Center (611 Higgins Street Humble, TX 77338). Tickets are $20.
ANDIAMO is an evening dedicated to forward motion. Vitacca Ballet brings to life all original works, created especially for Houston premieres. Join in the energy and see for the first-time taking the stage pieces by 2022-2023 Guest Choreographers Tina Kay Bohnstedt, Madison Hicks, and Autumn Eckman. Also, revisiting the stage, an audience favorite within Vitacca repertoire, Somewhat Closer built by returning Guest Choreographer Garrett Smith. This exciting evening of new contemporary ballets is one not to be missed.
Vitacca Ballet's professional company 2022-2023 season roster includes: Annika Dalbratt, Fiona Dorr, Elissa Fonseca, Jordan Hooks, Joshua Ponton, Maddie Medina, Melanie Ridley, Coltin Snyder, and International Guest Artist Khen Kurulkar.
To learn more about Vitacca Ballet, please visit www.VitaccaBallet.org.
ABOUT VITACCA BALLET
Vitacca Ballet (Vitacca) founded in 2020 by Kelly Ann Vitacca is a creation-based repertoire company in the Houston area. As the pandemic brought artists home to Houston, Vitacca strived to keep artists employed, and the Houston arts scene alive with project-based work. This experience laid the framework for the launch of Vitacca Ballet in 2021, which now works diligently to operate a 31-week season and employ local, national, and international artists. Vitacca has had the honor to work with regional and international choreographers including Tina Kay Bohnstedt, Sean Aaron Carmon, Andrea Dawn Shelley, Garrett Smith, Autumn Eckman and Madison Hicks. Vitacca Ballet has been seen on stage within performance and outreach community events such as The Nutcracker, Night at the Ballet, Vitacca Ballet World Premiere, Contemporary Dance Choreography Festival, Florida and Versatility Dance Festival, Utah. This season you can see Vitacca Ballet at the Bailindo Dance Festival, ANDIOMO Presented by Charles Bender Performing Arts Center, Trees of Hope Gala as 2022 Entertainment Sponsor, LAUNCH at Match Houston, Ventana/Vitacca Ballet Austin Collaboration and the Red Rock Dance Festival, Utah. Vitacca is a proud recipient of the Dance Source Houston Groundwork Grant and thrilled to share its artistic energy with our 2022-2023 patrons and supporters.
Vitacca Ballet is proud to be a fiscally sponsored project through Fractured Atlas. This allows tax-deductible donations to be made toward Vitacca Ballet's vision and artistic growth.
Vitacca Ballet ANDIAMO Performance Information
Tickets:
www.VitaccaBallet.org
$20
Date & Time:
Saturday, February 25 at 7:00PM
Venue:
Charles Bender Performing Arts Center, 611 Higgins Street, Humble, TX 77338
Questions:
Contact Vitacca Ballet at 713.205.0355 or Info@VitaccaBallet.org
###