For Immediate Release
MEDIA CONTACT
Wild She Dances | Bethany Logan, Artistic Director
wildshedances@gmail.com | 937-681-6968
Wild She Dances
Presents
MILL: An Immersive Performance
WHEN: April 29th – 1:00 & 5:00pm
April 30th – 2:00pm
WHERE: The Silo, 421 Schweikhardt Street Houston, TX 77020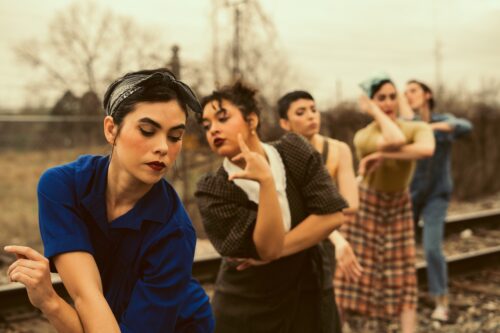 (HOUSTON, Texas, March 22, 2023) — Wild She Dances presents MILL: An Immersive Performance at The Silo in Houston's Fifth Ward. An immersive performance in Houston's very own historic abandoned rice mill. Set in the 1950s, MILL tells the stories of five women workers through a day on the job. Three ticketed performances will run at The Silo, April 29-30, 2023.
Inspired by the performance venue, The Silo in Houston's Fifth Ward, a 1924 abandoned rice mill warehouse, MILL is a full-length immersive dance performance that bridges the chasms of time by reliving historic moments of the 1950s that resonate complexly with present day experiences.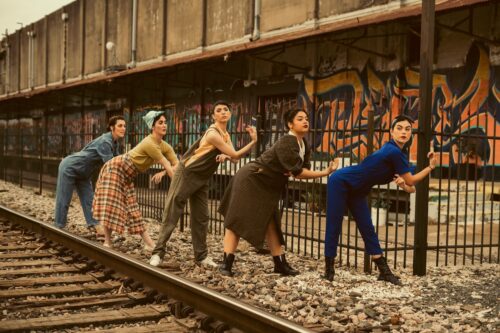 MILL attempts to take the audience back in time through a multisensory performance through researching and incorporating vintage newspapers, magazine advertisements, radio broadcasts, public service announcements, books, clothing, and music of the 1950s in America. MILL peels back various layers of the era, showing the joyful side of social dance scenes to intimate moments capturing notable events such as the birth control pill being made available to women and the Brown vs. Board of Education ruling. Intrigued by the shifting landscape of gender roles going from Rosie the Riveter working women to Suzy Homemaker wives and mothers, the performers explore these roles by drawing upon their own personal experiences and identities. MILL tackles the levity and the depth of a post-war, seemingly prosperous, vibrant time juxtaposed with segregation and racism, mental health crises, and flagrant sexism.
Audience members will arrive at The Silo for a tour of the rice mill. Upon entering, they will receive a timecard designating the work shift they will be spectating. The performers will safely interact with the viewers, taking them to all corners of the venue where there will be scenes of laborious factory work, etiquette lessons on how a woman should act at work, and having a drink at happy hour, to name a few. MILL is meant to be a unique experience for every audience member, viewing the show in different orders, interacting with the performers and space intimately, and truly being a part of the world that is created.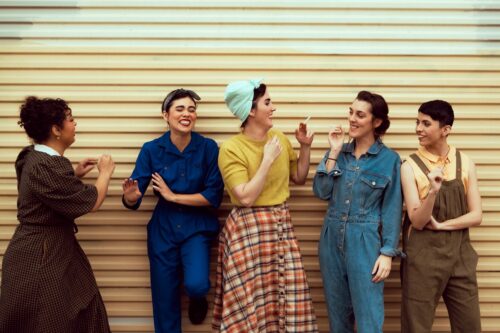 The performances will take place Saturday, April 29th at 1:00pm and 5:00pm, and Sunday, April 30th at 2:00pm at The Silo, 421 Schweikhardt Street Houston, TX 77020. Tickets are $35 for the general public and are available at www.eventbrite.com. Tickets are on sale now.
Important Audience Note: Audiences will be asked to walk throughout the performance to various sites. Comfortable shoes recommended. Herbal cigarette smoke will be used in some scenes. Some subject matter is adult in nature and recommended for ages 13+. In the instance of rain, umbrellas are encouraged.
ARTISTIC DIRECTOR: Bethany Logan
PERFORMED & CREATED BY: Bethany Logan, Alisa Mittin, Amanda Monteith, Michelle Reyes, Isabella Vik
TICKETS: $35 General Public | https://www.eventbrite.com/e/570721101177
SUPPORT
This performance is proudly funded in part by the City of Houston through Houston Arts Alliance.
Free beer generously donated by Karbach Brewery. Available at all performances for audience members, as well as nonalcohlic options.
Wild She Dances & this performance have received generous donations from numerous individual donors.
Wild She Dances was founded in 2018 by Artistic Director, Bethany Logan. The company began in Brooklyn, New York and as of 2021, relocated to our new home of Houston, Texas. Our mission is to provide opportunities for professional artists through collaboration, while ensuring fair treatment and equitable compensation as core values. Through dance, we aim to engage our community through partnerships, outreach, education, and social justice advocacy. Our artistic vision is to create work through collaborative processes that explore a tenderness for humanity and the world we live in through gestural, visceral, and explosive movement. We produce evening-length, immersive, and short works that poetically tell stories of humankind and our many complexities. Wild She Dances believes in the value of community – community among our fellow artists and community with our neighbors. With this belief, we organize community outreach initiatives and programming that is developed with the whole person in mind utilizing social-emotional movement practices.
Instagram: @WildSheDances
Facebook: facebook.com/wildshedances
Web: wildshedances.com