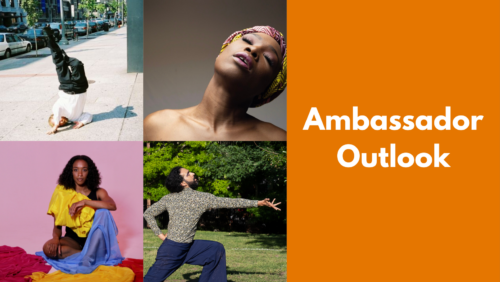 Dance Source Houston reached out to our Fall 2021 Dance Ambassadors with a new set of questions to learn more about each artist and their experience as a member in the local dance community. Read their responses below and add to the conversation in the comments below.
What are important dances and dance experiences that have inspired you or shaped you? 
"I feel like my inspiration comes from so many sources. Trisha Brown's "Set and Reset" is high up there for me. That movement is just gorgeous, and it reveals the many possibilities for improvisation in dance creation. I also love Martha Graham's "Appalachian Spring;" again, the movement is just mesmerizing. I'm not really focused on the story, but the presence of her dancers is so compelling. I'm a music video child, so I'm also a fan of dance that is part of popular culture, like Fatboy Slim's "Praise You" and "Weapon of Choice." I can watch Aaliyah's "Rock the Boat" and "More Than a Women" choreography for days. Same for Janet Jackson's "Together Again" and Bjork's "It's Oh So Quiet." I love Bollywood dance. "Chaiya Chaiya" and the "Clouds" sequence in Lagaan are my favorites. And my favorite dances to perform come from West Africa, including Lamban, Yankadi, Sinte, Tiriba, and Sunu. Whenever I get stuck in my own choreography, I think about the joy of dancing those steps and try to recreate the feeling in my own movement. – Adam Castañeda
"Growing up in the 90's era I was glued to the TV whenever music videos were on. I watched Aaliyah the closest. All of her videos mesmerized me but "Rock the Boat" and "More Than a Woman" & "Try Again" are my favorite choreography pieces to watch. "We Need a Resolution" is visually beautiful too! I've also been inspired by the creativity of Missy Elliot's videos, Chris Brown,  Timbaland, Justin Timberlake, and the greatest girl group of ALL time TLC. I mirrored Ciara in high school. "The Evolution" was my guide! I loved absolutely everything about that album and the dance instruction DVD it came with. Most of the greats I saw in action were through my television screen. I dreamed of being on stage with artists like Janet & Micheal Jackson. Watching them merge movement and music is and always has been magical to see." – Sharieka Hall
"Growing up, I was always watching and learning the choreography from music videos from artists like Missy Elliot, Destiny's Child, Usher, Spice Girls, and so many others. It was the pop culture of the early 90s and 2000s that sparked my interest. Along with that, growing up in a black family, there are many dance styles such as zydeco and various social dances that were just part of the culture. These dances were done at family reunions, gatherings, wedding receptions, and everything in between. It was at 7 that my mother decided to add a little more fuel to my love for dance and placed me in a dance studio where I first began receiving my formal training. When I got to HCC I met and trained with Shani Sterling, who is amazing at what she does, and she changed the way I viewed dance not just as a dancer but as an artist. That was my first introduction to modern and African dance. From there, I met individuals like Harrison Guy and Chris Thomas who had so much to offer in training. Another choreographer that has helped to shape and change how I approach and see dance is Galen Hooks. She was an industry dancer who now works with individuals in helping them to bring out the best of themselves in dance." – Loren Holmes 
Who is someone in Houston's dance community that you think people should know about? 
"People should always know about Jennifer Wood, founder and artistic director of Suchu Dance. Her show, Circle of Perpetual Apparition, was a game changer, and inspired me to want to be a part of Houston's Modern dance community. The movement she generates is of the highest quality – it's full-bodied, connected with both the physical and mental parts of dance, and completely original. Dancing in her company for five seasons will always be a highlight of my performance journey. There is a deeply human aspect to her work; I always understand that the bodies I'm seeing onstage, though working in an abstract form, are reacting to very universal themes and situations. I learned so much from her process, especially that all movement is dance and all movement is valid." – AC
"When I see this question, I also think of a larger community of individuals that Houston's dance community should know about. There are so many dancers in the hip hop dance scene that are not given enough attention to what they do for their communities and how other than style, not much separates us. And yet, they aren't granted the same opportunities or even know how to get the opportunities that exist for artists. Many of them are young and just don't know. We can learn so much from the hip hop dance community." -LH 
How can we ensure that dancers, as artists and athletes, get the physical and mental care they need? 
"I feel like we should have the conversation to really drive the fact home that Dancers Are Athletes! Dancer bodies and minds are tools. Tools that they utilize to perform just like a football or basketball player would. We have to take care of them, feed them, train them just as much as they would. This should be recognized by everyone, not only those in the dance community. I feel once we have everyone talking real change can start to take shape. We have to be open to discussing things that may be uncomfortable. Mental healthcare is just as important as physical care, if not more. Your life takes the shape of what you believe. Your beliefs live in your mind. They come to life through your actions. Saying out loud & being honest about where you are mentally takes strength, vulnerability, and courage. Taking the steps to get help requires the same. We should all do our best to create safe spaces for people to admit what they would normally hide because of fear of being stigmatized in today's society. I feel like we're getting closer every day. Be a safe space. Let someone know they're not alone. Let them know it's ok not to be ok sometimes." – SH
"There need to be more conversations around what affordable healthcare looks like for dancers. Dancers don't get the physical and mental care they need because they can't afford it. And unless you work at a "typical" job, you can't afford the prices of healthcare. There are things such as the Gold Card (through Harris County) but even with that, I just don't think that dancers know all of the free or low-cost things available to them. So then dancers go without and our health and wellness suffer." – LH