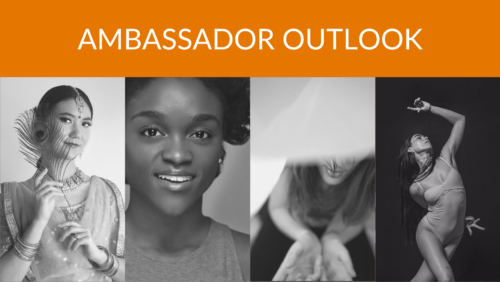 As the 2022-23 Dance Ambassadors prepare to end their term, we wanted to hand them the microphone for one last outlook post. Read below to hear from outgoing ambassadors Mimi DiLuna, Diedre Graham, Bethany Logan and Isabella Vik.
What do you see as our dance community's greatest strength? In what area do we have the most room and need for growth and/or change?
MD: One of Houston's dance community's greatest strengths is its diversity in cultures and styles. There are artists from around the world here and it contributes to the richness of our community.
DG: "Make the familiar strange and the strange familiar." The beauty of Houston's dance community is its openness! The artists here embody every sense of the word community. Everyone that I've encountered has been so welcoming, supportive, and knowledgeable. It's also very refreshing to be a member of a community that is willing to collaborate and share resources. Also, the community really excels at creating thoughtful and meaningful work. I encourage everyone to keep continuing to do the work. Step outside of your comfort zones to refine your craft. Sign up for workshops to brush up on skills or learn and incorporate new ones. Dance Source Houston has a plethora of resources and is always so willing to help. Keep shining!
BL: Houston's dance community is strong in opportunities for artists. I do believe there is always more room to make, but having a service organization dedicated to dance, numerous companies in various styles, numerous studios for adults to take class, and performance opportunities year-round are part of what makes the Houston dance scene exciting.
IV: The dance community in Houston has continuous opportunities for dancers and choreographers along with a simple way to list said performance opportunities through DSH. In regards to advertising and exposure, the dance sector of Houston does this well. Although we have multiple genres of dance practiced in Houston, I believe the dance education/training can be expanded to keep up with current practices and methods beyond Houston and the United States for that matter. This and connecting the individual dance communities in Houston can help nurture a more unified dance community. There is a lack of cross-pollination that could potentially create some beautiful consequences.
If a dancer recently relocated to the Greater Houston area, what suggestions would you give them about navigating the local dance community?
MD: I would suggest they check out all the programs and services that DSH has to offer, get to know other dancers by joining classes, and attend performances and workshops.
DG: As a transplant from NYC, I was looking for organizations with similar values to Dance/NYC. I found that with Dance Source Houston. I would encourage the dance artist to start by researching the arts initiatives and local events happening. DSH's website is packed with bountiful information!
BL: I encourage dancers to check out the listings and offering on the DSH website. I also recommend where to take classes depending on their focus as a mover (ballet, modern/contemporary, commercial jazz/hip hop, etc).
IV: Dancers should familiarize themselves with the culture of Houston as an arts city and a metropolis in general, understanding the structure of how dance survives in Houston. This includes providing information on professional classes, which major institutions exist as leaders in the dance scene as well as referring them to join DSH to keep up with potential opportunities, reference lists, and staying informed on what is happening around the dance sector of Houston.
What project(s) do you have coming up next?
MD: I will be performing at the Midtown Arts and Theatre Center Houston (MATCH) on March 28th as part of DSH's Mind The Gap showcase. My performance includes a new piece, "Snowy-Silver Elephant" and a piece I created last year, "Hansadhwani: Voice of the Swan." Both of these pieces are inspired by stories from the Buddha's life and are an amalgamation of dance, drama, and poetry. They also feature animated media projections and original music scores. mimidiluna.wixsite.com
DG: February was quite exciting for me. I performed during my first Grammy's weekend and recently completed work on a Hallmark movie. My plan is to attend more workshops and shows hosted in Houston. I can't spill too many details just yet, but I have a few performances coming up. Then, I'm going to take some time to rejuvenate and create my next project. diedregraham.com
BL: My dance company, Wild She Dances, is producing an immersive show entitled "MILL," at The Silo in Houston's Fifth Ward. The Silo was once a Comet rice mill, so the performance is set in the 1950s with women workers giving a "tour" of the mill to the audience. This show premieres April 29th & 30th. We are also throwing a Houston Launch & Fundraising Party on March 11th, 6-9pm, at Leeland House in Houston's East Downtown. The party is also 1950s themed as "Saturday Night Swizzle." Guests will receive two free drink vouchers and small bites, as well as entertainment including live music by Juan Siu, a film screening of Wild She Dances' film "Perhaps," and a live sneak-peak performance from "MILL." wildshedances.com
IV: Lately I've been more involved in dancing for others' visions, but have been working on another self-produced performance come summer. I am currently dancing for Kay Colleymore and Kinetic Ensemble at the MATCH for a show centered around the personal stories of women who suffered addiction and graduated from The Women's Home (03/04) I'll also be dancing and collaborating in an immersive show, "MILL" directed by my good friend Bethany Logan through Wild She Dances (04/29-30) The fundraiser will be 03/11 where we'll be showcasing an excerpt of the work. My latest work I've been focusing on is a performance piece pushed by my fascination with Sabina Speilrein's "Death Instinct" as well as different theorizations of the Death Drive from psychologists and contemporary philosophers. This piece will continue to explore my artistic style in choreography as well as my pain studies. 
Thank you Mimi, Diedre, Bethany, and Isabella for your ambassador service!