FOR IMMEDIATE RELEASEContact:
Mollie Haven Miller
Executive Director
Dance Source Houston
713.224.3262
mollie@dancesourcehouston.org
Dance Source Houston Presents Mind The Gap XXIV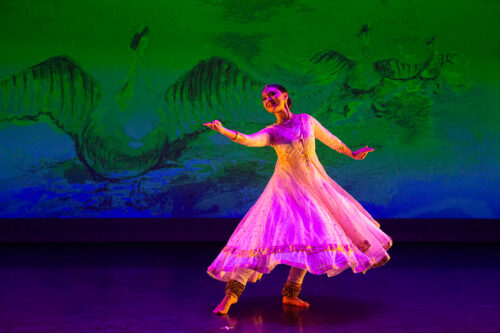 Tuesday, March 28 at 7:30pm
Midtown Arts & Theater Center Houston, 3400 Main Street
Tickets: $15 & up at matchouston.org
HOUSTON, TX March 3, 2023 – Dance Source Houston (DSH) will present the 24th edition of Mind The Gap, a showcase series featuring danceworks by local choreographers, on Tuesday, March 28 at 7:30pm at Midtown Arts & Theater Center Houston (MATCH). The program includes works by DSH members including Mackenzie Bingham, Mimi diLuna, Dolly Goyal (Steps for Dancing), Ashley Horn (The Pilot Dance Project), Saliya Ilankoon (Salaru Sri Lankan Cultural Academy), and Preeti Ramakrishnan (Shree Krishna Dance Academy). This evening of all-new works will feature a range of genres including Bharatanatyam, contemporary, Kathak, and Sri Lankan.
The co-production style format of Mind The Gap offers dancemakers the opportunity to share their work with audiences alongside fellow artists on a shared program supported by Dance Source Houston. Participating artists receive assistance in production planning and audience development skills while not taking on the full burden of self-production so they can direct their energy and focus to the works presented onstage.
Mind The Gap was created in partnership with MATCH to support independent choreographers and small dance companies presenting their work. The program offers participants high production value, low administrative burden, and shared ticket income. Begun in January 2017, Mind The Gap has provided a performance platform for more than 105 local dancemakers to date.
Tickets are available now at matchouston.org on a pay-what-you-can sliding scale, starting at $15, with all choreographers receiving a percentage of total ticket sales.
Learn More About The Dancemakers & Their Works
Mackenzie Bingham grew up in Houston, Texas, where they trained under the direction of Dorrell Martin and also frequently attending various studios around the area. They received their Bachelor of Fine Arts from the Conservatory of Dance at SUNY Purchase College. Mackenzie has performed in original works by Cat Cogliandro, Marcus Jarrell Willis, Franco Nieto, Mike Esperanza, and has also performed in restaged works by Martha Graham, Ihsan Rustem, and Rosalind Newman. They have had the pleasure of choreographing for the Klein Oak Dance program since 2019, and are looking forward to continuing their exploration of the creative process.
Creating this work with this cast of dancers from very different dance and training backgrounds has posed not only a challenge, but also a collaborative and rewarding effort. This work explores the cycle of letting go of something that is no longer of service and the ways we adapt, project and deviate in this cycle.
---
Dancer and choreographer Mimi diLuna is a French and Taiwanese Houston native. She holds an Interdisciplinary Studies BA in Performing Arts & French from the University of Texas at Arlington's Honors College and a Choreography Diploma from the Natya Institute of Kathak and Choreography. She has performed at the Schimmel Center NYC, the Wortham Theater, the Hobby Center for Performing Arts, Midtown Arts & Theater Center Houston, and Asia Society Texas. Previously, she has trained at Houston Ballet Academy and later in NYC at Gelsey Kirkland Academy of Classical Ballet's Full-Time Professional Training Program, where she performed with the company. Mimi shares her original artistic films and wellbeing tutorials on her trilingual YouTube channel "Mimi diLuna" which has over 2 million views. She founded Kathak Meetup, is host of the Dance to Inspire Podcast, and currently serves as Ambassador for Dance Source Houston.
Let me tell you a story about a Queen who dreams of a snowy-silver elephant and about a swan who flies higher than the Himalayan mountains.
---
Preeti Ramakrishnan, artistic director of Shree Krishna Dance Academy, hails from Mumbai, India where she started learning the traditional indian classical art form Bharatnatyam at the age of 6 under the guidance of Gurus. Kumari S Vasantha and S Subbulakshmi. After 14 years of extensive learning, Preeti finished her arangetram in 2004. Ramakrishnan moved to the US in 2007 and launched Shree Krishna Dance Academy in Oklahoma City, OK with a passion to keep the traditional art form of Bharatanatyam alive in the next generation of artists. Preeti moved to Sugar Land, TX in 2012 where she was received with much more love for this art form. With the support and encouragement of the parents, Shree Krishna Dance Academy was formally re-launched in Sugar Land, TX in 2014 and has grown to over 50 students, where students aged 5 through adults of varying ages learn Bharatanatyam.
I have chosen this dance piece which decribes the Hindu Goddess ' Durga' who is the universal mother and a fierce protector of her loved ones. The following ancient verses decribes her devotees humble submission to her and their chanting of goddess ' Mother Durga'. She has a thousand names and faces — and countless tasks and talents. Even as a fierce warrior heroically slaying the most vicious demons, she retains her composure and radiant beauty.
---
Sri Lankan Cultural Academy is a non-profit dance academy which is focused on teaching the value of traditional Sri Lankan Dancing and Drums.
Journey to Yakkha is based on a dance act created to show the attachment between people and nature
---
Steps for Dancing has been leading the way from 2018 in Houston to cater the requirements of Indian Classical Dance students where the main objective is to build a love for dancing in anyone, to give anyone the confidence and professional guidance to express through dance. Steps For Dancing offers Kathak (Indian major classical dance form) Bollywood dance ( A style of dancing from Bollywood movie industry) and dance workout sessions to different age groups. Steps For Dancing trains students for internationally recognized dance certifications in the field of classical dance Kathak. Giving opportunities to Steps for Dancing students to participate in big stage performances and dance competitions is part of their grooming as an artist. Quench your thirst for dance with Steps For Dancing.
'Shiva' Our consciousness. Consciousness always lead to right path, it went wrong when we lost our inner Shiva. If it's in me why we search in outer space?
---
The Pilot Dance Project is a professional Modern dance company and arts presenter based in Houston, Texas. The company's 2023 season includes new commissions from celebrated dance-makers Jadd Tank, Ashley Horn, and Corian Ellisor (Atlanta, GA); a new evening-length dance work by Executive and Artistic Director Adam Castan͂eda; and its slate of community-focused festival programming, including the 16 Annual Houston Fringe Festival and the 3rd Annual Texas Latino/a/x Contemporary Dance Festival.
"Forgotten Ground" is a solo that has been distilled from shapes and movement created from a duet exploration created by Ashley Horn.
---

About Dance Source Houston
Dance Source Houston is a 501(c)(3) nonprofit organization dedicated to empowering the diverse individuals and organizations working in the field of dance throughout the Greater Houston region by means of advocacy, inclusive community engagement and support services. Founded in 2005, Dance Source Houston is a resource for all things dance in the Greater Houston area and provides programs and services to address the evolving needs of the local dance community. Dance Source Houston is funded in part through support from The City of Houston through the Houston Arts Alliance, the Cullen Trust for the Performing Arts, Houston Endowment, the National Endowment for the Arts, and the Texas Commission on the Arts. www.dancesourcehouston.org
###