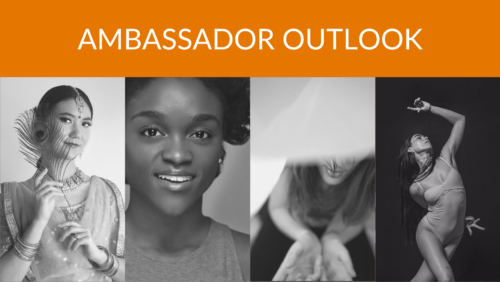 Dance Source Houston will be sharing a series of informal interviews with the 2022-23 Dance Ambassadors Mimi DiLuna, Diedre Graham, Bethany Logan and Isabella Vik over the next few months to keep the community connected to their time in the program and to give cohort an opportunity to share out. The DSH team asked the artists about current issues in the dance community and their most memorable recent dance experiences.
Have a question you would like us to ask the cohort? Send it to us at danceinfo@dancesourcehouston.org!
DSH: From your perspective, what are some of the biggest issues or needs within the local dance community at this moment?
Bethany Logan: I find adequate pay for dancers (which comes from funding) and affordable dance-making space to be issues within the dance community. Every dancer I know has been a part of projects and performances that either paid nothing or pay meager stipends due to that being all that a director/choreographer can afford. I've found myself on both sides of this coin – performing for very little to nothing, despite months and hours of work, as well as pulling from my own funds to pay a small fee to dancers because it's all I can afford. Second, affordable space throughout the city is hard to find. When factoring in the amount of hours needed, makers are often looking at a bill of hundreds of dollars to rent space.
Isabella Vik: Two issues that come to mind are affordable studio space and communal art space. Many people involved in the arts in Houston have been victims of urban sprawl, including dancers. Because of this, people in the greater Houston area might not be as involved. For independent artists, finding affordable studio space is slim. A designated communal space for professional dancers to use and gather could be helpful and encouraging for others to be involved.
Mimi DiLuna: Independent choreographers have a challenging time finding music that suits their work and even if they do find something good online, it can be difficult obtaining permission to use it due to copyright. We need to create a bridge between choreographers, music composers, and musicians. Through collaborations, we can have more live music accompaniment for dance performances which allows for lots of creativity and possibility for improvisation; and record original music scores that are in line with the choreographer's artistic vision.
DSH: What was the most memorable dance experience (class, live or virtual performance attended or performed in, dance film, etc.) from the past year?
BL: I had the privilege of performing with Karen Stokes Dance in a 9-show run at MATCH. Having the opportunity to perform a show this many times was something I had never done before. For two weeks we spent all but one night in the theater, which gave us as performers a chance to grow with the work.
IV: I was fortunate to go to a few workshops this summer, but my experience with choreographer and dancer Cree Barnett Williams at b12 in Berlin was unforgettable. I look forward to returning next July
MD: In April, I performed my first original solo choreography, "Hansadhwani: Voice of the Swan" as part of Dance Source Houston's Mind The Gap 20 at the Midtown Arts and Theatre Center Houston. This piece unfolds a beautiful story from 2,500 years ago about a young swan near the great Himalayan mountains. Through the creation of this piece, I experienced the synergy of collaboration. I worked with music composer Amod Kulkarni to create an original score which includes tabla by Charudatta Phadke, sitar by Aniruddha Joshi, and beautiful vocals by Namrata Mahabal. The score also incorporates a poem I composed set to Teentaal which is a 16 beat time cycle of Hindustani North Indian classical music. My recitation is accompanied by percussion and it sounds similar to rap music! For media projection, artist Jack Hanna painted stunning watercolors which were scanned and overlayed with animations, resulting in a magical scenery. I'm grateful to everyone who was a part of this journey to bring the swan's magnificent story to life!
Stay tuned for our next Ambassador Outlook edition in November 2022!