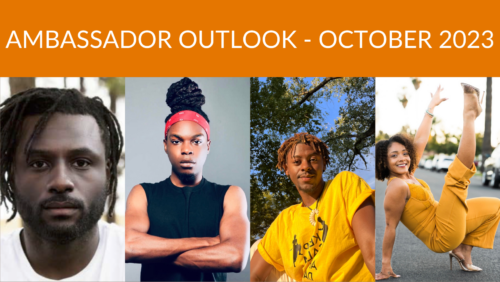 Dance Source Houston will be sharing a series of informal interviews with the 2023-24 Dance Ambassadors LeAndre Douglas, Ren Hall, Ajhay Jackson, and Cathie Nicholas over the next few months to keep the community connected to their time in the program and to give cohort an opportunity to share out. The DSH team asked the artists about current issues in the dance community and their most memorable recent dance experiences.
Have a question you would like us to ask the cohort? Send it to us at danceinfo@dancesourcehouston.org!
Who are you and what's your identity in the dance community?
Leandre Douglas: I serve as a teacher, mentor, and physical encyclopedia for Street Dance and the  African-American experience.
Ren Hall: I am a professional dancer, musician, choreographer, and instructor. I am passionate about keeping the arts alive and active in our community. Showing young black dancers they can do it too –always reach for the stars and follow your own path.
Ajhay Jackson: I serve as a cultural worker, student, and healer in the realms of movement-based somatic healing, African dance, and the preservation of African spiritual systems.
Cathie Nicholas: I am a professional dancer, choreographer, producer and director. Some of your favorite musician's creative director assisting with live television and film. Carrying my family legacy and keeping the dream of the Nicholas Brothers alive, while operating Nicholas Dance Studio, servicing ages 2-92.
What was the most memorable dance experience (class, rehearsal, performance attended or performed in, dance film, etc.) from the past year?
LD: I will have to say performing at the Joyce Theater would be the most memorable.
RH: I recently performed in the opening ceremony for the San Antonio Black International Film Festival, I performed a tribute to Debbie Allen & Phylicia Rashad. Today I took a master class with one of my Idols, Lauren Anderson 
AJ: Having the privilege to witness someone experience a breakthrough on the dance floor is always a treat. The most memorable experience would be from a "First Friday" class in January of 2023. The moon was full, the energies were high, and the year was new. Witnessing my dance sister have a breakthrough really set the tone for a powerful year & a powerful year it has been.
CN: Q&A – "Ted Talk" + Rehearsal with Misty Copeland hosted by Debbie Allen.