Since 2015, Houston dance audiences have been treated to the Barnstorm Dance Fest, produced by Dance Source Houston. Bringing together dance artists from Houston and across the nation, it has programmed modern/contemporary, ballet, tap, and classical Indian dance (to name only a few styles) comfortably next to each other. 
June 2023 will see Barnstorm do it again, with three different programs, showcasing a total of 19 live performances and 9 dance films. For just a sample of what's in store, take a look at one artist from each program. 
Program A (June 6 at 7:30 PM; June 9 at 7:30 PM followed by Artist Talk)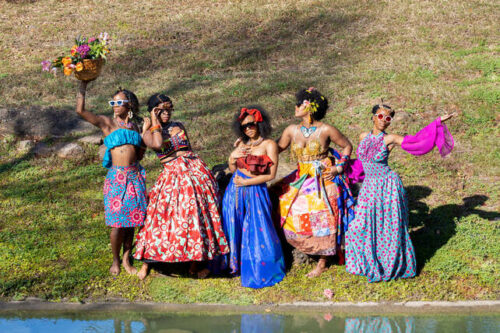 Nia's Daughters Movement Collective was founded in 2018 by Stacey Allen, a native of Missouri City and graduate of Sam Houston State University. Allen's dance journey began at Thurgood Marshall High School, where she learned what she called "HBCU majorette style dance." SHSU gave her a solid education in contemporary forms of dance but she also began to seek out Black Houston choreographers and dance companies like Urban Souls, Kuumba House, and Second Generation Dance Company. "I like to consider my dance as Afro-modern," Allen says. "A lot of my training is centered around modern dance, but I also studied a lot of Dunham technique, which is still modern dance, but very much centered in a Black aesthetic." After college, she returned to Houston, where she found classes in various African and Afro-Caribbean dance styles. She found performance opportunities with Urban Souls, which is steeped in Horton dance technique, also a basis for the work of Alvin Ailey. "I believe Lester Horton's commitment to having integrated dance spaces is a part of the Black dance conversation."
All of her exploration of Black dance expressions led to founding Nia's Daughters Movement Collective. Each part of the name has specific meaning. "Nia" is the Swahili word for "purpose." "Daughters" declares the matrilineal inheritance of Black women artists. "Movement" has multiple meanings, as it speaks to Allen's training and practice as a dance artist, but also can refer to social movements or the historical and geographical migration of Black people. Finally, "Collective" was chosen over "company" to denote the fluid boundaries of the organization, allowing participants the freedom to float in and out, to honor the real lives of women and shifting priorities. Nia's Daughters values multi-generational involvement, with performers ranging from teenagers to septuagenarians, and is multi-disciplinarian in practice, engaging performance disciplines besides dance.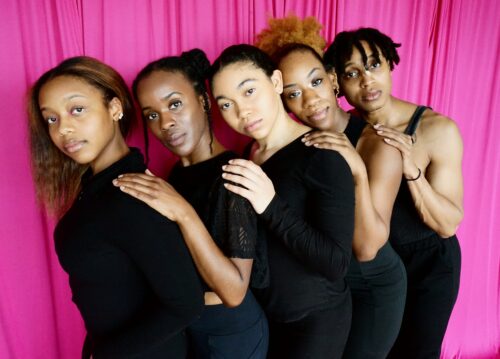 As one can see, history and legacy are important to Allen, which is further exemplified by the work she's showing at Barnstorm. "Angelitos Negros," originally choreographed for Second Generation Dance Company by Lori Bujung, was one of the dance pieces Allen came across while researching the Houston Black dance community. It is inspired by the stories of enslaved people who followed a branch of the Underground Railroad south to Mexico and freedom. "It's a restaging of a Houston dance classic," Allen says. "It is the first step of many to archive the works of Black women choreographers, not just in Houston, but in the South in general." Engaging Bujung to come set the piece on Nia's Daughters further highlights Allen's commitment to the matrilineal line of creativity. "It's really been a beautiful experience just having (Bujung) in rehearsal and sharing wisdom with our dancers."
Allen also co-directed a film on Program B entitled "it's about our FREEDOM," a film addressing recent restrictions on reproductive healthcare for women.
Program B (June 7 at 7:30 PM followed by Artist Talk; June 10 at 5:00 PM)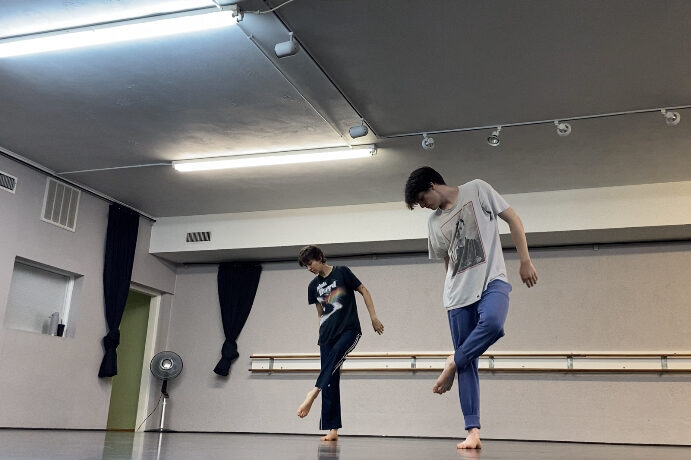 Anna Baur and Jairus Carr are a pair of dance artists in Austin, where they dance with the Kathy Dunn Hamrick Dance Company. Carr has lived in Austin most of his life but Baur is a more recent arrival to the city. Between rehearsals with KDHDC and teaching classes, they started working together on choreographic ideas, having completed a small handful of works.
The piece they're bringing to Barnstorm, "This Thing That We're Doing/Sorry About All Of The Music/Sorry About All Of The Words," was originally created last year for the Houston Fringe Festival (produced by the Pilot Dance Project). The two choreographers didn't set out to tell a story of any kind but wanted to created something that would take surprising turns while still feeling cohesive as a whole. Their process had them working in silence, taking turns adding movement phrases, "kind of like a tennis match," Carr says. A soundtrack was eventually added, which includes a "field recording" of an encounter between Carr and a security guard that took a humorously unexpected turn.
Though the duet starts out quietly, tenderly even, Bauer describes the overall piece as "A little bit absurd, a little bit funny. We got some laughs at the Austin Dance Festival, which was satisfying."
Even though the duo did not set out to create a narrative, they are aware of the tendency of an audience to try to create one. Both choreographers are interested in movement primarily as an aesthetic experience and so for them, the work is abstract.
"Whatever meaning people want to project onto it is fine with me," Bauer concludes.
Program C (June 8 at 7:30 PM followed by Artist Talk; June 10 at 7:30 PM)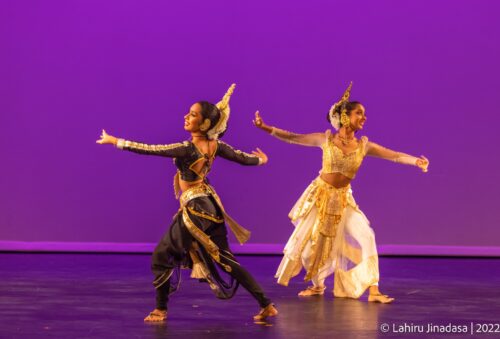 Chathuri Nirosha was born in Sri Lanka, but her family moved to Houston when she was toddler. From an early age, she showed an interest in the performing arts and learned some basics of Sri Lankan arts from her community. When she was a teenager, Guru Ritani Solanga moved to Houston and Nirosha's formal training in Kandyan dance began in earnest.
Untrained Western eyes might naturally draw comparisons between Sri Lankan and Indian dance. When asked to help us see the differences, Nirosha gives a brief history of Kandyan dance. She says one has to start with the understanding that Sri Lanka is a Buddhist country. "Kandyan dance is a classical form of dance but it originated from ancient ritual practices," she explains. "Over time, it integrated itself into a form of worship and celebration. When I think of Bharatanatyam [a classical Indian dance] there is a lot of storytelling, that's pretty characteristic of India dance, but that's not the root of Kandyan dance." Kandyan dance was performed for ritual healing and is more of a pure movement form. Until relatively recently, it was danced only by men. The drum is the main instrument and often the only instrument.
Nirosha is primarily a Kandyan dance, but the work she's showing at Barnstorm will show three different forms. The first section is a solo wherein Nirosha is presenting the joy of a nymph or sprite dancing the rain. For this section, she's utilizing movement that draws more on folk dance than classical Sri Lankan dance. The second piece is a duet wherein two dancers are contrasting Kandyan and Low Country, which are both classical forms of Sri Lankan dance. The intent is to demonstrate how two forms can have similar movements and yet be very unique. Nirosha also notes that the two forms are danced to different kinds of drums.
"I hope the audience enjoys how rhythmic the dancing is," Nirosha concludes. "That's what drew me to the Sri Lankan arts growing up. I've always been drawn to drums and music that is very heavy with percussion, so I hope they enjoy how that comes together with the dance. It's very energetic."
A Full Schedule Including Classes and SPARK
The above are only three of over two dozen choreographers and companies represented in the three programs—but that's not all the Barnstorm Dance Fest has to offer.
June 3, at 7:00pm, kicks off the week of dance at the MATCH with SPARK, a celebration of two exceptional women in the Houston dance community. Dancer and choreographer Rathna Kumar, who established the ANJALI Center for the Performing Arts among other accomplishments, will be presented with the Dance Source Houston Artistic Honor. Maxine Silberstein, who for decades has programmed both local and international dance artists at the Evelyn Rubenstein Jewish Community Center, will be presented with the Giannelli Service Award, named after DSH's founder Christina Giannelli.
There is also a full schedule of dance classes of various forms and emphases offered during the festival.
For the complete schedule of celebration, performances, and classes, see the Barnstorm page on the Dance Source Houston website.