Everyone needs a helping hand, but if there's one thing I've learned after ten years in the non-profit producing world, it's that artists very often need more than that. We need lifelines – a grant, a commission, a gatekeeper's favor – something to propel us to the next stage of our artistic careers, and, by extension, into the next chapter of our lives.
For dance-makers in Houston, one of those rare opportunities is Dance Source Houston's Artist-in-Residence program, which comes with seventy hours of rehearsal space, a handsome stipend, administrative support, and a high-profile presenting opportunity in Barnstorm Dance Fest.
One of this year's AIRs is Tempest McLendon, a relative newcomer to the Houston dance community. Having performed with 6 Degrees Dance, McLendon is using her residency as an opportunity for growth, connection, and the discovery of herself as an artist.

What caught my attention in speaking with McLendon was her acute understanding of the challenges that come with pursuing the art form. "For emerging choreographers, it's a battle to fund your work, and for people to receive your work when it's not at its highest level, when you are trying to find your voice as an artist," she says. "The in-between period is really challenging."
McLendon is accurate in her assessment, but despite this, she is not shying away from experimentation. "I really feel particular about creating works that interest me and involve people who are interested in the work," she says. "Currently this work is very much focused heavily on the process instead of the product."
When McLendon first entered the residency, she didn't have a specific topic in mind. The work that has germinated is an improvisational piece, one that explores the varied state of sleep. "di-loo-zhuhn" "is sort of like this organized chaos," she says. "When you're dreaming, some people experience the five senses, and others don't. I'm kind of touching on the difference between reality and what is not reality. Everyone's experiences are different."
McLendon settled on this exploration after reflecting on her family's practice of discussing their dreams, a ritual she has been aware of since the beginning of her consciousness. "Dreams are so fluid in their subject matter, and also in the way that they happen. You can fly in your sleep, you can achieve things you can't when you're awake. It's just so interesting the artistic and scientific parts of all these things."
Another of this year's AIRs is Loren Holmes, who finds herself emerging as a creator in her own right after ten years working as a dancer. I first met Loren at the beginning of her journey when we were both dancers for Harrison Guy's Urban Souls 2. "That company really opened my eyes to the Modern dance world and all that was available to me," she says. "When I was growing up, it was called lyrical, and so moving to Houston, I ended up figuring out I had to unlearn what I knew and discover who I am as an artist."
Since then, Holmes has performed with SonKiss'd Dance Theatre, Houston Grand Opera, Solange, and Tobe Nwigwe's Black Angels Collective. The varied performance experience has informed her choreography, as well as her desire to make work that is relatable and representative of her audience. She's creating an autobiographical work entitled "Mother, may I?" for her residency, one that dives deep into the historical and societal implications of Black motherhood.
When so much of contemporary dance is abstract, it can be daunting to veer in both a narrative and autobiographical direction. Holmes acknowledges that there was some hesitation, but ultimately decided that her story needed to be shared. "I've realized that in the midst of my struggles and challenges, there are other people experiencing those same things," she says. "They may not feel strong enough or confident enough to share these things. We sit in all these corners feeling like we're alone. I wanted to use my story to encourage others to speak of what they have been dealing with."
"Mother, may I?" will take the form of a documentary, and is being created by a team of respected collaborators, including cinematographer Jasmine Williams, music producer Charity Lewis, and vocalist Vanessa Hill.
The piece is not only her most personal work to date, but her most ambitious. Though the work is using her native Beaumont and adoptive Houston as a backdrop, the perspective goes far beyond immediate geography. "I'm diving into the historical background of how women of color became single mothers in the first place," she says. "When you think of the transatlantic slave trade, the Trail of Tears, that's where the story starts. People of color have been ripped from our families for generations."
Holmes is also using her piece to reclaim the very idea of what it means to be a single mother. "I'm not going to stop calling myself a single mother," she says. "There's strength in that. I don't want people to feel sorry for me."
For Keeley Dunnam, this year's third AIR, inspiration comes from everyday human interactions, gestural movement, and, in the case of her residency project, a Natalie Portman-starring sci-fi feature. "In the Shimmer" is inspired by Annihilation, a modest hit from 2018 that follows a group of scientists who find themselves at odds with an alien organism that has the power to refract and mutate DNA. 
Dunnam was originally going to rework a piece that she had started pre-pandemic. Two weeks before the premiere, the Houston area shut down and the piece was shelved indefinitely. However, when Dunnam found inspiration in Annihilation, she decided to run with it. "The movie made me think and wonder and be curious about things," she says. "When I experience things that grab my attention like that, and my interest, it's an instant sense of connection that I don't find a lot of the time."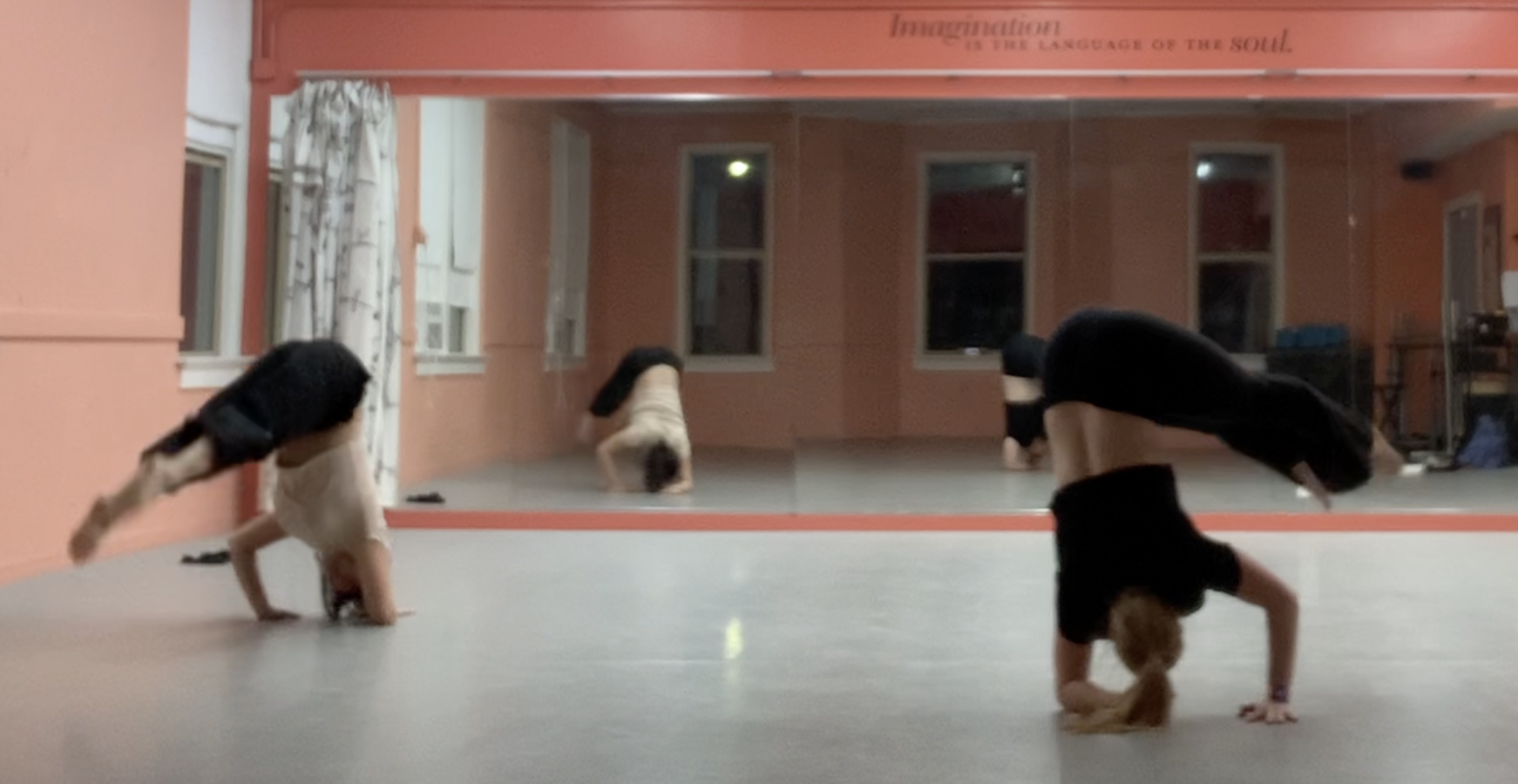 To get her dancers on the same page, she had them watch the film to get the full narrative arc. Full disclosure: I'm one of Dunnam's dancers, and in a dance landscape of heady, often impenetrable work, it's been a fun respite digging into movement inspired by a Hollywood endeavor. 
And Dunnam has enjoyed the specificity of her assignment. "This residency has helped me formulate a very clear idea, and execute a very clear idea," she says. "My process really changed three years ago, and I've been trying to figure out my creative process versus where I was. This is the first piece that I've created that has emerged from me very naturally without having to overcomplicate too many things." 
She's anticipating that lighting will play heavily in adding an otherworldly mood to the work, as well as some bold costume choices.
Like McLendon and Holmes, the residency has helped Dunnam see the full scope of dance production, and what creating on a regular basis will entail. Aside from the space and the stipend, Dunnam cites the guidance offered by Dance Source Houston staff as an integral part of the program. "The mentorship has provided a lot of opportunities to continue different avenues of creation, and kind of think a little bit outside the box," she says. "Problem-solving has been a huge help as well." 
What I found compelling about all three AIRs is that each expressed ambition for long-lasting careers as creators. I was excited to hear about their plans for future pieces, and their eagerness to not just seek opportunities, but like-minded individuals to collaborate with and form community.
In their excited, effusive talk of the future, I was reminded about my own experience as an AIR during the 2018-2019 season. To say the residency altered the course of my career trajectory is an understatement. I created forty minutes of material with my time, and it's been four-years of non-stop creation since then. So if there's one thing I would say to Tempest, Loren, and Keeley, it's this: Buckle up. Get ready. Your time is here. There are dances to be made. And you must make them for all of us.
Learn more about all of this year's Barnstorm Dance Fest artists at dancesourcehouston.org.