Psophonia Dance Company and AURA Contemporary Ensemble are prepared to immerse you in the secret lives of honeybees as their dancers and musicians present their fourth collaboration, Colony, on Oct. 10, 11 and 12 at The MATCH.
Though one third of the food we consume each day relies primarily on pollination by bees, their population has been declining at an alarming and unsustainable rate. With this performance, the production team hopes to bring awareness to the plight of the honeybees and share simple changes the everyday person can do to help these important pollinators and consequently help ourselves.
During the preparation phase of what would become Colony, composer Stacy Garrop's Postcards from Wyoming captured Psophonia choreographer Sophia Torres' imagination as she listened to music samples sent to her by AURA director Rob Smith for consideration for their fourth collaboration. 
"[One piece] conjured up images of bees moving and shifting across a hive," she explains. Fueled by a subsequent viewing of a time-lapse video presenting the development of bees from larvae, Torres was led by her curiosity—dare it be said, like a bear to honey—to learn as much as she could about the fascinating creatures.
The two ensembles work separately with their musical selections before coming together in rehearsal. As they planned the program, Smith and Torres realized that a section of Colony referred by the artists as "Pollination" should be a centerpiece in the work, as it is a significant process through which bees sustain our global food supply. To make this section stand out against the other energetic and quirky sections of the program, they selected Silver Threads, an evocative and sensual musical work by Jacob Cooper.
"The use of electronic sounds [in Silver Threads] is unique to the pollination section, which further highlights it against the other parts of the program," says Smith. "The soprano [vocalist] appears only in this section and at another critical point in the program—the very end."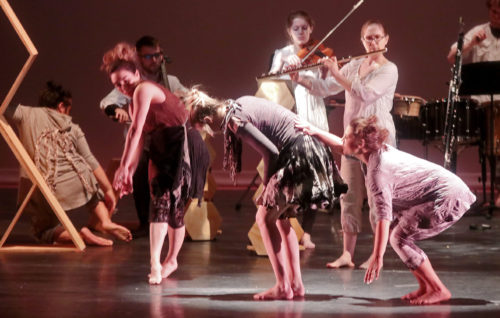 Like Memory Web, the first evening-length collaboration between the two ensembles, Colony not only places the musicians on stage with the dancers, it weaves them into the choreography, involving them in lifts and other moves with the dancers while playing. When not performing on their instruments, some of the musicians dance. 
Smith finds working together has provided him with an interdisciplinary perspective on his work, as well as an opportunity to try new approaches to performing. Torres agrees that as trust between the collaborators has grown, so has their vision for what is possible and their willingness to take risks.
"Seeing the musicians move and work with the dancers, watching them stretch out of their comfort zone, laugh and engage with one another; it builds greater appreciation between our disciplines and possibly nurtures future collaboration between those artists," Torres observes with enthusiasm.
Still, working together has its challenges. When speaking about their work, dancers and musicians frequently use specific vocabulary that can easily get lost in translation.
"In rehearsal, the easiest way for musicians to identify a section to begin is by calling out the measure number, while for dancers it is by calling out a physical gesture," Smith explains. "Sometimes we can figure out what section the dancers are referring to, sometimes not."
Physical communication of complex ideas is something bees and dancers have in common. In fact, honeybees "dance" to provide navigational direction to the location of nectar and pollen for other bees, as well as to debate and unanimously vote on a new location for their hives.
"There is a democratic process in play here," Torres muses. "Each honeybee scout presents their case and the mass select after hearing all possibilities. It is amazing how bees are able to arrive at a cohesive decision, when humans struggle with making far less consequential decisions."
Such collective cooperation applies to distribution of hive labor, too. According to Torres, worker bees—who are all female, by the way—coordinate a number of tasks: rearing young bees, tending to the queen, cleaning and maintaining the hive, building honeycomb cells, scouting and collecting pollen and nectar, storing honey and guarding the nest. As bees mature, they'll shift to new roles in bee society but will also promote or demote themselves according to need for the greater good and survival of the colony.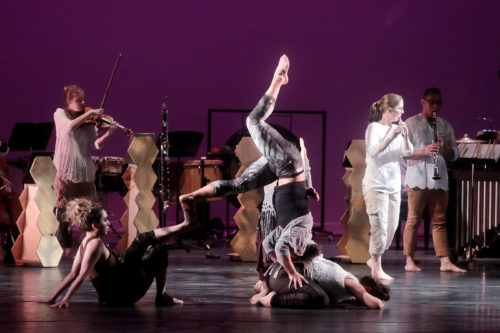 Since worker bees spend a good amount of their lifespan within the hive, Torres, who regularly incorporates substantial set pieces into her work, decided that creating a large honeycomb for  the stage was crucial to the narrative. She enlisted her husband and resident set designer Keith Epperson to construct a honeycomb set with hexagonal cells large enough for the dancers to fit and move around in that could also be disassembled and reassembled for transport. 
"That honeybees have accomplished this task for centuries with such precision, efficiency of time and frugalness in resources is inspiring," exclaims Torres.
Peering in from outside the hive, one might say the same of most artists—dancers and musicians alike.
See what the buzz is about when AURA Contemporary Ensemble and Psophonia Dance Company present Colony, their exploration of our symbiotic relationship with honeybees, as they share the stage equally in their own symbiotic relationship between music and dance. Performances take place at 8 p.m., Oct. 10–12 at The MATCH, located at 3400 Main Street in midtown. Student discount and general admission tickets are available at matchouston.org.