After marking its 13th year in New York City just last weekend, the Dance Gallery Festival (DGF), made its annual leap to Texas, celebrating its tenth year at Sam Houston State University (SHSU) in Huntsville on Oct. 4 and 5. Held at the hilltop James and Nancy Gaertner Performing Arts Center, the sold-out Friday evening performance took place in the venue's intimate, 150-seat Dance Theater, a suitable vessel for the duets and small ensemble works which made up the majority of the program. The evening boasted a buffet of dance from mostly emerging but a few established dancemakers, each with their own unique choreographic voice on display.
Choreographer Jessica Miller Tomlison, a 15-year veteran of the Chicago dance scene, opened the program with Berseluk-Beluk, a duet infused with detailed gesture and intertwining partnership. Aside from a solo at the start, dancers Lauren Reed and Victoria Rumzis rarely lose contact with one another, exacting a precise stream of demonstrated causality in this gratifying offering. The work's title is an Indondesian phrase which means intricate. The last and most famous of Paganini's caprices for solo violin, while not at all Indonesian, echoes the complexities of the movement.
In its world premiere, the delightful Origins by Rosie DeAngelo in collaboration with her company of dancers, was the embodiment of Daniel Holt's original spoken word performance. For those few in the audience or on stage old enough to recall it, the quartet of characters' anxious portrayal of one person's inner monologue is reminiscent of nineties sitcom Herman's Head. For younger viewers—Pixar's animated Inside Out. Such references are not to diminish the artful ingenuity of DeAngelo's work but instead underscore its warmth, humor and relatability, none of which is so easily achieved in dance as this group makes it look.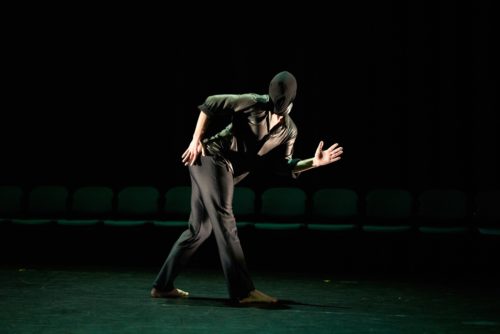 Both works on the program by Rohan Bhargava, an alumnus of DGF's Level UP program and director of New York-based Rovaco Dance, are explorations of contemporary sex, intimacy (or the lack thereof) and party culture. Tweak Mission, a title that references drug use, depicts a toxic relationship from start to conflagrant end between two masked individuals, Alden Henderson and Anna Pinault, who give potent performances. The Underground, Bhargava's world premiere featuring a cast of ten students and commissioned as part of his guest artist residency at SHSU, is every bit as athletic and provocative as Tweak Mission but comes across as less sophisticated or perhaps just not as fully developed in this large group work. 
An excerpt from Mark Caserta's first evening-length work BIG KID, which the Dallas-based choreographer premiered at Gibney Dance New York last February, features two men—Caserta and Mikey Morado. Nearly faceless and unidentifiable in billed caps and black athletic attire, the soloist's movement patterns, like the sound score, are laced with contrasting influences. His nearly identical partner looms mostly in shadow, sharing the stage and sometimes the shrinking circle of light cast by an overhead spotlight in what plays like a series of tense and mysterious vignettes—portraits of uncertainty or painful memory in Caserta's world.
While the universal language of dance can and does often speak for itself, titles offer a small window into the abstract work of contemporary dance. In an evening featuring multiple works with titles in unfamiliar languages, I was grateful for the immediate insight Google provided which the printed program notes did not. Hiraeth is a Welsh word that describes longing for a home or a time that may no longer exist. Informed by this small detail, Evelyn Toh's quiet and introspective duet with Andy Noble, SHSU Associate Professor of Dance and Associate Artistic Director of DGF, becomes a far more articulate expression of statelessness. Toh is one of two SHSU Master of Fine Arts candidates with choreography on the program. Colette R. Kerwick's construct of two dancers negotiating their relationship over a table feels overly familiar but Tables Have Turned is so eloquently and neatly arranged and performed by dancers Rasika Borse and Justice Jackson, this is hardly a detraction.
Buffalo native Nicole Caruana is the only one of Dance Gallery's three 2019 Level UP artists to perform on the Texas program. Her commissioned trio Nåd closes the first half of the program. Dotted with occasionally awkward blackouts, the work has an earthy subtleness which indicates an "old soul" at work in Caruana, a quality displayed in her performance of the piece as she and fellow dancers Mercedez Mize and Taylor Railton emerge, linger, recede and reemerge, all with an organic fluidity. 
During the second half of the program, Brandon Whited pairs with Santa Barbara Dance Theater's Lauren Serrano in a selection choreographed by Whited. Devoid of any pomp, fanfare or gender stereotypes, Petit Pas is the antithesis of the grand pas de deux of classical ballet in almost every way save for the elegance of Whited's contemplative vocabulary. 
In a weighty, floor-length robe, and wearing his two-toned hair and goatee long, Trebien Pollard cuts a striking figure as he stands firmly under a stage left spotlight in Shaking the Devil: the black swan effect. A "black swan" is an unpredictable and life-changing event which humans later try to rationalize. Amid a series of rapid and repetitive arm movements that appear to be a silent but persistent protest or prayer, Pollard turns his gaze upward with the reach of his partially closed hand. The solo performance is as mystifying as it is powerful and mesmerizing.
What follows is a vibrant blast of color and wit. Work by freelance choreographer Annalee Traylor completes the evening in a wonderfully madcap romp for three ladies in flouncy dresses and two equally fashionable fellows as they compete for attention to a soundtrack of sixties era Italian crooning.
Having narrowed hundreds of dance artist submissions down to the 25 presented across the festival's dual-city programs, Artistic Director Astrid von Usar and her team have curated a satisfying and fast-moving, though lengthy at 2.5 hours, eleven-course feast for their Texas Experience. Dance Gallery Festival leaves one feeling the kind of full that makes it hard to sit without loosening your belt or get up from the table before letting it settle, but it's a meal to look forward to every year.