Dance Source Houston's (DSH) showcase style performance series Mind The Gap is back at Midtown Arts & Theater Center Houston (MATCH) next Tuesday, February 28 at 7:30pm with a brand new line up of works. The program will feature a total of 6 new danceworks, including creations by local choreographers Teresa Chapman, Amanda Monteith, Violet Moon, and Tarika Nath, as well as two collaborative works by Keeley Dunnam and Tory Pierce, and Bhavana Gollapudi and Sadhana Gollapudi.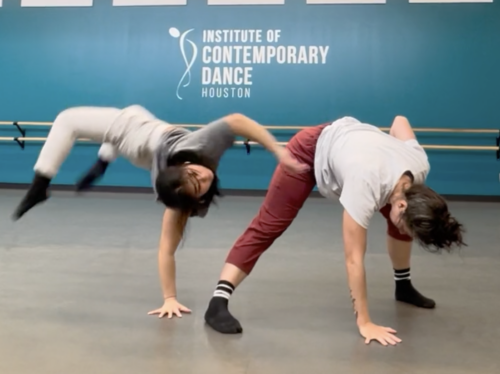 Teresa Chapman will present a duet, titled "Opposing Forces," set on Houston Contemporary Dance Company artists Genene Lily Brown and Genene McGrath. The work recently premiered in the company's DUÉ performance run at Heights Ironworks earlier this month. Chapman created the "Opposing Forces" with Newton's Third Law of relativity – for every action (force) in nature there is an equal and opposite reaction – in mind. "We are constantly exchanging energies – physically, emotionally, and sometimes spiritually. I wanted to play with dance movements that at first produce a rigid, mechanical quality that transposes, then transforms to portray a humanistic need to be in each other's space," said Chapman.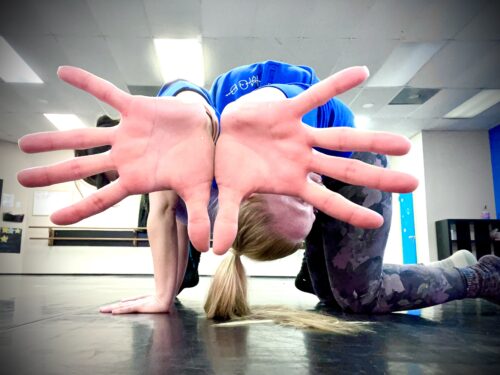 Staying on the theme of interactions, Keeley Dunnam and Tory Pierce's work "Interrelational Transactions" is representative of all the relationships that exist in our daily lives and involve some sort of exchange. Even in the most basic everyday interactions there is a level of give and take between the two people, and movement in the duet is representative of these transactions. Keeley and Tori seek to highlight the intricacy of these transactions, which often go unnoticed. Dunnam, who is also a 2022-23 DSH Artist In Residence shared, "We are both interested in the exchanges that happen between two parties. Even in the most minor interactions is still some level of interplay. We aim to reveal all the minute interchanges that happen when two people come together, including skepticism, confidence, manipulation, trust, contemplation, communication, and understanding."
Next Tuesday will mark dancer, choreographer, and artist Amanda Monteith's third time presenting a work in a Mind The Gap showcase. Her newest solo piece, entitled "Not Yet Tender, But Closer Still," will explore the theme of a journey towards personal growth and finally accepting the arduous task of changing and shedding old ways and cold composures.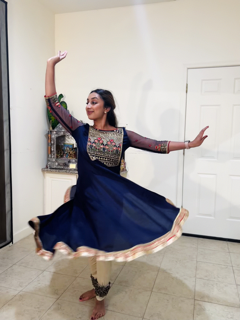 Making her Mind The Gap debut, Kathak dancer, performing artist, and dance educator Tarika Nath will share "The Dancing Peacock," a traditional rendition showcasing a peacock's spiritual connection to Lord Krishna. Nath had the opportunity to learn directly from the original composer of this piece, Pt. Birju Maharaj, and was compelled to pay tribute to him by showcasing one of the compositions he was most excited about. "While the piece is titled "The Dancing Peacock," there is a deeper significance to the recurring appearance of peacocks," said Nath. "Lord Krishna, the God of Music and Dance, is often depicted with Radha, his eternal soulmate. The peacocks felt what Radha felt, their feathers mirroring her excitement when Krishna appeared and grief when Krishna left. It is said that the peacock symbolizes divine love, emulating their soulful connection."
In a duet that utilizes multiple classical dance forms, Bhavana Gollapudi and Sadhana Gollapudi share "Vatsalya: Unconditional Love," the story of an Indian-American mother and daughter. The sister choreographer team, who train under Dr. Rathna Kumar, portrays the process of the daughter coming out to her mother through Bharatanatyam and Kuchipudi movements. The emotional work explores their relationship, journey, and love.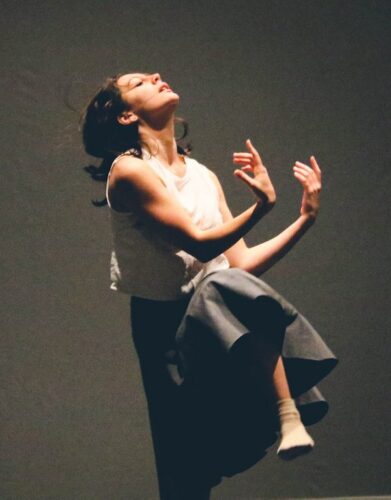 Local mover Violet Moon will present a contemporary solo work, "Giving While Needing," which  depicts the cycle of believing we must erase ourselves to know companionship; that the only way to receive the love we long for is by giving up more. The impetus for this piece came from Moon after an intentional pause from dancing and the eventual re-introduction of a practice of learning to move with and for themself. "The relationship I knew to have was transactional; we give what we love and trade our life," said Violet. Pausing forced me to seek acceptance, attention, and care from sources that were no longer outlined by infinitely malleable and unmeetable expectations. This is the dance of giving while needing."
Catch all 6 danceworks at Mind The Gap XXIII Tuesday, February 18 at MATCH. Ticket sales from each Miind The Gap program are shared between the dancemakers and tickets are available on a sliding scale range at matchouston.org.