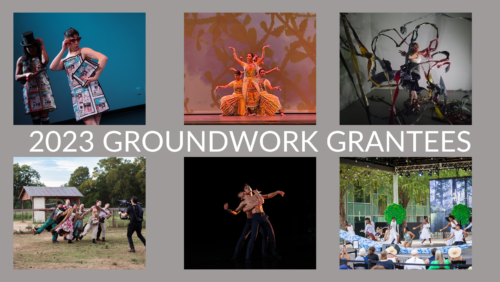 Dance Source Houston, an arts service organization supporting the Greater Houston dance community, is excited to announce the 19 recipients of 2023 Groundwork Grant funds, including 12 dance nonprofit organizations and 7 fiscally sponsored projects. The goal of the grant program is to provide an additional funding source to dance organizations with budgets under $1 million and infuse the local dance sector with more resources.
Awardees for the 2023 grant cycle include 6 Degrees / POP DEMO, Ashley Horn, Bayou City Ballet Youth Company, Creative Minds Collaborative, Frame Dance, Group Acorde, Hope Stone Dance, Houston Contemporary Dance Company, Houston Metropolitan Dance Center, Indian Performing Arts Samskriti, ISHIDA Dance Compan, Mezclada Dance Company, Nia's Daughters Movement Collective, NobleMotion Dance, Open Dance Project, Silambam Houston, The Moments Project, The Pilot Dance Project, and Vitacca Ballet. Each grantee will receive a $3,700 operating support grant. Grantees were selected by a panel of dance artists and administrators following an open application process to eligible dance organizations and fiscally sponsored projects.
"We began the Groundwork Grant program with the goal to strengthen dancemakers and administrators. Our city and region are home to an incredible community of diverse dance artists and we are honored to have the opportunity to provide direct financial support through this program," said DSH Executive Director, Mollie Haven Miller.
The Groundwork Grant program, now in its fourth year, was created out of a need for additional funding sources for small to midsize dance companies and fiscally sponsored projects operating in the Greater Houston area. While this has been known anecdotally by those in and close to the dance community, it was identified as a critical need in The State of Houston Dance report published in 2019, which was the culmination of a needs assessment of the local dance sector. The funds provided through the Groundwork Grant program are made possible through support from Houston Endowment and remain vital to recipients who have limited access to public funding opportunities and private foundation resources.
Meet the Groundwork Grantee Organizations & Fiscally Sponsored Projects
6 Degrees
Toni Leago Valle is Artistic Director of 6 Degrees. Valle is Professor of Practice at University of Houston KGM College for the Arts, School of Theatre & Dance, where she teaches Grant Writing and Development, Dance Production, Marketing for Entrepreneurs, the GYROTONIC® Method and Aerial Dance. Valle is a certified Level 1 aerialist teacher for fabric and trapeze and a Level 1 Foundation Trainer in the GYROTONIC® Method. Valle received a B.A. in Dance from University of Houston.
Ashley Horn Dance
Ashley Horn is a dancer, choreographer, filmmaker, costume designer, and dance educator from Houston. She has created costumes for Frame Dance, Open Dance Project, Sara Draper, Teresa Chapman, Karen Stokes, Houston Metropolitan Dance, The Pilot Dance Project, and her own works. Ashley is a two-time recipient of an individual artist grant from the Houston Arts Alliance for choreography and has been in residence at Hope Stone and Rice University. Ashley is an education specialist at Hope Stone.
Bayou City Ballet Youth Company
"Enriching lives through the beauty of classical ballet." Bayou City Ballet Youth Company (BCBYC) strongly believes in the power of ballet to change lives. In order to share this beautiful art with our entire community, BCBYC programs an array of educational programs throughout the greater Houston area each season, including master classes, performances, and workshops, that are accessible to everyone.
Creative Minds Collaborative
Creative Minds Collaborative, established in 2017, cultivates cultural understanding between Houston's diverse communities and their artists through creation and presentation of collaborative and educational dance programming. Founding Artistic Director Nao Kusuzaki curates each season around a dance work that focuses on a cultural theme and builds site-specific works, offering meaningful interactions for the public across Greater Houston.
Frame Dance Productions
Frame Dance Productions is dedicated to bringing the transformative power of modern dance to Houston through radically inclusive dance education, collaborative creation, and public-facing performance. Working in partnership with and in service of our community, Frame Dance cultivates the spiritual, intellectual, emotional and physical well-being of people of all ages through our heart-driven and innovative programs.
Group Acorde
Group Acorde is a performance company formed by two contemporary dancers and two improvisational musicians, who innovatively collaborate in all aspects of the creation process. Its movement is inspired by classical background and its music is primarily composed of saxophone and bass. Its mission is to cultivate and educate diverse audiences through live, thought-provoking, original and affordable performance collaborations between contemporary dance and experimental music.
Hope Stone Dance
Founded in 1997, Hope Stone Dance (HSD) brought a new energy to Houston's modern dance scene. Celebrating its 25th season, HSD continues to present work that's "intellectually challenging, profoundly human, and fresh with humor." The company is recognized for collaboration in Houston's artistic community, and known as an ensemble with "effortless partnering" and "gorgeous, big-hearted movement."
Houston Contemporary Dance Company
Houston Contemporary Dance Company is a fresh, young arts organization whose mission is to ignite passion for contemporary dance by providing world-class professional repertory concert performances and community engagement activities that are accessible to all regardless of race, culture, sexual orientation, gender, gender variance, or nationality.
Houston Metropolitan Dance Center
The Houston Metropolitan Dance Center, as an arts service organization, goals are to maximize the impact of dance on the community facilitating programming through three pillars:
Residencies and Excavating Practice, Process and Presentation supports the resources that foster choreographic development. The Center offers a diverse array of open, public facing dance classes in an inclusive environment. Footsteps Through Education provides educational outreach.
Indian Performing Arts, Samskriti
Samskriti, meaning 'cultural tradition' in Sanskrit, was established in 1995 with the vision of uniting cultural traditions between the East and the West. By bringing the best of Indian fine arts from around the world to Houston audiences and by promoting cross-cultural programs involving Indian and American artists from different ethnic backgrounds in meaningful collaborations.
ISHIDA Dance Company
ISHIDA Dance Company transforms everyday being through meaning-filled, world-class contemporary dance and, in collaboration with local organizations, brings the healing nature of dance to underserved communities.
Mezclada Dance Company
Mezclada Dance Company is dedicated to celebrating diversity through mixing cultures and dance styles to create harmonious, original, and widely relatable blends of dance. Mezclada also aims to educate and positively represent these cultures and artforms within in its performances, outreach, and projects.
Nia's Daughters Movement Collective
Nia's Daughters Movement Collective's (NDMC) mission is to create and support art and wellness initiatives through the lens of Black women and girls. The organization embodies a multigenerational approach to both honor elders and pour into the upcoming generations. NDMC's work is rooted in performance, pedagogy, community, collaboration, and most importantly, LOVE.
NobleMotion Dance
NobleMotion Dance (NMD) is recognized for their intense physicality, unique collaborations, and jaw-dropping performances. NMD has collaborated with talented experts from a variety of disciplines including neuroscience, artificial intelligence, technology, and industrial design; composers and musicians; light and set artists; photographers, actors, and poets. In 2015, 2016, and 2019, Houston Press named NMD Houston's Best Dance Company.
Open Dance Project
Open Dance Project (ODP) is a contemporary dance theater company whose highly stylized performance experiences break down conventional barriers between artist and audience to make dance more accessible. ODP's performance and education programs invite the audience to explore dance and dance making from their own self-determined vantage point- simultaneously demystifying dance and making dance matter.
Silambam Houston
Silambam is Houston's premiere Indian classical arts organization, seeking to increase the appreciation and understanding of Indian artistic traditions across cultural boundaries. Our unique blend of arts education programs, strong and diverse outreach efforts, hosted performances by local and visiting artists, and an active professional performing Company, all harness the versatility and adaptability of the timeless artistic traditions of India to reach diverse, and ever-expanding communities.
The Moments Project
Moments is a multi-phasic creative project that presents unique works of multimedia art and performance highlighting the diversity of contemporary African art and culture, the stories of local communities of color, and local artists of color with their unique perspectives on life and social issues across the globe.
The Pilot Dance Project
The Pilot Dance Project is a professional Modern dance company and arts presenter based in Houston, Texas. The company's 2023 season includes new commissions from celebrated dance-makers Jadd Tank, Ashley Horn, and Corian Ellisor (Atlanta, GA); a new evening-length dance work by Executive and Artistic Director Adam Castan͂eda; and its slate of community-focused festival programming, including the 16 Annual Houston Fringe Festival and the 3rd Annual Texas Latino/a/x Contemporary Dance Festival.
Vitacca Ballet
Vitacca Ballet is excited to share dynamic contemporary ballet performances that combine beauty, intellect, and athleticism under Artistic Director Kelly Ann Vitacca. In pursuit of growth and support for the local arts community, Vitacca seeks to nurture appreciative, diverse audiences by contributing entertaining, thought-provoking dance works to the Houston arts scene.
About Dance Source Houston
Dance Source Houston is a 501(c)(3) nonprofit organization dedicated to empowering the diverse individuals and organizations working in the field of dance throughout the Greater Houston region by means of advocacy, inclusive community engagement and support services. Founded in 2005, Dance Source Houston is a resource for all things dance in the Greater Houston area and provides programs and services to address the evolving needs of the local dance community. Dance Source Houston is funded in part by support from The City of Houston through the Houston Arts Alliance, Cullen Trust for the Performing Arts, Houston Endowment, The National Endowment on the Arts, and Texas Commission on the Arts. www.dancesourcehouston.org
###