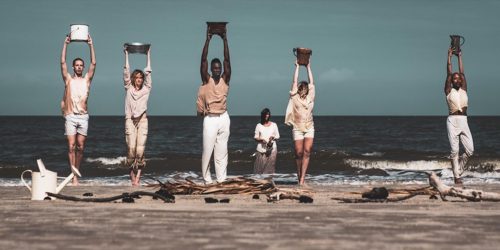 Core Dance, Golden Isles Arts & Humanities Association and Glynn Environmental Coalition present the 4th Annual National Water Dance on April 18, 2020, 4PM EST
FOR IMMEDIATE RELEASE
Media Contact: Susan Schmaeling susan@saspr.com (713) 253-2799
WHAT: 4th Bi-Annual National Water Dance
WHEN: Saturday, April 18, 4pm EST (performances will be livestreamed)
TICKETS: Free & Open to the Public
VISUALS: 2018 performance video / 2018 Jekyll Island National Water Dance
Houston, Texas (April 8, 2020)—Core Dance, Golden Isles Arts & Humanities Association and Glynn Environmental Coalition are excited to join NWD Projects in assembling a movement choir of more than 2,000 dancers for the 4th Annual National Water Dance on Saturday, April 18 at 4pm EST. Core Dance will join dancers from 38 states, Washington D.C., and Puerto Rico to dance for our lives in a simultaneous performance at water sites in our local areas. From Seattle to Atlanta, Maine to Florida participants are joining together to delight in and take responsibility for protecting our environment and call attention to climate change.
Core Dance chose to return to the Georgia coast reuniting our 2018 National Water Dance partnerships with Glynn Environmental Coalition, Jekyll Island Authority and Golden Isles Art and Humanities Association. Our planning meetings began in August of 2019 for a community-wide project involving local elementary students, theatre groups, and coastal environmental organizations among others, to bring attention to local concerns for Safe Seafood. Then in September, the Golden Ray Cargo Ship capsized off
Jekyll Island, and the sensitive ecosystem was compromised even more. Our work became all the more urgent.
Now, with the Shelter in Place mandate for the foreseeable future, our planning, and all of National Water Dance, has shifted to activating all our partners in a virtual way – connecting us all via live stream broadcast. Core Dance will offer "Dancing for Our Lives" from the homes of each individual as part of National Water Dance live streamed in a combined Zoom video broadcast on Saturday, April 18, at 4pm EST. Core Dance Artistic Director and Co-Founder Sue Schroeder states, "National Water Dance creates a platform which allows us to unite people from all over the country through movement to advocate for clean water for all. Water connects us and gives us life and we need to take responsibility in returning our water to life-giving."
Everyone is welcome to participate in the 4th Annual National Water Dance. To learn more, join us for our Zoom "interest" call this Thursday, April 9 at 4pm EST followed by a Zoom rehearsal on April 16 at 4pm EST. To register for the Zoom Interest meeting and the rehearsal, please contact us at info@coredance.org. If you are unable to join in the "movement," you can also participate by viewing the live event on Saturday April 18 at 4pm EST. We need everyone to take part in bringing us back into balance with this precious planet that we all call home.
National Water Dance is an artist-driven collective of dancers, students, educators, and community members who create simultaneous performances across the country. Our focus for this year's performance, which falls on the centennial of women winning their right to vote and an election year, is climate change. We invite everyone from every corner of our country to participate with us—to be accountable for our environment and bring us back into balance with this precious planet that we all call home. In the months leading up to the performance, dancers embody the collective spirit of our movement by weaving into their own choreography a shared movement phrase at the beginning and end of their unique dance. For the 2020 event on April 18, a portion of every movement phrase submitted will be incorporated into the choreography drawing together threads from throughout our nation to symbolically express our connection to one another and the planet.
National Water Dance expresses the best of who we are through the collective spirit of the movement choir: it is a celebration of art through one of the most rigorous art forms—dance. Uniting through dance and celebrating community—from urban to rural areas, from the subtropics to the snowy north—we acknowledge our interconnectivity to our environment and the shared concerns we have for its preservation, using the power of artistic expression to reimagine our future.
###
For four decades, Core Dance has supported innovation, collaboration, artistic risk-taking and sustainable artmaking in dance. An award-winning contemporary dance organization with global reach, Core Dance creates, performs, and produces compelling original dance that ignites the creative spirit and actively encourages participation and conversation with the community. In 1980, Core Dance was co-founded in Houston, Texas by dancer and choreographer Sue Schroeder and her sister, Kathy Russell. Five years later, the organization added Atlanta, Georgia as a second home base, creating a platform for dance that is relevant in both cities and around the globe. Core Dance uses dance to educate, question and illuminate, and is internationally recognized for its artistically driven research practices, cross-cultural and multi- disciplinary collaborations, the humanity of the individual Dance Artists, and its rigorous physicality. (coredance.org)
Golden Isles Arts & Humanities mission is to provide distinctive cultural events and education that engages, inspires and celebrates our community.
We accomplish our mission with year-round programming that includes live performances, cultural events, and educational activities. With the support of community partners, local businesses, and individuals, we are proud to be at the center of the cultural life of Glynn County and the City of Brunswick. (www.goldenislesarts.org)
The Glynn Environmental Coalition is committed to assuring a clean environment and healthy economy for citizens of coastal Georgia. The Glynn Environmental Coalition was formed in 1990 by concerned citizens wanting to know how our community became so polluted, why we continue to have health-threatening pollution, and how we could develop an action plan to correct the problem. Since our organization's inception, the Glynn Environmental Coalition has worked diligently to make Glynn County a safe and healthy place to raise our families.
We work to preserve your right to information and input into decisions that affect lives of people and wildlife in Coastal Georgia. Our activities, causes, and campaigns empower Glynn County citizens and others who love our home and care enough to act on its behalf. Our focus is primarily focused been on Glynn County, but we increasingly collaborate with local, state, and national organizations to address the environmental issues and improve the quality of life in all of coastal Georgia. (www.glynnenvironmental.org)
The mission of National Water Dance Projects, Inc. is to produce and present quality artistic productions and to promote dance as a voice for environmental awareness through collaboration with the educational and environmental communities. Visit our website at nwdprojects.org to learn more.
###