The Dance Gallery Festival Returns to Sam Houston State and New York's Ailey Citigroup Theater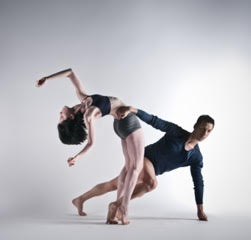 By Lydia Hance
If there were an honorary doctorate in Resourcefulness, I believe we should give it to a dancer.  As creatives, we are master problem solvers, specialists in making something meaningful with any challenge.  The Dance Gallery Festival was born out of such a challenge: frustration with compromise.  Dancers needed more space to move, more space to execute technical ideas, and more space for larger audiences. Dance Gallery Festival brings choreographers together as a community to take the space they need to fully realize their artistic visions. Celebrating its 9th season, Dance Gallery Festival will open in Huntsville on Oct. 2 – 3 at Sam Houston State University.
Founder and Artistic Director of Dance Gallery Festival Astrid von Ussar's story begins, "When I first started the festival it was mostly because I believed there were not enough opportunities for larger work being fully produced.  Most festivals in New York were held in small spaces. Spaces that were larger, like The Ailey Citigroup Theater, The Joyce, and NY Live Arts were too expensive for small artists like me to rent and self-produce."  The only option was to "compromise the work and cut it down and work with small casts.  So my idea was to create an opportunity where people can showcase without compromise." That idea began to spread.
After three years of creating space for larger aesthetic visions in New York City, von Ussar partnered with Andy Noble, Associate Professor at Sam Houston State University. He explains, "The partnership with the Dance Gallery started, in part, because we were opening up our beautiful state-of-the-art Performing Arts Center and wanted to share it with the world. It also gives our students exposure to many up and coming dance companies and we are so thrilled that several of our students have landed jobs with these companies." The Dance Gallery Festival is more than a performance; Sam Houston State University students are offered master classes by the visiting choreographers.
"Opportunities for choreographers to showcase their work beyond the regional level were hard to come by.  Smaller companies just do not get booked that easily," says von Ussar.  The Dance Gallery Festival creates space for these artists.  There is a vast convening of talent this year with companies coming from California, DC, New York, Houston, Dallas, and Massachusetts, and in the past, DGF has attracted international artists which Noble sees as an asset to his students.  "We have built relationships with companies all over the country as well as Italy, Slovenia, and Holland," he says.
Choreographers find the festival fruitful as well.  Joshua L. Peugh is returning for a third year with his company Dark Circles Contemporary Dance (Dallas).  "This festival is very well curated, and I believe in Astrid and Andy's visions," says Peugh. "It's also a great chance to connect with peers and serve the community through master classes at the University." Peugh will reprise his signature work Slump this year. "It's a special work to me because I created a lot of the movement vocabulary with my best friend during my last few weeks in South Korea before I moved back to the United States. Slump has also been performed by Tulsa Ballet's second company and Philadelphia's Ballet X," adds Peugh.
Dance Gallery Festival is curated by both von Ussar and a panel at Sam Houston State University, who seem to show an interest in both emerging and more widely recognized companies.  For example, three companies, Dark Circles Contemporary Dance, MET Dance (Houston) and Manuel Vignoulle – M/Motions (NYC) have all made recent appearances at Jacob's Pillow.
We can look forward to Manuel Vignoulle performing Conversation, a duet with Jennifer Rose, to music by Vivaldi.  Conversation is about the "complexity of the loving relationship dynamic, through hard times and tender moments, as well as the exaltation it creates. It is, in a way, my hymn to love" explains Vignoulle, a former dancer at Cedar Lake Contemporary Ballet. He has been commissioned recently by both the prestigious Ailey II and Whim W'him.
A similarly titled Convers(at)ions by Agora Dance Project will feature a duet by directors Kara Davis and Bliss Kohlmyer from the San Francisco Bay Area.  Davis tell us about their piece, "we feel the work really highlights the intelligence of the human body, an organism that is often dismissed as an unreliable source of information gathering and storage. We want to perform the struggle required to truly give one's attention to another, the effort required to understand someone else's perspective."
Over the past nine years, the festival has presented more than 200 different artists.  Von Ussar comments on trends within the festival, "I see more and more regional submissions at a high level. Texas is well represented in our festival, and with Andy Noble on the look-out for new artists, we have a great mix in this year's festival." One regional representation this year will be Houston's METdance, who will perform Seven by Larry Keigwin.  The choreographer describes the piece as "fluid with dynamic partnering, coupling and re-coupling in a myriad of sweeping wave-like patterns." Keigwin's choreography attracts both new and seasoned dance audiences, and we are sure to see his signature youthful, vibrant nature on the stage in this festival.
Also on the program will be Caroline Brethenoux/El Human Anim (NYC), james morrow/The Movement (MA), Keith Johnson/Dancers  (Long Beach, CA), Kevin James, (San Francisco, CA), project agora (San Francisco, CA), Robert Priore (Washington, DC), and Shaun Boyle & Artists (Irvine, CA).  Many of these artists will have performed in the New York City Festival the weekend before.  This dual city partnership offers what von Ussar calls a "mini tour for two weeks in state-of-the-art theaters, fully produced."
Astrid von Ussar sums up her vision with passion, "We are trying to put the emerging artist on the map, help them grow and develop, and see them succeed in the future. We love to say "he/she was presented by us " when we see them on a big stage or get a big commission. We take pride it that."  
Lydia Hance is the artistic director of Frame Dance Productions.