By: Ashley Clos
The start of a new year is a self-reflective time for many. We study our pasts and begin the calendar year with a fresh perspective. In 2017, the desire to be more present and communally engaged within our daily lives is a popular one in the face of constant technology. Luckily for us Houstonians, the Evelyn Rubenstein JCC of Houston has been offering a way to bring us together for 37 years: the center's annual Dance Month at the Kaplan Theatre.
The month-long program commences January 13th and offers a variety of performances and classes for various age groups. The JCC's Dance Director, Maxine Silberstein, has been working diligently to coordinate this year's Dance Month. "This year the program has a very cultural feel to it…lots of diversity," explains Silberstein, who also began teaching dance classes at the JCC in the mid-70's. And she's certainly correct in calling the event a worldly one. The dancing in this year's Dance Month represents a wide range of nationalities, heritages, and genres.
The festival kicks-off with its Arts in the Afternoon program, which will highlight Towards the Gypsy Roads—a multi-faceted show conceived by Marisol Monasterio that celebrates "an educational journey towards the evolution of Flamenco and the influence of the Jewish culture…." The performance combines "poetry in Ladino, Sephardic dance, Flamenco Paterneras and other Flamenco styles accompanied by canto hondo (deep singing) and Spanish guitar." It can be seen on Friday, January 13th at 1:00 p.m.
Also early in the line-up, on Saturday, January 14th from 12:00-4:30 p.m., will be a master class and informal performance by Idan Sharabi—former Batsheva dancer and award-winning choreographer who hails from Tel Aviv, Israel—along with Austin, Texas's own Amy Morrow, certified teacher of Ohad Naharin's Gaga movement language. The workshop will begin with a Gaga/dancers warm-up class for students ages 16+ taught by Morrow followed by Sharabi who will teach choreographic scores from Now, his company's newest creation that recently toured Italy, Israel, Taiwan, and Vietnam. The workshop will end with an informal demonstration by Morrow and Sharabi.
"This is my first time with Dance Month," says Morrow. "I have had the pleasure of knowing the wonder woman behind the festival, Maxine Silberstein, for the past five years. She hosted Ohad Naharin himself [as part of Dance Month] back when he was an emerging artist striving to make work in New York [in 1988]. She has created an essential platform for artists creating in both Texas and Israel…."
On Sunday, January 15th at 2:00 p.m., the Kaplan Theatre will screen director Tomer Heymann's long-awaited documentary titled Mr. Gaga, which allows viewers an intimate look into the life of Naharin, celebrated choreographer and artistic director of the Batsheva Dance Company. Silberstein encourages the film's audience members to bring their questions for Heymann who will discuss the film. Following the Q&A will be a Gaga/people workshop, meant for those with or without a formal dance background 16-years-old and up, to experience Naharin's movement language. Participants are encouraged to wear comfortable clothing.
Internationally-acclaimed arts organization, Pilobolus, will return to Dance Month to teach a workshop on Thursday, January 19th at 7:30 p.m. Students can expect to explore some of the company's weight-sharing and partnering concepts.
Dance Month will also host Ariel Rivka Dance (ARD) from New York City—an all-female modern company founded/directed by Ariel Grossman. ARD will present a free, interactive family event designed for children ages 3-5 on January 22nd at 10:00 a.m. titled The Book of Esther: The Journey of Queen Vashti and Queen Esther. The 25-minute-long performance "tells the story of two fearless, powerful women and the community that supports them. Before the performance, audiences [will] enjoy a workshop with…Grossman and [her husband] Composer David Homan." On top of being ARD's Artistic Director, Grossman is a mother, a dance educator, and she holds a Master's degree in Early Childhood Education.
ARD will additionally present an evening-length concert of their repertoire including live music on Sunday, January 22nd at 3:00 p.m. "Rarely are we given an opportunity to present a full concert of our own work. This is extremely exciting," says Grossman. "Each piece tells a different story and I'm honored to be able to show the dynamic range ARD has."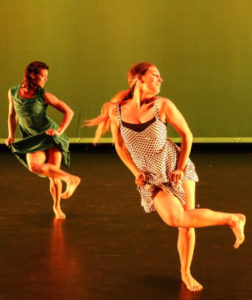 An array of local Houston artists will be showcased in the festival's Houston Choreographers X6 with special guest Houston Ballet II on Saturday, January 28th at 8:00 p.m. "We present this evening performance when we see a need in Houston to support dance artists…to give them a stage to show their work," says Silberstein. The concert includes dances by Jacquelyne Boe, Roberta Cortes and Lindsey McGill, Rebecca French, Dorrell Martin, Stacy Skolnik and Kathy Wood. "There's something for everyone to enjoy," says Silberstein of the program.
Dance Month is also proud to welcome three of the world's foremost artists of tap: Dormeshia Sumbry-Edwards, Derick K. Grant, and Jason Samuels Smith. Excerpts from Sumbry-Edwards' And Still You Must Swing (which premiered at Jacob's Pillow and made the New York Times' Best Dance list of 2016) and Emmy-award-winner Jason Samuels Smith's Going the Miles can be seen on Saturday, February 11th at 8:00 p.m. The 3 tap artists will also teach classes during their time at the Kaplan Theatre.
In its 37th year, Dance Month at the Kaplan Theatre shows no signs of slowing down. The festival continues to deliver world-class dance workshops and rich performances to the Houston community and beyond. The program's offerings are sure to delight dancers, patrons, and newcomers alike, which could not be a better way to usher in 2017.