Contact:
Mollie Haven Miller, Executive Director
mollie@dancesourcehouston.org
713.224.3262
www.dancesourcehouston.org

HOUSTON, TX, September 27, 2018. Dance Source Houston is excited to announce the three dancemakers selected for its 2019-2020 Artist-in-Residence (AIR) program – Joel Aguilera, Roberta Paixão Cortes, and Rivkah French. 
Now in its sixth year, the AIR program provides artists with space, resources, and one on one support. Through local studio partners DSH will provide each AIR with up to 70 hours of studio space over the course of the residency. AIRs receive grantwriting assistance as well as access to professional development opportunities, including branding, writing and production workshops. To provide feedback throughout the timeline of their work in progress, artists will participate in Fieldwork sessions, a program developed by The Field and facilitated locally by Core Dance.
"The AIR program provides artists with an opportunity to develop work without having to take on many of the burdens that most dancemakers face," says DSH Executive Director Mollie Haven Miller. "The program seeks to create space for choreographers to investigate their artistic practice and process, while also benefitting from being part of a creative cohort."
Over the course of the residency each dancemaker will create 15-20 minutes of work to premiere in the sixth annual Barnstorm Dance Fest, taking place June 8-14, 2020 at Midtown Arts and Theater Center Houston.  
Meet the 2019-2020 Artists In Residence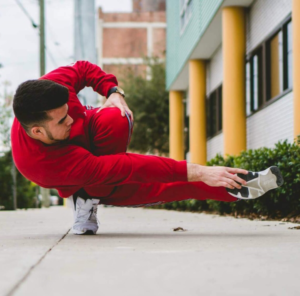 Joel Aguilera is a 24-year-old Houston native with a BFA in Dance from the University of Houston. Aguilera spent four and a half years as a principal dancer with Fly Dance Company, with whom he has toured nationally and internationally. In Houston, Aguilera entertained with Houston Rockets Launch Crew for two seasons and currently spends his time as a dance teacher for Klein Forest High School, Dayton Academy of Dance, and Leap Dance Center. Aguilera has also presented his own work in the Houston area in festivals including Emerging Choreographers Showcase, 16th annual Celebration of Dance, Mind the Gap, and Barnstorm Dance Fest, where he fused his breaking foundation with modern technique, set to Latin Jazz music. 
"I'm very excited to bring a fusion of my education in modern dance and foundation in breaking to the residency with the guidance and resources provided by Dance Source Houston this season! I aim to highlight my passion of Latin culture and how impactful it has been to me and my art. I will be using Latin Jazz music and the history of Latin Jazz to help mold my creative process during my residency!" 
Roberta Paixão Cortes was born and raised in Brazil where she received her classical ballet training. There, she danced in numerous classical repertoire ballets and participated in various festivals and competitions. While in the US, she has worked with a number of independent choreographers including jhon r. stronks, Lisa Gonsales, Sthephan Koplowitz, Susan Blair being a part of "Art Saves Lives" and touring to Nice(France) in 2014, Erin Reck, Jennifer Mabus and Mikaela Morisato. Roberta has also worked with Vault, Psophonia, Earthen Vessels Dance, Hope Stone Dance, The Michele Brangwen Dance Ensemble and Chapman Dance. She has an Associate's Degree in Arts from HCC, where she received the Heinen Scholarship for the Performing Arts in 2005. Roberta is an ambassador for Africa Yoga Project, and has spent two weeks in Kenya among other things, teaching contemporary dance. As a choreographer, she has had her worked showcased at the Barnstorm Dance Fest in 2016, 2017 and 2019, the Dance Month Choreographers X 6 2017, the local benefit concert Artist for Hope, at Miller Outdoor theater for East Meets West, at Discovery Green for the first Contemporary World Festival and at Rice University as their 2018 guest choreographer. Roberta is a graduate of Artist INC, a highly selective program curated by Fresh Arts. She is a E-RYT500 yoga teacher, a ballet teacher and is the co-founder, co-director, choreographer and dancer for the non profit organization Group Acorde.
"I'm excited to have the opportunity to spend time in the studio to create work about my family heritage, crafting a contemporary take on the culture of my home state of Rio Grande do Sul, Brasil. This residency will provide me with resources and support to share with Houston audiences about the gaúcho culture and the legacy of João Carlos Paixão Côrtes, something I'm so proud of!" 
Rivkah French is an award-winning queer-identified contemporary dance choreographer and community leader based in Houston, Texas. She engages audiences and participants in a journey of transformational discovery and expression through both her performance and social practice events. Throughout her twenty+ year career, she has created over 30 full-length dance/multimedia performances and 9 dance for film works, directed the non-profit dance theatre organization FrenetiCore for 13 years, built and managed the organization's black box theatrical venue, founded and produced the Houston Fringe Festival, and taught movement arts to at-risk children and adults, as well as homeless and incarcerated teens. French is currently focused on developing both spaces and experiences that foster healing and empowerment through self-expression for the LGBTQ+ community; expanding the field of Queer Dance Theory, and creating new movement techniques that fuse global dance styles with contemporary Western dance. Rivkah's career exemplifies her endless belief in the power of art on individuals and society at large.
"I'm very excited to create a new dance for film work that engages with several of Houston's best murals and incorporates multiple dance styles and video effects. The AIR program is providing crucial assistance in marketing, administrative and funding support, artistic feedback sessions, and rehearsal space to ensure this project's success!"  
About Dance Source Houston
Dance Source Houston is a 501(c)(3) nonprofit organization dedicated to empowering the diverse individuals and organizations working in the field of dance throughout the Greater Houston region by means of advocacy, inclusive community engagement and support services. Founded in 2005, Dance Source Houston is a resource for all things dance and provides programs and services to address the evolving needs of the local dance community. Dance Source Houston is funded in part by a grant from The City of Houston through the Houston Arts Alliance, Houston Endowment, and Texas Commission on the Arts. www.dancesourcehouston.org
###