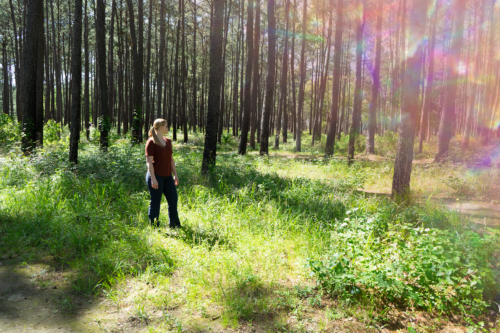 Dance Source Houston Artist in Residence
Keeley Dunnam Presents Into the Shimmer
at Barnstorm Dance Fest – Program A
June 6 th & 9 th at 7:30 pm
MATCH – Midtown Arts Center and Theater
Tickets and more information are available at www.dancesourcehouston.org.
Houston-based choreographer Keeley Dunnam will premiere an 18-minute work during Program A of the 8th annual Barnstorm Dance Fest of 2023. Her work, "Into the Shimmer," was inspired by the award-winning movie Annihilation (2018) featuring Natalie Portman known for Best Visual Effects, Best Score, and Most Visually Striking Film of the Year.
Keeley's choreography parallels the experiences of the characters in the movie, who adventure into an unknown environmental anomaly and experience a psychological disorientation toward time and space. Keeley explores this supernatural domain by creating a six-sectioned piece that uses movement to investigate the feelings and experiences that happen in the mysterious shimmer. Her choreography takes its own spin on the plot by providing an extension to the storyline that transforms the characters into a newly generated society of beings with differing purpose and structure.
"From the first time I watched Annihilation I was intrigued by the physical experiences that unfolded in the shimmer, and I knew I needed to explore this idea through movement," says Keeley.
"Into the Shimmer" will be performed by Adam Castaneda, Mia Pham, Dorianne Castillo, Madeline Aldana, Sierra Johnson, Fernando Ibarra Rocha, Jaredd Martin, and Keeley Dunnam.