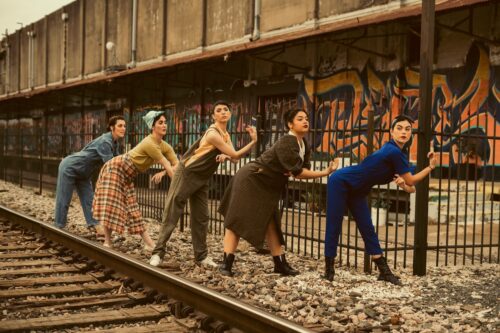 In a world so driven by the now and the new, we don't often pause to reflect deeply on our history. The forward motion of American culture and the desire for constant progress is a state we find ourselves in over and over again. Along with this drive towards progress, however, comes a dismantling and shifting of old paradigms. Historically, America in the 1950s vividly illustrates why and how paradigms change. The artists of Houston-based movement company Wild She Dances are using 1950s history to pose new reflections in their upcoming work titled MILL: An Immersive Performance. Audiences can see it on April 29th & 30th.
MILL will bring dance to an unlikely, alternative space: The Silo in Houston's Fifth Ward. The historic silo structure located on Schweikhardt Street once acted as a rice mill. Conflicting documents date the building to 1924 or 1935. When Artistic Director Bethany Logan of Wild She Dances toured the space, she knew she wanted it to be the backdrop for her newest creation. "The space is colorful and gritty as it blends graffiti, old art cars, buses, and trees throughout the abandoned warehouse," Logan explains. "As I spoke with the owner and learned about the history of the space being a Comet Rice Mill, my imagination immediately took over and I could envision performance in all of the kooky corners."
When audience members arrive at MILL, they will be transported into an intimate and immersive experience. Upon entering and touring the rice mill, patrons will receive a work timecard designating the order of the program they will see. Comfortable walking shoes are encouraged as viewers will be safely led through multiple environments and scenes including factory work, etiquette class, and a happy hour. (Free, local beer generously donated by Karbach Brewery. Non-alcoholic opinions also available.) In line with Wild She Dances artistic vision which includes "a tenderness for humanity," MILL will showcase joyful moments along with intimate moments connected to challenging historical markers.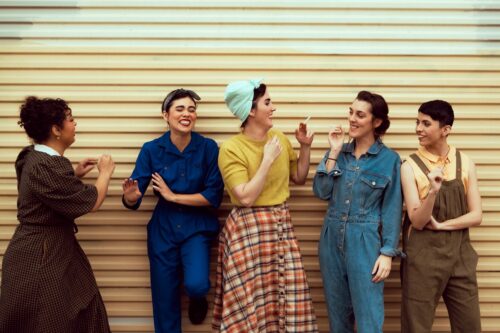 As for the creation of MILL: the 5th ward silo drew Logan to the past and, after some preliminary research, she decided to jump head-first into exploring 1950's America. "[Wild She Dances' research] has been vital to the movement palette we have created. Drawing from advertisements, books and poetry, radio ads and PSAs, music of the time, fashion, and historic events have all influenced our choreography," says Logan.
The program's dancers, who have performed professionally throughout the U.S., explored female roles in the 50s to develop their characters and intentions. One such theme is the necessary wartime role of a Rosie-the-Riveter woman returning to primary domestic labor postwar. "As five women-identifying artists, we all were able to classify ourselves and see where we would fall in 1950s America. We all found the box where we would be put, and often still are put in, which made for an authentic connection to the stories we are telling," says Logan.
When asked the question of why exploring the 1950s is necessary in 2023, Logan identifies all the monumental transitions and turmoil during the Golden Age of Capitalism. On one hand, the 50s illustrates an image of abundance and unity; on the other hand, a metaphorical pot was boiling and ready to erupt the following decade. Logan expands: "By bringing this show to a modernized setting, we hope the audience experiences the bridging of time—showing that our history is not so far away, that we are still learning from, and in many ways still following, the same patterns of our past."
MILL: An Immersive Performance was created and will be performed by Bethany Logan, Alisa Mittin, Amanda Monteith, Michelle Reyes, and Isabella Vik. See them on April 29th at 1pm & 5pm and on April 30th at 2pm. The Silo, 421 Schweikhardt Street, Houston, TX 77020. Tickets are $35 and can be purchased at wildshedances.com/mill.