Contact:
Mollie Haven Miller
Executive Director
Dance Source Houston
713.224.3262
mollie@dancesourcehouston.org
Dance Source Houston Presents Mind The Gap XXII

HOUSTON, TX September 22, 2022 – Dance Source Houston (DSH) will present the 22nd edition of Mind The Gap, a showcase series featuring danceworks by local choreographers, on Tuesday, October 11, 2022 at 7:30pm at Midtown Arts & Theater Center Houston (MATCH). The program includes works by Kima, Jarred Martin, Matty Owens, Stacy Skolnik, Wild She Dances and Lori Yuill. 
This program features all new works, with each choreographer presenting a piece 5-15 minutes in length. The evening will feature an exciting lineup of works in a wide range of genres including contemporary, improvisation, modern, and tap. 
The co-production style format of Mind The Gap offers dancemakers the opportunity to share their work with audiences alongside fellow artists on a shared program supported by Dance Source Houston. Participating artists receive assistance in production planning and audience development skills while not taking on the full burden of self-production so they can direct their energy and focus to the works presented onstage.
Mind The Gap was created in partnership with MATCH to support independent choreographers and small dance companies presenting their work. The program offers participants high production value, low administrative burden, and shared ticket income. Begun in January 2017, Mind The Gap has featured works by more than 105 local dancemakers to date.
Tickets are available now at matchouston.org on a pay-what-you-can sliding scale, starting at $15, with all choreographers receiving a percentage of total ticket sales.
Learn More About The Dancemakers & Their Works
---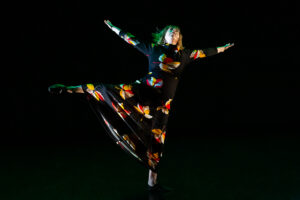 Karen Imas (Kima) has lived, worked, and performed in Houston, Texas since 2009. Recent work includes Minos' Home, Vanity Redux, In Company, Dog Commands, Myakanin, Transitory Sound & Movement Collective's Collective Isolation Series, Danse Macabre: Constant Companion, and Siren amongst others. Karen's performance training includes modern dance, butoh, puppetry, ensemble and solo devising, and mask theatre.
Website | Instagram | Facebook
Imagine a soul lost between the land of the living and the land of grief. They walk around their home and hear their loved one's voice calling to them from the other room. 
---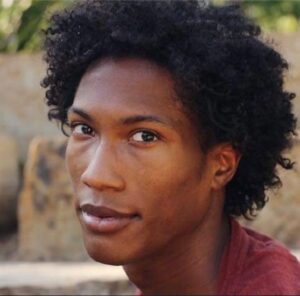 Jarred Martin is a Houston-based dancer and teacher who enjoys other forms of art such as painting, writing, and collaging. He frequently dances with The Pilot Dance Project and has performed in other productions including The Glade Arts Foundation's "The Enchanted Forest" and Dancin' in the Streets: Motown and More Revue.
---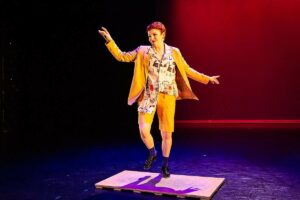 Matty Owens is a Rhythmic Chameleon. They are a professional tap dancer and have been a member of two tap dance companies in Texas: Rhythmic Souls in Dallas and Tapestry Dance Company in Austin. They have performed in full-length shows and dance festivals nationally and internationally, and recently premiered their own work at the 2022 Barnstorm Dance Festival in Houston. Matty graduated from Texas Woman's University with a BA in dance and has studied multiple dance genres. Matty enjoys incorporating their different skills into creating choreography that showcases tap as a musical instrument and intertwines auditory and visual components to create a stimulation of multiple senses at once. Their intention is for the audience to see the melodies they are hearing, and to have the audience question preconceived notions of the relationship between dance, music, and storytelling. Matty lives in Austin, Texas with a wonderful pup named Tonks, and is proudly Trans Non-Binary. 
This work is a personal narrative exploring conformity versus authenticity as well as the struggles and pains that occur when shedding layers that do not truly belong to oneself. Through the virtuosic melodies and accompanying tap instrumentation, the artist dives into the uncomfortable and vulnerable process of self-discovery. 
---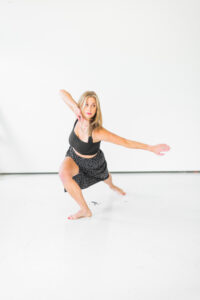 Born in Houston, Texas, Stacy Skolnik began dancing at three at Margo Marshall's Ballet Studio in Houston. Stacy continued on at the High School for the Performing and Visual Arts and later graduated from the University of Texas at Austin with a Bachelor of Fine Arts in Dance in May of 2014. Skolnik has performed works by Ohad Naharin, Robert Battle, Mark Morris, Lar Lubovitch, and Andy Noble. Through out the summers, she has also studied at Point Park University's intensive, Joffrey Contemporary/Jazz intensive in NYC, Joffrey Ballet Intensive in San Antonio, TX and the American Dance Festival. Stacy is a former company member for Gaspard&Dancers in Durham, NC, and for the past 6 years, has been a founding member of Open Dance Project in the Houston area. She currently holds a certification in Stott Pilates and teach group fitness amongst the Greater Houston area!
Stacy's new work in progress, Mosaic, is a work about disrupting norm of society with a comical twist. Working with "living room" furniture, this duet will be an exciting/athletic journey to a funky tune. 
---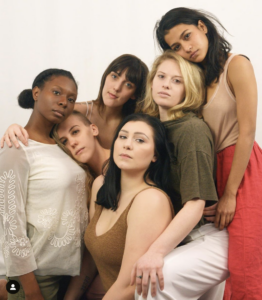 Wild She Dances is a professional company directed by Bethany Logan, with a mission to provide opportunities for professional artists through collaboration, to be social justice advocates through dance, and to engage the community through outreach & partnerships. WSD has performed in Austin, throughout New York City, and in Mumbai, India. Throughout 2020-21, the company produced multiple virtual and film works. In 2019, WSD premiered evening-length work, "shaking morning," as a Gibney POP Artist and toured the work to the Cleveland Dance Festival. The company's past community initiatives include partnerships with the International Rescue Committee & The PILLARS NYC. WSD is a proud recipient of the Let Creativity Happen Grant and makes its Houston debut this evening in Mind The Gap.
Website | Instagram | Facebook
Enthralled by the dichotomies of women in the Middle Ages and inspired by the poems of Charles Baudelaire, 'Fille Folle' examines the role of woman in a time when she could reign as Queen, yet have no legal power or rights of her own. Suzanne Hull explained, "the ideal women of the time was rarely seen and never heard in public." She is expected to be beautiful and graceful, yet she is silenced, gritty, and if she reveals her emotion–a mad girl.
---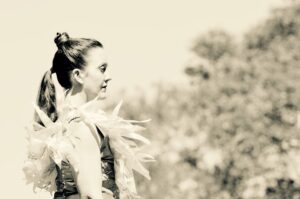 Choreographer Lori Yuill has been engaged in making dances for the past two decades.  Her most recent work was a collaborative event performed on Pelican Island and made with visual artist Eepi Chaad and musician Jeremy Lejeune. She has created a number of site specific works including "Green Zebras: Moringa Madness" which was performed at urban farm, Finca Tres Robles (2018-2019), and "Refraction" which was performed at the Houston Kite Festival as a part of the installation "Color Bursting Hermann Park" (2018). Her work includes ongoing research into the in-between spaces: the space between narrative and abstraction, choreography and improvisation, and between performance and rehearsal.
Website | Instagram | Facebook
Smoke Song is an exploration of softness, subtlety, superheroes and the ritual of making your own magic.
---
About Dance Source Houston
Dance Source Houston is a 501(c)(3) nonprofit organization dedicated to empowering the diverse individuals and organizations working in the field of dance throughout the Greater Houston region by means of advocacy, inclusive community engagement and support services. Founded in 2005, Dance Source Houston is a resource for all things dance in the Greater Houston area and provides programs and services to address the evolving needs of the local dance community. Dance Source Houston is funded in part through support from The City of Houston through the Houston Arts Alliance, the Cullen Trust for the Performing Arts, Houston Endowment, and Texas Commission on the Arts. www.dancesourcehouston.org
###