Contact:
Mollie Haven Miller, Executive Director
mollie@dancesourcehouston.org
713.224.3262
www.dancesourcehouston.org
HOUSTON, TX, September 20, 2022 – Dance Source Houston (DSH) is pleased to announce the dancemakers selected for the 2022-23 Artist In Residence (AIR) program cohort. This season's AIRs include local choreographers Keeley Dunnam, Loren Holmes, and Tempest McLendon.
With a roster of more than 25 past participants, Dance Source Houston's AIR program provides artists with space, resources, and support. Through local studio partners, DSH will provide each AIR with up to 70 hours of studio space over the course of the residency towards the development of new work. Each choreographer will receive a $3,000 residency stipend, as well as mentorship and professional development opportunities including grant writing, production management, project budgeting, and more. The 9-month residency term will culminate with each AIR presenting a new dance work as part of Barnstorm Dance Fest 2023, June 5-10 at Midtown Arts & Theatre Center Houston.
The cohort was selected through an open application process with a prioritization of artists prepared to maximize the resources provided, investigate an aspect of their practice or process and take bold artistic risks.
"We are excited to have the opportunity to work with this year's AIR cohort and to foster an environment where they can each push their work and explore new possibilities with the time, space, and resources rarely available to dancemakers," said DSH Executive Director Mollie Haven Miller. "I hope you'll join us in following their process along the way and in looking forward to seeing their work in Barnstorm next summer."
Learn more about the 2022-23 Artists In Residence below.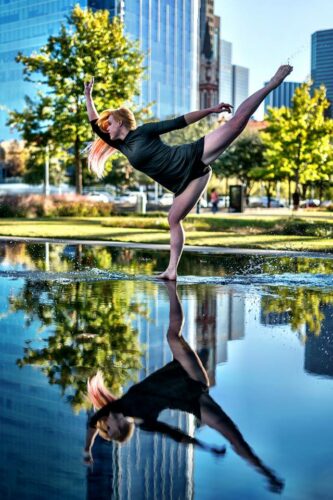 Keeley Dunnam received her M.F.A at Sam Houston State University in 2022 where she is studied under Dionne and Andy Noble, Dana Nicolay, Jennifer Pontious, Adele Nickel, Francisco Graciano, Evelyn Toh, Colette Kerwick and Joshua Manculich. While at Sam Houston State University she taught Modern 2, and Choreography 3. She received her B.F.A. in Dance focused in choreography and performance from the University of North Texas in 2018 where she studied with Shelly Cushman, Robin Lakes, Amiti Perry, Whitney Geldon, Karen MacIntyre, Claudia Howard-Queen, Sue Collins, and Mary Lynn Babcock. Keeley originally started dancing at four years old at The Dance Academy and trained in a variety of styles including ballet, pointe, modern, jazz, tap, musical theater, and hip-hop. In 2008, she danced with Lone Star Ballet and performing the roles of Spanish corps, Waltz corps, Snow corps, and Arabian corps in the Nutcracker in 2009-10. She has performed two years with AmpDance and the Odysseus Chamber Orchestra in Transfigured Night and Appalachian Spring. Other strong influences on training Keeley danced with imPULSE Dance Project, under the artistic direction of Anastasia Waters, for two seasons from 2016-2018, and performed various works at Dallas Dance Fest, 254 Festival, and Brazos Dance Festival. Her work, "NArrow is the Way" was showcased in imPULSE Dance Project's annual summer show in 2018. Keeley continues to focus her choreographic works towards building community by using movement as a means to communicate about social and political issues. Most recently Keeley has performed with Company XV, PDC Works, and Pilot Dance Project.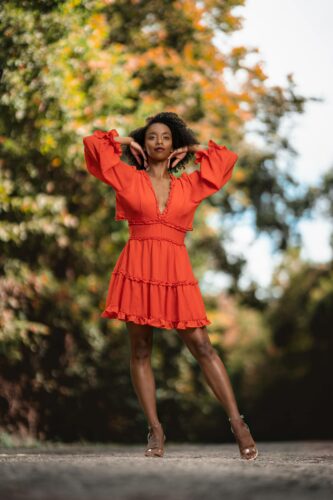 Loren Holmes is a Beaumont native and she began her training at the age of 7 at The Art of Dance, under the direction of Lisa Badon. After graduating high school, she moved to Houston and attended Texas Southern University where she was a member of the Texas Southern University Dance Company. She later attended Houston Community College, where she graduated with an Associate in Arts with a Dance Specialty. She graduated with High Honors and was a member of The National Society of Leadership and Success. She was also a member of the HCC Dance Ensemble, where Shani Sterling was the director. In 2013, she became a member of Urban Souls II under the direction of Harrison Guy. In 2014, she became a teaching artist and choreographer for The Ensemble Theatre. In 2015, she became a member of Sonkiss'd Dance Theatre, with artistic director Chris Thomas, performing locally and nationally. She was a member of Statements Dance Company, under the direction of Nick Muckleroy, where they performed work that was socially conscious. Loren worked with recording artist Solange in 2018 and is in The Black Angels Collective as a dancer with Tobe Nwigwe. She currently tours and performs in videos. Her most recent accomplishments include being a corps dancer with the Houston Grand Opera for Turandot in the 2021-2022 season, as well as becoming a member of Sonkiss'd Dance Concepts. She has had works performed in Mind The Gap, The Houston Fringe Festival, Jones Hall Prelude Performance and Best of Fringe.


Tempest McLendon is a graduate of University of Houston with a B.A. in Dance, double minor in Technology Leadership and Innovation Management, and Studio Arts. McLendon had the pleasure of becoming a Fall/Spring 2020- 2021 Dance Ambassador for Dance Source Houston. Currently, Tempest holds the co-chair position of Houston Ballet's Inclusion, Diversity, Equity, and Access Committee, is a member of the Advisory Leadership Alumni Group for Diversity and Inclusion with the UH Dance Department, and is a company member of 6′ Degrees Dance. McLendon began studying dance in 2017, and has since performed, choreographed, and taught in venues such as Midtown Arts & Theater Center Houston, Zilkha Hall – Hobby Center, Houston City Hall, Lyndall Finley Wortham Theatre, Discovery Green, Jose Quintero Lab Theatre, Miller Outdoor Theatre, and Blaffer Art Museum. Tempest strives for meaningful connection, equality, and positive change.
About Dance Source Houston
Dance Source Houston is a 501(c)(3) nonprofit organization dedicated to empowering the diverse individuals and organizations working in the field of dance throughout the Greater Houston region by means of advocacy, inclusive community engagement and support services. Founded in 2005, Dance Source Houston is a resource for all things dance in the Greater Houston area and provides programs and services to address the evolving needs of the local dance community. Dance Source Houston is funded in part by support from The City of Houston through the Houston Arts Alliance, the Cullen Trust for the Performing Arts, Houston Endowment, Mid America Arts Alliance, and Texas Commission on the Arts. www.dancesourcehouston.org
###