The Pilot Dance Project presents Madness, Memories, and Woe
How do you follow up a dance program based on Appalachian murder ballads?
This was the question facing Heather vonReichbauer after completing her Dance Source Houston Artist in Residence last year. She felt she had created some momentum via the residency (where she developed the murder ballads piece) and the formation of her company, Bones and Memory Dance. Being drawn to things gothic and macabre, she turned to 19th Century American writer, Edgar Allan Poe.
"What if I did something about Poe?" she asked herself. "He's a figure that's recognizable to many people. Most everyone has read something, they've read 'The Tell-Tale Heart' or 'The Cask of Amontillado" or something."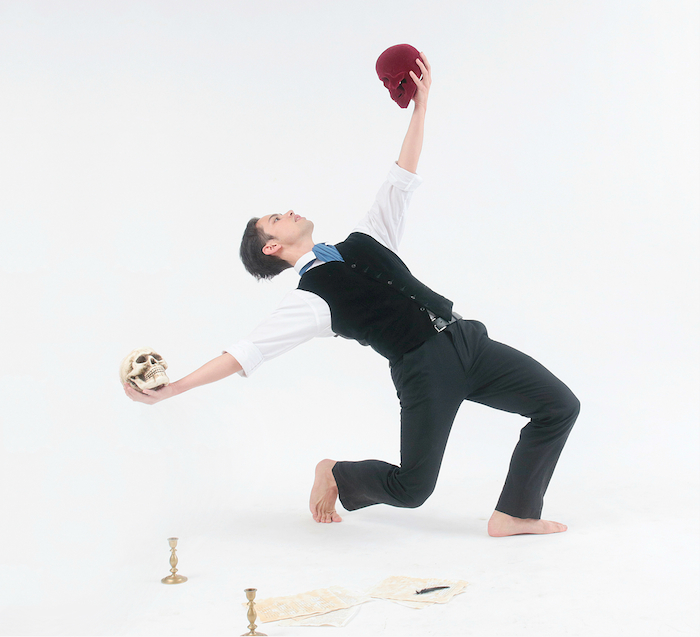 So she began revisiting Poe's work, read a biography, and things started coming together. From his biography, Heather learned about Poe becoming an orphan at a very early age, his lifelong search for another mother figure, his marriage to his cousin who was 13 years old at the time, and then, the women who he courted or else who would claim to be the inspiration for his literary creations like Annabelle Lee or Lenore from "The Raven."
Add in some letters written by Poe toward the end of his life, a narrative began to emerge. Heather began weaving together information from his biography, his literary creations, and the letters themselves to create Madness, Memories, and Woe: A Fantastical Journey Inspired by Edgar Allan Poe. The setup for the narrative, as Heather puts it, is "He falls asleep and all these weird things start happening in his study."
Some of the text from Poe will be recorded and used as voiceovers but some will be spoken by the dancers. Sources for the text come from "The Masque of the Red Death," "The Tell-Tale Heart," "The Black Cat," "The Fall of the House of Usher," and, naturally, "The Raven."
The Raven, that famous black bird that perched upon the pallid bust of Pallas above the narrator's chamber door, repeating the sad and ominous word "nevermore," becomes a character in Heather's narrative. She has a solo, but also pops up here and there. "She helps push Poe further into the madness," the choreographer explains. "She's always up to something."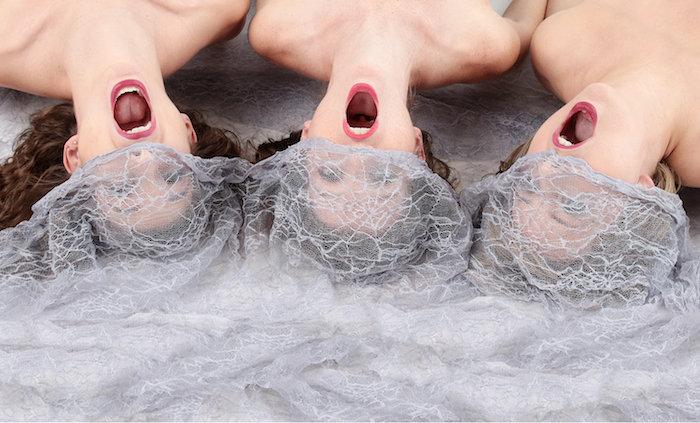 There is another section in the dance that features what they are calling the Grey Ladies. These figures represent different women throughout Poe's life and literature. She describes the trio as "very haunted and ghostly." One of the figures has a repeating motion of putting her hand over her mouth, as if she's saying something but stopping herself. This comes from the woman Poe was engaged to at the time of his death. "What's she's saying is 'Poe,'" Heather explains. "Once he died, she never spoke his name again. That, to me was a striking image."
When describing her movement vocabulary for this piece, Heather used words like angular, emotional, and intimate. "There is solo danced by Poe that is very emotional and there's a lot of anguish in his movement. It's kind of exhausting for him to dance." There is a very different, intimate duet between Poe and his wife, Virginia, which is more traditionally beautiful. Then there are what Heather calls a "kind of weird party scene."
"I really tried to approach the dances as individual movements and individual vignettes, so that we see a different quality [in each one]."
Heather is married to William vonReichbauer, who is a composer and musician, and he brings his expertise to the show as well. William has composed three pieces of music for the evening, but also pulled music from other sources, and added transition sound as well. "There's a lot of ambient sounds going on throughout," he explains, "whether that's wind whistling or a clock ticking in the background. There's not any silence until the very end when everything has reached a fever pitch."
Selections in the show are by 14th century composer Guillaume de Machaut, Renaissance composer John Dowland, and 20th century's Bela Bartok. The eclectic soundtrack has sources in "everything from Medieval, very beginning of polyphony all the way to Bartok, to, I guess, me," William concludes.
When asked about the audience for this piece, Heather and William both agreed that it is suitable for all ages. Despite the gruesome nature of some of Poe's work, none of that is graphically portrayed onstage. In fact they're doing a special matinee for some school children. They have crafted the evening so that whether you are a deep Poe fan or only know the Simpons' Treehouse of Horror adaptation of "The Raven," there is something for most everyone in the audience.
"I'm hoping that people who would not normally come to dance might be drawn into this because of the subject matter," Heather says. "It's a multimedia experience, not just a dance concert."
Madness, Memories, and Woe: A Fantastical Journey Inspired by Edgar Allan Poe
March 2-4, 8:00 p.m. at the MATCH – Midtown Arts & Theater Complex Houston
Visit matchouson.org for tickets.