DIVERSEWORKS ANNOUNCES
LANDS – Portrait of the City of Houston Jocelyn Cottencin and Emmanuelle Huynh
November 7, 8 & 9, 2023
AT (MATCH) MIDTOWN ARTS AND THEATER CENTER HOUSTON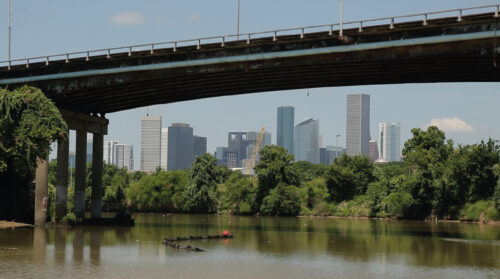 (October 26, 2023) DiverseWorks is pleased to announce the international premiere of LANDS – Portrait of the City of Houston, a performance and immersive film installation developed by French artists Jocelyn Cottencin and Emmanuelle Huynh, happening November 7, 8 & 9, 2023 at Midtown Arts and Theater Center, 3400 Main Street, Houston, TX, 77002, in Matchbox 2. Doors open at 6:00 PM and the performance begins at 6:30 PM.
LANDS examines the past and present of Houston and its growth toward becoming the 4th largest city in the United States and invites audiences to reimagine the city's possible future. The evening will feature a series of outdoor performances that Cottencin and Huynh choreographed with their Houston-based collaborators: Ayla Davis, Liyen Chong, Roger Moore, Isabella Mireles, and Henry Sanchez, who will then guide the audience from the outdoors into the MATCH theater to experience the film installation.
LANDS expands on ideas of plurality, and the connections or disconnections between personal and cultural memory and local history, braiding together a unique chronology of the city that is part documentary, part poetic narrative, and part futuristic re-imaging of the local geography. The artists invite the audience to ponder how we begin telling a new story about an ever-evolving city.
The project, organized by DiverseWorks Curator Ashley DeHoyos Sauder, was developed through a series of artist site visits, interviews, and workshops with Houstonians from the fall of 2022 through the summer of 2023. The interview transcriptions are the basis of a choreographic vocabulary utilized in the performance and installation. In the film, the perceptions of Houstonians as they correspond with their personal histories, cultures, and beliefs, are shared in a layered and interwoven narrative.
LANDS was commissioned by DiverseWorks beginning in 2020 as part of FUSED (French U.S. Exchange in Dance), a program of Villa Albertine and FACE Foundation in partnership with the French Embassy in the United States. Houston is the fourth city in Cottencin and Huynh's portrait series following their first collaboration in New York in 2017. The project will travel to Paris as part of the Chaillot Experience weekend dedicated to the United States at the Théâtre National de Chaillot on December 9th, 2023.
DOWNLOAD HI-RES IMAGES

For more details, and questions about accessibility please visit the website or contact info@diverseworks.org.
LANDS – Portrait of the City of Houston
DATES & TIMES
Tuesday, November 7 – Thursday, November 9, 2023
6:30 PM, Doors 6 PM
ADMISSION
Pay-what-you-wish. $25 suggested.
Reserve Tickets
LOCATION
MATCHBOX 2 @ MATCH
3400 Main Street, Houston, TX, 77002
PARKING
Across from DiverseWorks/MATCH is the Mid-Main Garage (entrances on Travis and Holman streets). Parking rates vary by time and day of the week. There is also free and metered street parking available in the area. Please be observant of all parking signage when choosing to park on the street.
ABOUT THE ARTISTS
Since 2014, Huynh and Cottencin have been developing work at the crossroads of anthropology, documentary, and fiction. Their first project, A taxi driver, an architect and the High Line, in 2016, created a portrait of the city of New York. They have since collaborated on several film and dance portraits including the 2019 portrait of Saint-Nazaire, We have come from too far to forget who we are and the 2022 Atravessemos, a portrait of the city of São Paulo in Brazil.
Emmanuelle Huynh
Emmanuelle Huynh, dancer, choreographer and teacher, studied dance and philosophy. Her work explores the relationship with literature, music, light, ikebana (Japanese floral art) and architecture. She created, among others, Múa (1995), A Vida Enorme (2002), Cribles (2009), Shinbaï, le Vol de l'âme (2009), Spiel (2011), Tozaï !… (2014), Formation (2017) and Nuée (2021). From 2014 to 2016, Emmanuelle Huynh was associate professor at the National School of Architecture in Nantes. She worked at ENSA Nantes-Mauritius between 2016 and 2021. In September 2016, she was appointed Head of the Dance, Choreography and Performance Workshop at the Beaux-Arts in Paris. The work of Huynh carried by Platform Múa, a company approved by the DRAC Pays de la Loire – Ministry of Culture and Communication, by the Department of Loire-Atlantique and the city of Saint-Nazaire, is anchored in a broadened vision of dance, producing knowledge, emotions that modify the vision that society can have of itself.
ABOUT DIVERSEWORKS
DiverseWorks commissions, produces, and presents new and daring art in all its forms through innovative collaborations that honor each artist's vision without constraint. Founded by artists in 1982, DiverseWorks is nationally known for its ground-breaking programming; as a resource for the innovative and meaningful engagement of communities; and as a force that has shaped contemporary thought and practice in Houston and the nation. DiverseWorks has a long history of supporting the creation of new work, cross-disciplinary collaboration, and as a bridge between diverse sectors of the art community.
DiverseWorks
3400 Main Street, Ste 292
Houston, TX 77002
www.diverseworks.org
SUPPORT
Lands – Portrait of the City of Houston is a production of Plateforme Múa / Emmanuelle Huynh & Jocelyn Cottencin Studio, commissioned and presented by DiverseWorks, with the support of Dance Reflections by Van Cleef & Arpels, as part of FUSED (French U.S. Exchange in Dance), a program of Villa Albertine and FACE Foundation in partnership with the French Embassy in the United States with support from the Florence Gould Foundation, The Ford Foundation, Institut français, the French Ministry of Culture, and private donors | With additional support from the City of Houston through the Houston Arts Alliance, Texas Commission on the Arts, The Brown Foundation, Inc., Cullen Trust for the Performing Arts, and the Houston Endowment.
The performance-installation of Lands – Portrait of the City of Houston by Emmanuelle Huynh & Jocelyn Cottencin is part of Albertine Dance Season and received support from Villa Albertine.
Plateforme Múa is supported by DRAC Pays de la Loire – French Ministry of Culture and communication, by the Département de Loire-Atlantiqueand the city of Saint-Nazaire.