By Claire Christine Spera
The Evelyn Rubenstein Jewish Community Center of Houston's Dance Month, celebrating its 36th year this month, sprang from a place of passion, explained Dance Director Maxine Silberstein.
"It began in 1980 when the Evelyn Rubenstein JCC's dance department had attracted many interested and talented intermediate adult students. These students wanted an opportunity to show their friends and families what they learned. There was never any available time on the Kaplan Theatre stage. Dance programs, Israeli folk dance workshops and master classes had existed on an irregular basis at the Evelyn Rubenstein JCC.
"Determined to change this, Hilda Frank, the Dance Month chairperson since its inception, met with the performing arts director, Mark Lit, and explained her dilemma. In reviewing the theater calendar, Mark discovered that January was a month when not much activity took place on the Kaplan Theatre stage. He knew Hilda was determined, so he first offered her a one-week time slot in January, and before she could say anything, he followed with, 'Actually, you could take the whole month.' Without giving it any thought, Hilda immediately responded with, 'I'll take it!'"
Over the decades, the Evelyn Rubenstein JCC's Dance Month has grown into a robust celebration that spotlights prominent choreographers, teachers, companies and dancers, both amateur and professional, from all over the world. This year, the Evelyn Rubenstein JCC hosts 10-plus events from Jan. 14 to Feb. 14, most of which are on its premises.
Dance Month kicks off Jan 14-17 with Tirkedu Houston!, a participation workshop on Israeli folk dance taught by Roberto Haddon of London, England. "It attracts Israeli folk dancers from outside of Houston such as Austin, Dallas and San Antonio," noted Silberstein. But the weekend includes more than just movement opportunities; social gatherings are built into the schedule, including a Saturday night dance party.
Then there are the professional dance concerts, which range from the authentic Chinese movement company Dance of Asian America to Los Angeles-based contemporary dance company BODYTRAFFIC to the back-by-popular-demand Tap Jammin', which features hoofers Acia Gray and Tony Merriwether of Austin, Arthur Duncan and Ayodele Casel.
Dance of Asian America (Jan. 22), directed by Janie Yao, promotes and conserves China's cultural heritage through stagings of authentic and contemporary Chinese dance, with traditional costumes and music. The production will also feature guiding descriptions, allowing the audience to walk away with a better understanding of what they've witnessed.
BODYTRAFFIC (Jan. 23), presented by the Society for the Performing Arts (SPA) and sponsored in part by the Evelyn Rubenstein JCC, makes its Houston debut at the Cullen Theater at Wortham Center. "We are excited about our in-part sponsorship with the SPA for BODYTRAFFIC," said Silberstein. "The sponsorship is a way to partner with a larger community arts presenter outside the Evelyn Rubenstein JCC to reach a broader audience."
The dynamic, athletic troupe, whose members show off sparkling technique, has surged to the forefront of the contemporary dance world since its founding in 2007 by Lillian Barbeito and Tina Finkelman Berkett. Named one of Dance Magazine's "25 to Watch" in 2013, the company first gives a master class to intermediate- and advanced-level dancers age 13 and up on Jan. 19 at the Evelyn Rubenstein JCC.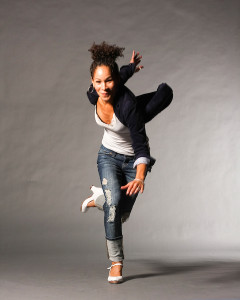 Keeping with tradition, the Evelyn Rubenstein JCC is also hosting four of today's greatest tap dancers during Dance Month. In Feb. 13's Tap Jammin', the artists will dance to the live music of Pelayo Parlade Jazz Trio. Gray, artistic director of Austin's Tapestry Dance Company (the only fulltime professional tap troupe in North America), brings along company member Merriwether for the performance. Duncan, a New York native, has performed on Broadway, film and in some of the country's best performance halls. Also a native New Yorker, Casel has danced with such tap luminaries as Savion Glover and Gregory Hines.
The Feb. 13 concert is just the start; after the show, audience members can participate in a tap-jam dance party, then Casel and Gray each give a master class for intermediate- and advanced-level dancers age 12 and up on Feb. 14.
Dance Month is also about opportunities for pre-professionals. In addition to the master classes, concerts Triple Focus and Four in the Mix provide budding dancers the chance to perform on the Kaplan Theatre stage.
In Triple Focus (Jan. 30-31), the Houston Ballet Youth Dancers, Houston Repertoire Ballet Company and Vitacca Dance Project perform a mix of premiere and repertory works, including a piece by Houston Ballet dancer-turned-choreographer Garrett Smith; a work inspired by the pulse and electricity of its music by Rebecca Web; a choreography for 12 women and 12 stools by Victoria Vittum, set to Maurice Ravel's Bolero; and Flower Festival, a classical ballet choreographed by August Bournonville (1805-1879).
Feb. 6's evening performance of Four in the Mix brings college dance troupes to the forefront, among them those from Sam Houston State University, University of Houston, Rice University and Houston Community College-Central. The pieces range from student-produced choreographies to those created by university faculty and professional choreographers in the community, including a quirky work by Houston troupe Frame Dance's artistic director, Lydia Hance.
Prior to the evening show, dance students age 12 and up can take a variety of classes with an instructor from each college during the Higher Education Dance Workshop, 12-4:30 p.m. at the Evelyn Rubenstein JCC. "Bringing together four higher-education dance ensembles represents a unique opportunity for high school students to meet representatives from the schools and learn more about dance in higher education," said Silberstein.
Dance Month is a well-rounded opportunity for all: dance students, professionals and aficionados.