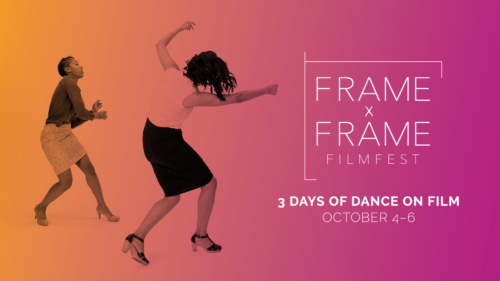 Frame Dance Explores the Relationship of the Moving Body and the Camera through Film
Houston TX – What if you could watch dance under water? Or up on a mountain peak in Tibet? What if you could be a silent and invisible observer of the magic that happens in the veiled dance studio? Frame Dance hosts their second annual Frame x Frame Film Fest that takes audiences to see dance in these spaces, and more. Filmmakers are represented from all over the globe in this 3-day film fest that begins on October 4 and runs through October 6, 2019. The weekend's events opens with "If the Dancer Dances," a feature-length documentary that takes viewers inside the dance studio with the Petronio Company in New York City as they restage Merce Cunningham's "Rainforest" for his centennial, two programs of short dance films by invigorating filmmakers from Australia, Europe, Africa, and the United States, "Breaking Boundaries" documentary about the formation and history of Houston's own world renown ballet company, a filmmaking workshop with Tara Knight, Rebeca Salzer, Liz Burritt, and Liam Clancy, and other activities that will take place at the Houston Ballet, 14 Pews, and various locations. Ticket prices are varied and range from Free to $65.00 for an all access pass.
Frame Dance, a non-profit founded by Lydia Hance, is known for bringing dance to unusual spaces and for performances that engage the Houston community. Frame Dance believes in the development of the whole person through dance, and empowers Houstonians to communicate, inspire, and connect to the world and others through movement, community and artistic collaboration, and technology. Frame Dance is dedicated to enriching the lives of Houstonians, and welcomes "new" dancers through participatory dance experiences. Involvement opportunities include workshops, classes, performance collaborations, etc.
Attendees are encouraged to feed their curiosity, embrace the artistic spirit of the intersection of dance and film, and experience the joy of art through movement. This event is appropriate for all ages and is handicap accessible. Curators of this festival included Lydia Hance, Rosie Trump, and Laura Gutierrez.
To purchase tickets, please visit: https://www.framedance.org/events/frame-x-frame-film-festival-2019/
For additional information about Frame x Frame Film Fest, please call: 832-781-0808 or email Lydia.Hance@framedance.org
For additional information about Frame Dance please visit: https://www.framedance.org or https://www.facebook.com/framedanceproductions