Contact:
Executive Director: Adam Castaneda
adam@freneticore.net
(832) 649-2096
www.freneticore.net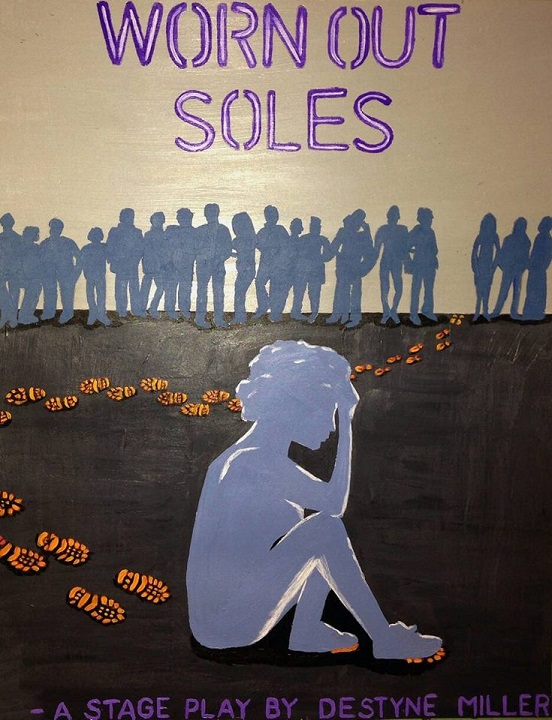 Following the success of Frenetic Theater's first 2016 Artist Board event, a six-night run of ReFine Arts' Before Never, Frenetic is excited to present the next production of the series: Destyne Miller's Worn Out Soles.
Dates: May 7 and 8
Time: 7 p.m. (May 7) and 2:00 p.m. (May 8)
Location: Frenetic Theater, 5102 Navigation Boulevard
Tickets: $15 presale/$20 door
For tickets and more information, please visit www.freneticore.net
Worn Out Soles is an original stage play that forces the audience to walk in the shoes of the people that are most judged by society. Soles tackles the ugly side of human interaction, specifically, the inherent tendency to judge those that are different from the majority and the less fortunate. Characters enter the stage and deliver monologues that challenge preconceived ideas of justice and morality. The result is an audience that is moved to empathy and charged to see people in a more sympathetic, humane light. Worn Out Soles also features choreography by Houston-based dancer Brent L. Smith.
"Destyne originally produced Worn Out Soles at Frenetic Theater in 2015," explains Executive Director Adam Castaneda. "I was walking through the facility one day, and I overheard a bit of Destyne's rehearsal going on in the theater. I was struck by how well-written the monologues were, and the realism of her character. When her run ended, I immediately approached her about 2016's Artist Board. I'm thrilled that she's producing the play again as part of the program, and I look forward to seeing more of her original plays at Frenetic."
Audiences are encouraged to bring their old shoes to the performance. All collected shoes will be placed on stage, and after the run of the show, will be donated to shelters in the Houston area.
Destyne Miller is a middle school teacher, poet, actress, playwright and mother. She is a graduate of Grambling State University with her B.A. in Theatre Arts. She is presently working on her M.A. in Theatre Education at the University of Houston. Through personal experiences and life lessons she hopes to bring a different perspective to everyday issues in a simple, straightforward, yet, positive way. With her free spirit and ever evolving thought process, she takes on the challenge of bringing people together- not to make them think the same but to be able to exist as different and unique individuals.
* * *
Frenetic Theater's Artist-in-Residence Program was created in March 2010 to support both emerging and established Houston artists with the development and presentation of original full-length work. Participants receive marketing and technical support from FrenetiCore's staff, as well as 50 free hours of rehearsal space and up to two weekends of performance time at Frenetic Theater. Houston independent artists or performing groups interested in the 2017 program should contact Executive Director via e-mail: adam@freneticore.net.