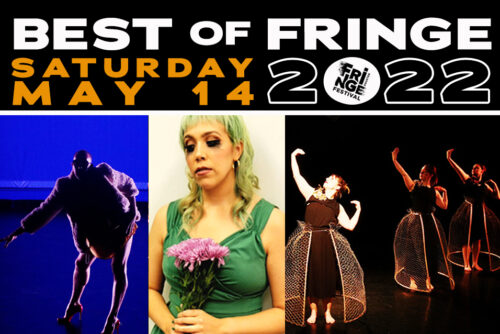 FOR IMMEDIATE RELEASE
From Drag to Spoken Word, Best of Fringe Showcases Top Talent
The Houston Fringe Festival's annual spring showcase is hitting the stage with an impressive line-up that spans genres
What: Best of Fringe is an annual spring showcase that brings together a diverse array of solo and ensemble work including dance, spoken word, theater works, drag performances and more. A program of the Pilot Dance Project, a 501(c)3 non-profit arts organization with the mission to empower and transform communities through innovative dance, theater and visual arts, Best of Fringe will hold 2 evenings of variety performances.
Why: Preceding Houston Fringe Festival's full-length program in the fall, Best of Fringe hosts fringe artists both new and returning from the festival line-up to show off the best and most unique performances.
When: 8 pm on May 14 & 15, 2022
Where: MATCH (Midtown Arts & Theater Center Houston) 3400 Main St. Houston, TX 77002
Who: Highlighted performances from the artist roster include The Pilot Dance Project, jhon r. stronks, NobleMotion Dance, and Tejas Dance. A description of their involvement can be found below.
The Pilot Dance Project will revive an acclaimed excerpt from Ashley Horn's Vesper, a celebration of how feminine beings create the ceremonies and rituals that are the foundation of human existence. Nine dancers will take the stage in Horn's handcrafted, life-sized soft sculpture skirts.
jhon r. stronks will perform as his alter-ego in "Miss. Understood: An American Idling," an introduction to the attitudes and behaviors of Miss. Understood. This piece combines movement, text, and voice in a song cycle for self-discovery spiraling and unraveling a desire for immortality along a landscape of hopelessness and death.
NobleMotion Dance and Tejas Dance will be performing as a result of Arts Respond Performance Support Grants from the Texas Commission on the Arts.
Tickets: Tickets are available for purchase at https://matchouston.org
###