Media Contact
Amy Pearl
Hope Stone, Inc.
713.526.1907
amy@hopestoneinc.org
FOR IMMEDIATE RELEASE
Hope Stone Dance and the Moody Center for the Arts at Rice University present horse latitudes
as Hope Stone Dance takes its final bow in an evening of film and live performance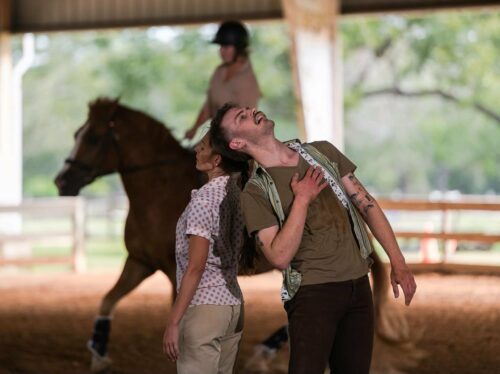 Houston, TX (November 15, 2023) – Hope Stone Dance presents its final performance, horse latitudes, a work that explores how and whether we can collectively heal over time.
horse latitudes is a 30-minute film choreographed and directed by Jane Weiner, Artistic Director of Hope Stone Dance, and created with Director of Photography Ben Doyle of BEND Productions, composer Ran Bagno, editor Ari Feldman, and the nine company dancers featured in the film.
The term "horse latitudes" are the regions 30 degrees north and south of the Equator, high pressure areas of calm winds. The legend around the phrase comes from ships sailing to the New World that would stall for weeks where crews, unable to sail, would throw horses they were transporting overboard to conserve water.
"The pandemic's mark on my heart and soul has left a brokenness in me," said Weiner. "The inequities that have existed for so long got exposed in a glaring spotlight, and returning 'back to normal' was just out of the question. The Hope Project, our mindful arts education outreach program, was becoming Hope Stone's focus, in a sense the most important thing I'm creating and choreographing. With this shift, I knew the time for Hope Stone Dance had come to an end. Hope Stone's Board, staff, and I want to focus on really bringing the power of mindful arts to our city's children and youth, and empower them as much as possible.
I read a lot about equine therapy, how horses have the ability to hear a human's heartbeat from four feet away, how in the wild they synchronize their heartbeats to each other in order to sense danger, and how horses have the ability to naturally calm us as their hearts beat at half the rate of humans. What a difficult choice for those sailors as they sat in the horse latitudes, saving themselves by sacrificing such beautiful creatures. I thought what would happen if dancers and horses were brought together, in the midst of so much pain these last several years, could it be a gesture, an apology, a way to heal?"
Filming for horse latitudes began in the fall of 2022, and brought the dancers and horses together in the stables, indoor riding rings, and open fields of SIRE Ranch in Fulshear, Texas, and Brookside Ranch in Brookside Village, Texas. Both ranches specialize in equine therapy, with over 20 horses appearing in the film. Another location shoot was Downtown Houston's early morning vacant streets, providing a cityscape for the dancers and Cowboy Country Life's riders and steed, another leg in their journey.
The evening show will feature the film and live performance by dancers, and a few special moments marking the joy and history of Hope Stone Dance after 27 years. So many creatives worked to complete the film, and more will come together in this final performance. Weiner's "swan song" work is a story that finds her still searching.
"History repeats itself, a wise mentor once told me," said Weiner, "and I wonder about the peaceful, restorative energies that horses give—will we ever make that choice to save each other? Or continue to save ourselves while we throw overboard what carries the power to heal?"
Hope Stone Dance artists are Jacquelyne Boe, Donna Crump, La'Rodney Freeman, Chris Hannon, Rachael Hutto, Lindsey McGill, Travis Prokop, Candace Rattliff, Donald Sayre, and Brit Wallis-McGrath.
DETAILS:
horse latitudes
December 13, 2023 @ 7:00pm (with post-show Q&A)
December 14, 2023 @ 7:00pm & 9:00pm
Moody Center for the Arts at Rice University
6100 Main St (University Entrance 8, at University Blvd and Stockton St)
Houston, TX 77005
Tickets: $30; https://horselatitudes.eventbrite.com
###
ABOUT HOPE STONE, INC.   
Hope Stone, Inc. is a non-profit arts organization consisting of the choreographic endeavors of Artistic Director Jane Weiner through Hope Stone Dance, a professional modern dance company, and The Hope Project, an arts education outreach program that reaches underserved populations in Houston. Founded in 1997, Hope Stone strives to unlock the innate creativity of children and adults through the performing arts. hopestoneinc.org
Hope Stone is grateful to the following sponsors and foundations: Alice Kleberg Reynolds Foundation, The Brown Foundation, Inc., Charity Guild of Catholic Women, Dance Source Houston, Favrot Fund, Frost Bank, H-E-B, Houston Arts Alliance, Keating Family Foundation, Kinder Morgan Foundation, National Endowment for the Arts, SQA Foundation, Steen Family Foundation, Texas Commission on the Arts, Texas Women for the Arts.
ABOUT THE MOODY CENTER FOR THE ARTS
Inaugurated in February 2017, the Moody Center for the Arts at Rice University is a state-of-the-art, noncollecting institution dedicated to transdisciplinary collaboration among the arts, sciences and humanities. The 50,000-square-foot facility, designed by acclaimed Los Angeles-based architect Michael Maltzan, serves as an experimental platform for creating and presenting works in all disciplines, a flexible teaching space to encourage new modes of making and a forum for creative partnerships with visiting national and international artists. The Moody is free and open to the public year-round. moody.rice.edu