FOR IMMEDIATE RELEASE
Media Contact
Amy Pearl
Hope Stone, Inc.
713-526-1907 
Hope Stone Dance presents 's (a tale of possession)
Mine. Ours. Yours. The things you own end up owning you.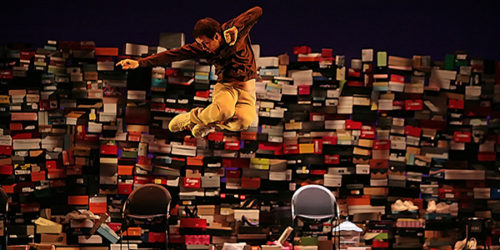 HOUSTON, TX (February 21, 2019) – Hope Stone Dance (HSD) brings back to the stage 's (a tale of possession), a work that addresses the timeless topic of ownership, questioning "what do we really own?"
's (a tale of possession) was created by Jane Weiner, HSD Artistic Director, in 2004 during a DiverseWorks residency and restaged in 2006 at the Wortham Center's Cullen Theater. Thirteen years later, time hasn't changed our possessive natures – whether it's shoes or land or relationships. 
The inspiration came to Weiner in 2004, when in the middle of the night a fireman knocked on her Montrose townhouse door telling her to vacate due to a restaurant fire next door. Weiner, her visiting parents and her dog all left immediately. "Anything I can get out of there in case your house catches fire?" asked the fireman. She looked at her parents and her dog and responded, "No, I have everything I need."
Sixto Wagan, DiverseWorks' performing arts director during Weiner's residency, was interviewed in 2006 by Nancy Wozny about the experience. "It was amazing to me that Jane, who is so good at making people laugh, could make something so emotionally raw," said Wagan. "It was by far the most serious piece I had ever seen her do."
A wall of empty shoe boxes built onstage – 2,000 to be exact – will be designed and constructed by Houston artist David Graeve and is the backdrop for 10 dancers. Graeve, who is also a visual art teacher at Cristo Rey Jesuit College Preparatory School of Houston, is involving his high school students in the creation of the wall, along with costuming elements – 7 wearable birdcages and illuminating shoes. HSD will hold a rehearsal at the school for the high schoolers to connect their art design ideas to the performance and the dancers.
Combined with Graeve's set is a sound score originally created by Shwahh Mass and redesigned by Firat Ozsoy that mixes Klezmer, David Byrne, Steve Reich and the sounds of grocery store self-checkout machines, all bathed in Tiffany Schrepferman's light design – a sensory-striking evening.  
Hope Stone Dance artists are Jacquelyne Boe, Joshua de Alba, La'Rodney Freeman, Kelsey Gibbs, Rachael Hutto, Lindsey McGill, Travis Prokop, Donald Sayre, Candace Tompkins, and Brit Wallis.
DETAILS:
's (a tale of possession)
March 28 & 29, 2019 @ 7:30pm
MATCH
3400 Main Street, Houston, TX 77002
Tickets: $25; matchouston.org/events/2019/s-tale-possession
###
ABOUT HOPE STONE, INC.  
Hope Stone, Inc. is a non-profit arts organization consisting of the choreographic endeavors of Artistic Director Jane Weiner through Hope Stone Dance, a professional modern dance company, and The Hope Project, an arts education outreach program that reaches underserved populations in Houston.  Founded in 1997, Hope Stone strives to unlock the innate creativity of children and adults through the performing arts. hopestoneinc.org
Hope Stone is grateful to the following sponsors and foundations: Brown Foundation, Charity Guild of Catholic Women, Cullen Trust for the Performing Arts, Dance Source Houston, Wayne Duddlesten Foundation, Favrot Fund, Fondren Foundation, Twilight and Marc Freedman Foundation, Frost Bank, The Hobby Center Foundation, Houston Arts Alliance, Jennings Dincans Charitable Fund, Kinder Morgan Foundation, McCrea Foundation, The Nugent Foundation, The John M. O'Quinn Foundation, Sequoia Foundation, The Simmons Foundation, Texas Commission on the Arts, Texas Women for the Arts
Hope Stone, Inc. is funded in part by the City of Houston through Houston Arts Alliance.